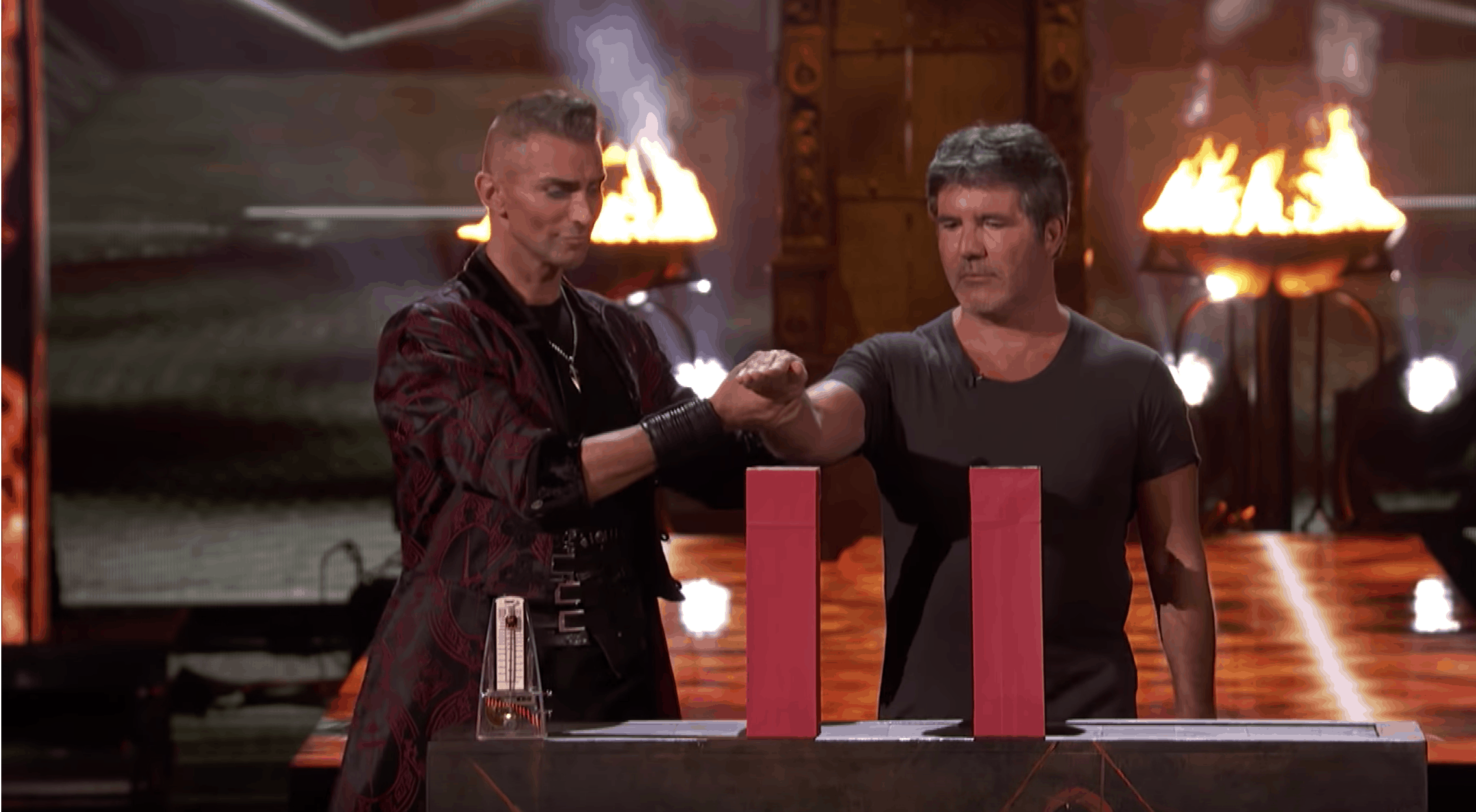 This is it. The last quarterfinals before the semis begin on tonight's America's Got Talent. The final group of twelve acts will perform for America's votes. Can they withstand the mounting pressure or crumble before it like a fragile cookie? Oh, a huge congratulations to Simon Cowell for getting his star on the Hollywood Walk of Fame!
Stepped Up Acts:
Future Kingz – This hip-hop dance troupe wowed the Dolby crowd with a routine that drew inspiration from Kanye Wests' music. Simon complimented them on their performance, saying that it was like watching a really cool commercial. I completely agree with him on this. Though the choreography was not as good as their previous performance, it was still very well done.
Daniel Emmet – The young Italian opera singer returns to the AGT stage as a Wild Card. He sang another Italian opera ballad which I wish I could understand but couldn't. Other than that, his performance was top notch. Even Simon wants to take all the credit for bringing him back to the show.
Brian King Joseph – I adore this passionate violin player. Despite his nerve condition, he still continued playing his instrument as he pursues his dreams. Tonight he performed Centuries by Fall Out Boy. I almost mistook it for another song but when I heard the notes to the aforementioned music, I realized that it was this particular song and not the one I first thought of. The only thing I did not understand was the group of contortionists behind him. Why were they there? It should just be Joseph on that stage. Though if he wants some accompaniment, perhaps a small orchestra or band would be a better choice.
Hans – Granted, the German accordion player still can't hold a note, but I applaud him for his stage presence and the ability that he has to entertain the crowd. He kind of paid tribute to Mel B tonight by performing to Spice Up Your Life by the Spice Girls. Scary Spice herself barely recognized her own song given that it's been many years, but the performance overall was quite good. Side note: German-speaking people, did any of you understand what Heidi was saying to Hans? Did he translate it correctly?
Christina Wells – Goodness, was that a powerful voice or what? The singer chose the song I'm Changing from the film Dreamgirls. It's a perfect song to reflect the changes that she has been through since first auditioning for AGT. Heidi complimented her at the end for finally finding her confidence.
Michael Ketterer – Emotions were running high as the adoptive father took the stage. He sang his version of Us by James Bay, leaving Simon, who pushed the Golden Buzzer for him, speechless and emotional (the man actually teared up). The rest of the judges had a better time with their words, all singing his praises.
Zucharoh – This high-flying acrobatic group stepped up their game tonight. They told the story of the Garden of Eden with incredible flips from their female performers. The judges praised them on the clear and concise story-telling which I totally agree with because I am a writer so I know a thing or two about narrative flow. America, you know what to do! Oh, love the angel wings at the end! Really well done!
Semi-Stepped Up Acts:
Aaron Crow – Personally, I love his act given that it has a suspenseful quality to it that makes you go to the edge of your seat. Tonight, however, did not do that. The entire act took too long in terms of execution and Howie, who was asked to join Crow onstage, did not know what he was supposed to do. When Simon was asked to come onstage, I was grinning from ear to ear. This is like the time when Passing Zone asked the music mogul to be a part of their act. Crow then placed Simon's hand above the remaining two bags, one of which has the large knife hidden inside. Had it not been for the fact that Crow moved Simon's hand to the empty bag at the last minute, things would've been bloody in the literal sense.
Us the Duo – The song choice tonight, though very touching, did not quite measure up to the songs they did in previous performances. I felt it was a bit off pitch-wise but I'm not an expert in this. If America votes them through to the semifinals, great. If not, then it's motivation for either next season or future gigs playing at an outdoor concert or something.
Joseph O'Brien – I applaud him for singing an original song for tonight, but it didn't fill me with a lot of emotions. The performance was still good, don't get me wrong, but I agree with Simon, it's not the perfect song choice.
Rob Lake – As much as I loved his previous performances, this one almost made me yawn. I give him an A for effort but his attempt at expressing his personality did not work out the way he intended. Everything came across as cheesy and overdone. Even the magic tricks themselves were not up to par. Perhaps he can take some pointers from Shin Lim or maybe Mat Franco to improve his stage presence and how to better exude his personality in his act.
UDI Dance – I liked the video game theme that they decided to go with for tonight. However, I did not quite understand the various flips and the disappearing/reappearing thing in the middle of the performance.
Photo via NBC
America's Got Talent Season 13 Episode 17 Review: "Live Quarterfinals 3"
Summary
The last group of 12 acts perform for the judges and the Dolby Theater crowd. Who will take their acts up a notch and who will not be up to the challenge? It's the last quarterfinals on tonight's America's Got Talent.