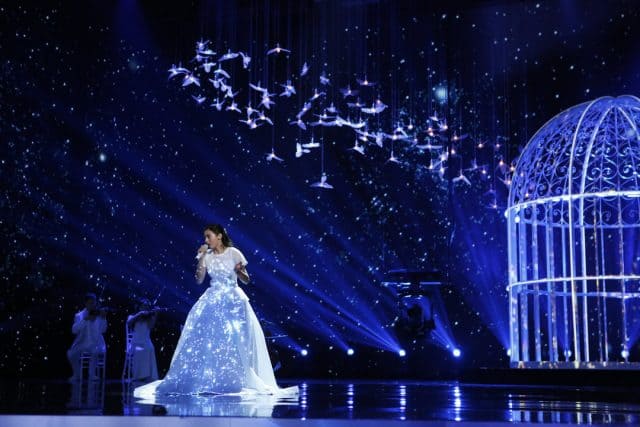 "Live from Hollywood; it's America's Got Talent: The Finals!" Season 11 of America's Got Talent has been a rather turbulent ride. From watching great acts perform to seeing those who don't have any talent bones in their body. I watched the show since the beginning; I can't help but feel like the last bit of summer gone away. Sentiments aside, let's see who has what it takes to win that coveted million dollar prize and the headline show in Las Vegas.
The show opened with Mr. Worldwide himself, Pitbull. The music icon performed his hit song, Green Light before the judges came onto the stage. It felt like a concert, and party rolled into one as I watched Heidi and Mel dance along to the music. What a great way to start the finals!
Sal Valentinetti was up first. I enjoyed his song. His vocals were on point, and he even worked some of the judges, and Nick Cannon, into the song. I think he has a good chance to be a finalist or maybe a runner-up, but I don't believe that he will win the million dollars. He has great stage presence and can sing; I just can't imagine him headlining a show in Vegas when he could perform at concert halls.
The song that Linkin' Bridge chose to sing for their final performance tugged at my heartstrings. It's the song See You Again from the seventh Fast and Furious movie where Paul Walker died an unfortunate death. I couldn't quite understand why the showrunners had to put the song's lyrics up on the screen behind them. Maybe it's to add a nostalgic feeling to the performance?
Laura Bretan's performance was nothing short of powerful. For someone so young to have a voice like that is rare. Not many young girls can sing opera. Unless, of course, she's either Laura or Jackie Evancho. When she hit the high note at the end of her song, I had goosebumps on my arms. Wish I had the ability to sing like that.
The Clairvoyant's act last night felt a bit off, but it was unnoticeable and didn't effect the rest of the performance. The mentalist duo accurately predicted an audience member's birthday and Simon Cowell's credit card number. Remind me to never cross paths with those two. If they don't win the competition, they deserve to have their very own show where they can continue to amaze people with their mentalist skills. I still don't quite know how they were able to predict Mel B's jellybean name for Howie.
Furthermore, I loved Brian Justin Crum's rendition of Michael Jackson's Man in the Mirror. He took the late King of Pop's song and made it his own. The goosebumps returned as I listened to him sing. I hope that he at least makes it to the top two acts on tonight's results show.
Photo via NBC
America's Got Talent Season 11 Episode 24 Review: "Live Finale"
Summary
It's the beginning of the end on season 11 of America's Got Talent! Who will win the million dollars and headline their own show in Vegas?