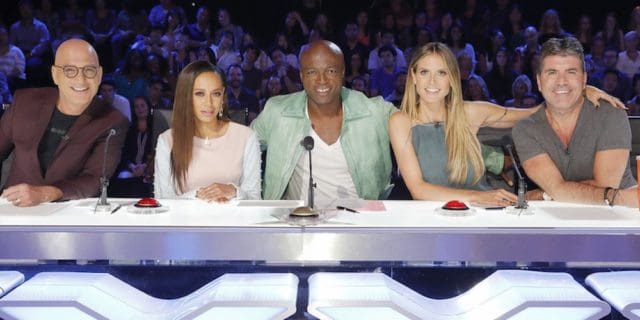 It's not every day that you would see a formerly married couple work together. On tonight's America's Got Talent, it's about to happen. Singer-songwriter Seal guest judges as twenty more acts perform for a spot in the final top seven.
The night started off with Artyon and Paige dancing to the song from Dirty Dancing. I am nothing short of impressed by their performance, but I don't know if it's enough to earn them a spot in the top seven.
In the Stairwell were up next. They brought me straight back to the 90s, with an a capella rendition of the N'Sync classic Bye Bye Bye. Though I have to agree with Howie, it's not exactly a million dollar act. Best of luck to them if they make it to the live shows.
When Vancouver magician Will Tsai performed, it was just as mesmerizing as his first audition. The judges, however, were not too impressed. They thought that the young man did not step up his game. Hopefully, his first audition will be enough to get him a spot in the top seven.
15-year-old Henry Richardson blew my mind with his close up magic. How did he turn those cards into clear plastic cards? That and Heidi's card ended up in the snack that Henry brought. The boy is good. Simon was right. He's like a modern-day Harry Potter. Move over, Daniel Radcliffe, there's a new boy wizard in town!
DaNell Daymon's gospel choir group brought the house down with their performance of Ain't No Mountain High Enough. The judges, including Seal and the audience, were clapping along to the song. I am looking forward to seeing what they can do in the live shows next week.
The final Judge Cuts Golden Buzzer went to Johnny Manuel. The singer performed Stevie Wonder's Maybe that floored the guest judge enough for him to press the golden buzzer.
Final Notes and Top Seven
Simon is very moody tonight. He buzzed a few acts that tried to step up their performance. Though there were a couple of acts that deserved the buzzer from Simon. They should know that it's the judge cuts. They should have done something to wow them and to fight for a spot in the live shows.
I was hoping and praying that Will Tsai will be able to make it to the live shows, but I guess that his first audition did not earn him enough points with the judges to get him to the live shows. Better luck next year, Will! You too, Henry!
Kechi
Artyon and Paige
Johnny Manuel (Seal's Golden Buzzer)
Merrick Hanna
Pompeyo Family
In The Stairwell
DaNell Daymon
Photo via NBC
America's Got Talent Season 12 Episode 11 Review: "Judge Cuts 4"
Summary
Final twenty acts perform for last group of top seven acts. Seal serves as guest judge on tonight's America's Got Talent.