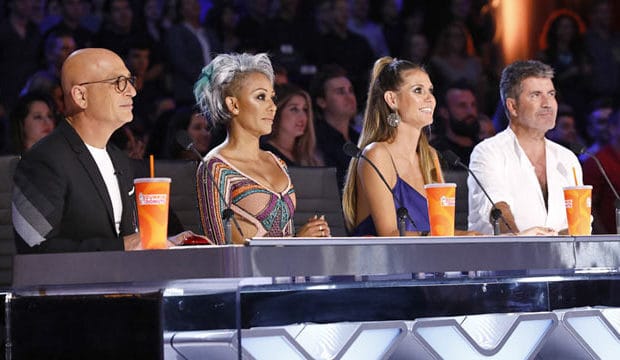 Like the Nelly Furtado song goes, all good things must come to an end. On tonight's episode of America's Got Talent, ten acts give it all they have, hoping they can win it all. I know this makes me sound like a broken record, but will these ten acts blow us away?
Angelica Hale once again started the night with a rendition of Symphony. The choice of song is good, though her vocals were not exactly up to par. It felt like the pressure of the competition is getting to her. I'm not certain if the young singer has what it takes to take the title and the prize money, but it's up to America.
All of the singers this season are just phenomenal. They have the talent to sing songs whether it's an original song or covering a song that's already out there. Kechi sang Conquerer by Estelle, and Evie Clare covered Louis Armstrong's What A Wonderful World. Their vocals were alright, but Mandy Harvey's performance tonight of This Time, another one of her original songs, is nothing short of amazing. Her pre-performance interview was full of emotion and I almost teared up listening to her story. Chase Goering went with an original song as well; his is entitled Mirror. I enjoyed his performance, but if a singer were to win AGT again, I hope that it's Mandy.
When Preacher Lawson came onstage for his performance, I was looking forward to another night of hold-onto-your-stomach laughter. His jokes tonight were funny, but they didn't make me laugh as much as his previous performances. Plus the screaming part of his act took much too long. I get that he's trying to make a comedic point, but that's no reason to drag it as long as he did. Howie said after the performance that he wants a comedian to win, but that's very hard to tell as America will have mixed opinions about the act.
Ventriloquist Darci Lynne's act tonight was highly amusing. The young girl brought on Oscar the mouse and Petunia the rabbit as part of the routine. I chuckled at the little argument bit that she was doing with her puppets. It reminded me of past ventriloquists like Paul Zerdin, Jeff Dunham, and Terry Fator's acts. The song choice was on-point. I snickered when Petunia said that a rabbit and a mouse are singing a song by two Beatles. It's a great song either way.
The night ended with another mind-blowing performance from Light Balance. Diavolo's act was good, but it felt like they took what they did in their first audition and added new stuff to it. Both acts were incredible, but Light Balance edges Diavolo out with their technical precision and standing ovation worthy dance moves. America, please vote for them!
Final Notes:
Sarah and Hero's performance was a bit on the dull side tonight. It pretty much was the same thing as their previous act. The only thing that's different is the costumes. I know that it's difficult to train animals, but with the experience that Sarah has, I'm sure that she could have come up with a more innovative routine than what was presented.
I love that Mel B changed her hair color every episode. Tonight the former Spice Girl went rainbow on her hair complete with rainbow glitter. Looking sparkly, Mel!
It was amusing to see Simon change his mind about many of the acts tonight as to who will win. That and hearing him bark like a dog again brought a smile to my face.
Photo via NBC
America's Got Talent Season 12 Episode 23 Review: "Live Show Finale"
Summary
Ten acts give everything they got to fight for a chance at winning it all on tonight's America's Got Talent.