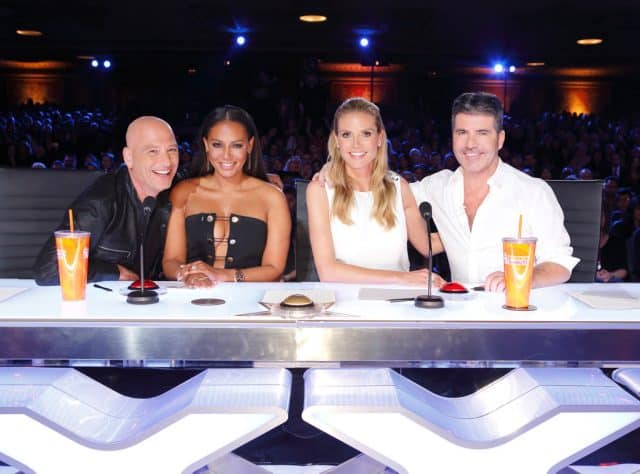 Another week, another batch, for lack of a better word, of auditions on America's Got Talent. Some acts deserved to go through while others just baffle me to no end that the judges would allow them to go through to the next round.
I could barely contain my shock when the judges put a group of senior dancers through. I mean, kudos to them for still being able to dance, but from what I have seen, it's John who does the most dancing. Seems that he doesn't need the four ladies there. He can be a one-man dance act. I'm curious to see what they can bring to the next round, but I doubt that they will last for very long once the competition heats up.
The baffling shock wore off when provocative acts went through. A couple of comedians including a 13-year-old girl named Lori Mae, who burned Donald Trump in her audition, got the chance to move on and so did a tightrope act, which I wasn't expecting. I guess looks certainly can deceive. It returned with full force when Heidi, Mel B, and Howie put Miranda Cunha through. Then again, I agreed with the three other judges when they expressed their wishes to see Simon onstage again. It's a high-pressure job, so light entertainment at times is required.
There has been something that the show is doing now that hasn't been done before, and that is to have various shots of the audience reacting to individual performances. It's nice to see things from the viewer's perspective, but it cuts away from the act onstage. If the reader is interrupted every time with a person coming into the room or whatever space that they're in, then the reader wouldn't be as immersed in the story as they were before. Perhaps it would be better for the show to go back to what they were doing and show the acts and the judges' decisions without cutting to the reactions of the audience sitting below. Just my two cents.
There was also an act that auditioned before but never made it through to the next round: The Russian Bar Trio. I applaud them for coming back and auditioning again. It goes to show that if you have a dream, you must chase it with everything you got. I also really loved the juggling act from Viktor Kee, who once worked at Cirque du Soleil. I'm looking forward to what he can do in the next round of the competition.
The final act of the evening is 20-year-old singer named Sal. He belted out Frank Sinatra's "My Way" and earned himself a Golden Buzzer from Heidi Klum. Truthfully, I think that Landau Eugene Murphy Jr., who won the competition in season six, is better than Sal. Then again, I'm no Simon Cowell when it comes to music.
Photo via NBC
America's Got Talent Season 11 Episode 3 Review: "Auditions: Week 3"
Summary
More acts perform and Simon gets to be onstage in this week's America's Got Talent.