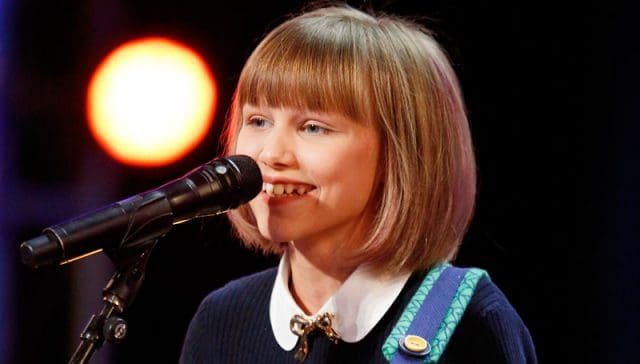 "The winner of the one million dollars and the headline show in Las Vegas is…" As Nick Cannon spoke those words, I can only imagine the emotions that are running through the contestant's minds. It's the season eleven finale of America's Got Talent, and the pressure is getting higher.
The top ten acts that performed brought their A-games. I loved Tape Face's performance with Brian Justin Crum, Viktor Kee, Jon Dorenbos and a member from Linkin' Bridge. I felt sorry for the last four contestants, however, as they have to balance themselves lying on their backs in mid-air.
The Clairvoyant's act is mesmerizing as usual as they predicted randomly chosen lottery numbers. It was also great to see Paula Abdul take part in the act. The former American Idol judge then helped Jon Dorenbos with his performance that kind of went wrong in the beginning, but worked out in the end. Stevie Nick's rendition of the song Landslide was nothing short of amazing. I was singing along with her as she performed.
When I watched the part about Howie Mandel's past as a famous dancer, it made me roll my eyes. In an amused fashion, of course. This is Howie Mandel we're talking about. The man is always doing something quirky and amusing. I especially enjoyed watching Heidi Klum and Mel B teach Howie how to dance. It would make more sense, however, if Mel B were the one teaching Howie given that Heidi used to be a model and not a dancer.
I also noticed something different about Nick Cannon in tonight's finale. He wore a white turban on his head. There were question marks floating around my head as I tried to figure out why. Though the obvious answer is that it's a fashion statement. Nick tends to have some interesting fashion choices right down to his sparkling shoes.
When the top five acts were chosen, it surprised me to see Viktor Kee and Laura Bretan head home. They were phenomenal acts that deserved to go all the way. Guess America thought different. If it were up to me, I would have Viktor, Laura, Jon, The Clairvoyants and Brian Justin Crum in the top five.
Now comes the part that we've all waited a long time for. Who will win the million dollar prize and the headline show in Las Vegas? Grace VanderWaal! To be honest, I thought that The Clairvoyants would be the winners because they have a greater stage presence than Grace. That and I would see them in Vegas. Congratulations to Grace and don't go spending that million dollars in one place! See you next year, AGT!
Photo via NBC
America's Got Talent Season 11 Episode 25 Review: "Live Finale Results"
Summary
The winner of season 11 is announced on tonight's America's Got Talent.