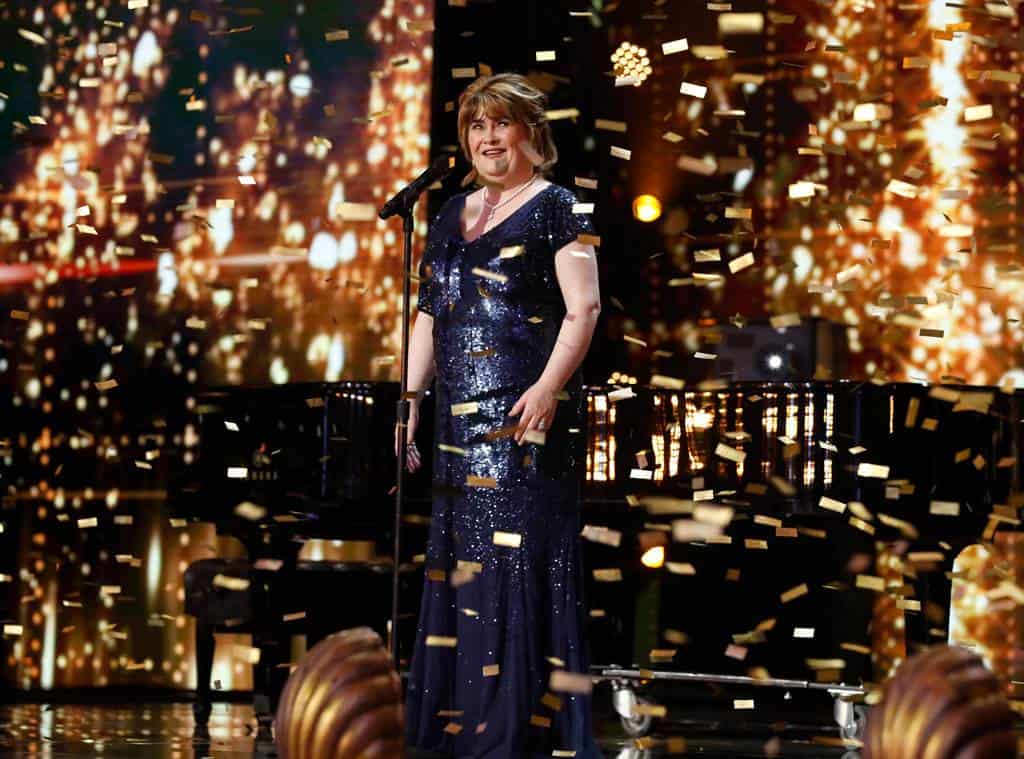 Everyone deserves a second chance. Whether they made it big or have come close to making it. In this week's premiere episode of America's Got Talent: Champions, fifty acts fight to be the best of the best. Ten acts perform each night over the seven-week period and from each of the ten, two go through to the finals. The voting process is also a bit different this time. Instead of having the judges vote, they each get to use the Golden Buzzer on the act they think is good enough to move on. The second act will be decided by the votes from superfans from all fifty states. Let the competition begin! Oh, and a major shout-out to new host Terry Crews. You, sir, are awesome!
Best Acts:
The Clairvoyants
I absolutely love these two. They always bring a sense of mystery and awe in their performance. This time is no different as they put their predictive powers to the test again. They correctly predicted what each judge would choose on their dream dates. From Heidi's campfire scented candle to Howie bringing pants as a gift. The icing on the cake was the video that they made before they went onstage, showing their predictions of what the judges would pick before they even picked it. I swear these two should have their own act in Las Vegas.
Alex Magala
Oh my goodness, this act was a bit hard to watch. Magala swallowed swords of different lengths while doing acrobatic stunts. When he did the death drop on the pole with a sword in his mouth, I thought for sure that it spelled disaster. I breathed a sigh of relief when he managed to stop just before he hit the ground. I chuckled when Simon pulled the small sword out of Magala and then tried to attempt the act himself but didn't go through with it. Simon, the guy is a professional, you are not, okay?
Justice Crew
The winners of Australia's Got Talent graces the AGT stage with their energetic dance routine. Their vocals were pretty good as well even though I have not heard of this dancing/singing group until now. The beginning of the song they sang reminds me of BTS's Idol. Not sure if it's a coincidence since some melodies in certain songs sound like melodies from another song. Other than that, the act was very good.
Susan Boyle
I first heard her sing on a YouTube clip from Britain's Got Talent. She's still as good then as she is now. The way that she hit those high notes was nothing short of perfection. The glowing tree effect that they had as a backdrop during Susan's performance was very fitting. Mel B definitely got it right giving Susan the Golden Buzzer. I almost stood up and cheered along with Simon when Mel B pressed that Golden Buzzer. Truly well deserved!
Preacher Lawson
This guy is a comedic genius! During a backstage glimpse, he was talking with Vicki Barbolak and Sofie Dossi got in on the conversation. Lawson then hilariously said that no one is talking to her. That it's a "January, February conversation, March yourself out!". I'm still laughing thinking about it. His jokes were funny and brought a smile to my face. I applauded when he added in the "Wakanda forever" towards the end. Wakanda forever indeed!
Average Acts:
Bianca Ryan
This young singer won the very first season of AGT when she was eleven. I sympathize with her after what she went through in terms of having vocal chord surgery. Her performance, on the other hand, didn't quite give me goosebumps. The song choice is good and I'm glad that she could still hit every note despite her nerves, though it felt like watching an episode of The Voice if that makes sense.
Uzeyer Novruzov
I applaud him for getting his big ladder out and re-creating the act that landed him in the hospital the last time, but I have to say that the act didn't wow me as much as the others did. I know that doing elaborate tricks on a ladder is dangerous and takes a lot of training and skill, however, it does not have that Susan Boyle, jaw-dropping moment that I hoped for.
Sara and Hero
Okay, I'm glad that Sara was able to finally settle down in a very nice-looking house and not live in her car. Her act, on the other hand, was nothing too exciting. It's similar to what she had done before and didn't quite incorporate anything new. I mean, she could have Hero jump through an actual hoop rather than her arms in a circle. That or make him open the bank vault with his paws, anything to add a bit more excitement to the act. I know that dog training is a difficult profession, but given that she's been doing this for a number of years, maybe it's time to teach Hero some new tricks?
Sofie Dossi
The young contortionist from season 11 of AGT wows the crowd with her contortion skills. Though it's amazing that she could still bend her body like a pretzel, I did not really find it too amazing. Yes, being able to do what she does is very hard, but again, it felt like I was watching a reboot of her previous acts. She made it to the Top 3 but ended up leaving after finishing in third place.
Abysmal Act:
Vicki Barbolak
Why oh why must they bring her back? Her jokes are not as funny as Preacher Lawson's and the laughs from the audience were scattered instead of roaring as they did with Lawson. I like her humility and loving energy, but maybe being a stand-up comedian isn't quite her thing. Then again, it's her chosen career choice so she can do what she wants. At least she won't come back again. Right?
Top 3:
Bianca Ryan (finished second)
Preacher Lawson (goes through to the finals along with Golden Buzzer act Susan Boyle)
Sofie Dossi (finished third)
Funny Moment:
Mel B and Heidi fighting over who got to keep the wings that were on the piano during Bianca's performance. I think Heidi should have them since she used to be an angel for Victoria's Secret. I'm just saying.
Photo via NBC