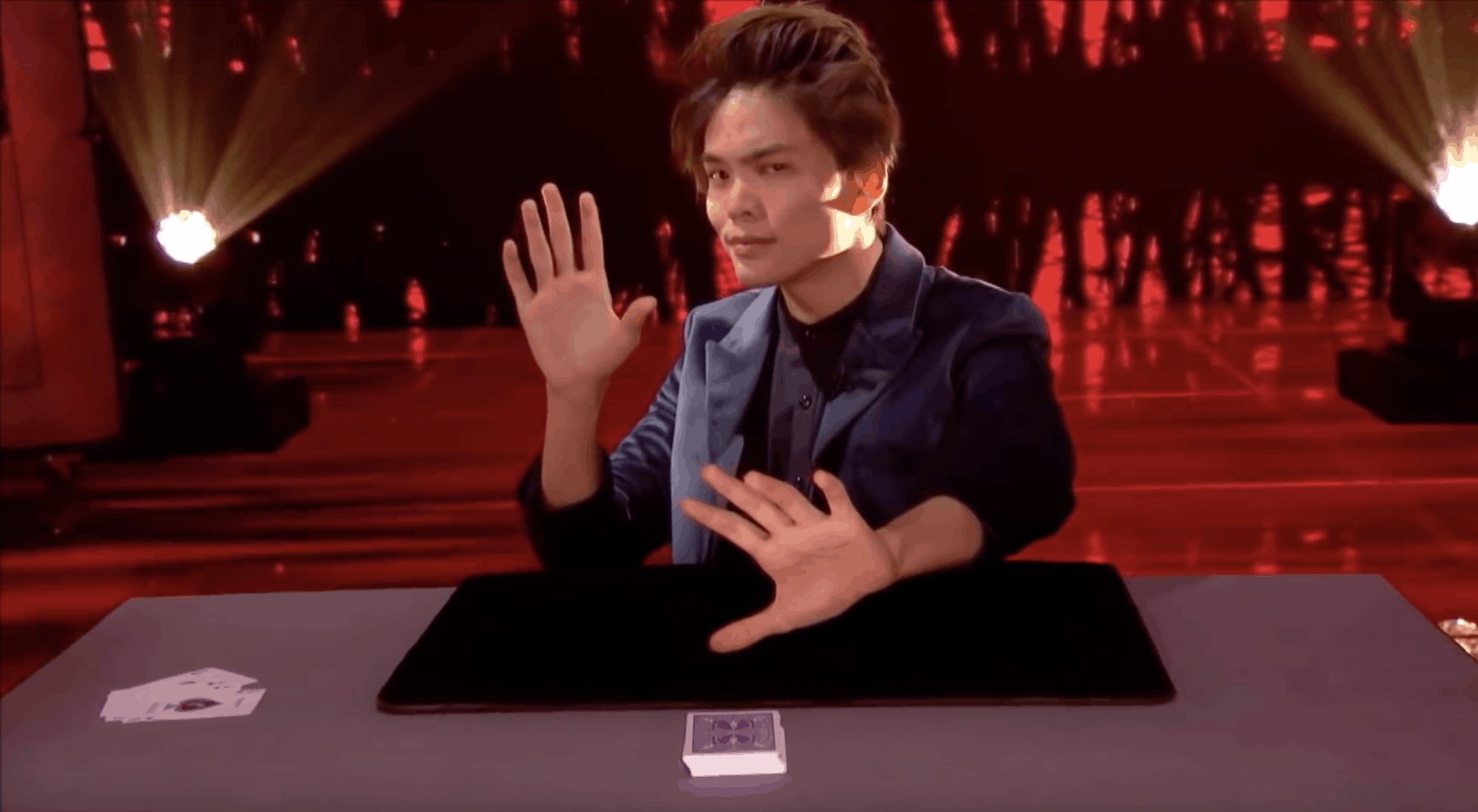 It's the last night of performances before the finals begin on America's Got Talent: The Champions. The final group of ten acts will metaphorically speaking, fight to the death to earn a spot in the finals. The honor of the Golden Buzzer tonight goes to Terry Crews. Who will he choose to move on?
Best Acts:
Shin Lim
This guy's magic blows my mind every time. I swear he is like a real-life Harry Potter without the magic wand. The performance that he delivered tonight was astounding. The way that he made those cards appear and disappear was so effortless and so quick, it's hard to tell exactly how he did it. Also, how did he get the remaining cards in Terry's jacket pocket? Once a champion, always a champion. Good luck in the finals Shin!
Attraction
I almost cried during this act. Their beautiful story-telling was moving and hits you right in the feels. Their graceful movements behind the screen just make you smile and they definitely deserved the win on Britain's Got Talent. I especially loved the part where they travelled through the various American cities like New York, Seattle and the like.
Kseniya Simonova
Sand art is nothing new. You either have the gift for it or you don't. Kseniya, on the other hand, definitely has a gift. She created scenes in the sand with practised ease and I'm sure that those who became famous can relate to her story. In addition, this reminds me of a Taiwanese film called Papa, Can You Hear Me Sing. It tells the tale of a girl who was abandoned as a baby and an Army veteran raised her as his own. The girl later grew up to be a famous singer, forgetting her father in the process. The film ended in tragedy with the girl's father dying and the same with the boy's parents in Kseniya's sand painting. Terry was overcome with emotion that he rushed out from backstage and hit the Golden Buzzer, sending Kseniya to the finals. Excellent choice, Mr. Crews!
Colin Cloud
At first, I thought that the act was a bit slow in terms of flow, however, it didn't deter from his overall performance. He correctly predicted the random number and letter that Howie had chosen. My eyes almost bugged out when David Hasselhoff appeared in the audience. It seems that the Hoff was part of Colin's act and that he is the shocking twist to Colin's narrative. It seems that Colin is indeed the real-life Sherlock Holmes! Shame he did not get to move on to the finals. Better luck next time?
Cosentino
Escape artists always make me sit on the edge of my seat. Their acts are literally on the line between life and death. One wrong move or miscalculation and they're either en route to the hospital or to the city morgue. The runner-up from Australia's Got Talent wowed the American crowd with his adrenaline-filled escape act. I had to let out the breath I didn't know I was holding when he finally unlocked the lock around his ankles and leaped out of the way before being barbequed by flames. I was so sure that the fifty states would vote him through. As a result, his status as a runner-up did not change.
Tokio Myers
His piano-playing skills are, to use Mel B's words, off the chain! In addition, he even turned into a kind of one-man band switching from the piano to the cymbals and drums placed around him. The graphics were a bit much but it still added that pizzaz to his performance. I thought that Terry would've hit the Golden Buzzer for Tokio, but Kseniya is still a very good choice.
Sal Valentinetti
Sal's rendition of Mack the Knife by Bobby Darin shows that he has the singing chops to make it big. Howie even compared him to the late Frank Sinatra after the performance and I have to agree. His spin on the lyrics of the song was very well done (he could definitely give Wayne Brady a run for his money) and he seriously deserves a record deal of some kind. What say you, Mr. Cowell?
Average Acts:
Jackie Evancho
I apologize in advance to Jackie and those who are fans of her music. Her performance tonight was great and it gave me goosebumps. The reason that I put her in this category is the song she chose to sing. Yes, Music of the Night a great song from a classic Broadway Musical and that it showcases her opera-singing talents, but I feel that it doesn't quite fit with her voice if that makes sense. Like it sounds a little off in a way. Don't get me wrong, she's still very good, but I just think that had she gone with a different song, she would be able to take one step closer to the finals.
Lost Voice Guy
The jokes that he delivered tonight was funny, but it wasn't exactly laughing and keep on laughing afterwards funny. I give him props for chasing after his dream of being a stand-up comedian, though. Side Note: The computerized voice that Lost Voice Guy uses to "speak" sounds familiar but I can't for the life of me figure out who it is. Is it Simon or Sir Anthony Hopkins? Help anyone?
Sons of Serendip
Okay, the song choice of Somewhere Only We Know was great, I'll give them that. The overall performance, on the other hand, felt like watching a small TV concert than a Vegas-type or stadium-type performance. Kudos to them for making it to the Top Three but that's as far as they got as they finished in third place.
Top Three:
Attraction (finished in second place)
Shin Lim (finished first. Moves on to the finals)
Sons of Serendip (finished in third)
Final Two:
Kseniya Simonova (Terry's Golden Buzzer)
Shin Lim (voted through by superfans)
Photo via NBC
Tell us what's wrong with this post? How could we improve it? :)
Let us improve this post!