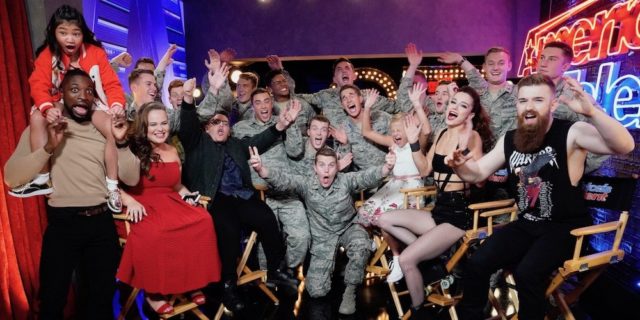 We have been through this before. Acts fight hard to move on to the next round, and then they wait nervously for the results. Tonight's episode of America's Got Talent is no different.
The night started off with the reveal of the bottom three. Christian Guardino, Yoli Mayor, and Just Jerk Crew are the ones in danger. The only thing that can save them is the Dunkin' Save, and the judges will choose one of the two remaining acts to move on to the semifinals.
In the Stairwell is the first act to go through. Though I'm happy for them, I still don't think that their act is worth a million dollars. Maybe they will prove me wrong.
The next result is Preacher Lawson. His performance last night was funny. It made me smile, but it didn't make me laugh. The comedian is still quite entertaining though. Best of luck to him in the next round!
When both Darcie Lynne and Angelica Hale went through, my jaw dropped. I thought Angelica would be sent home as her performance, though very good, was not as captivating as Darcie Lynne's. Again, good luck to the both of them!
The final result went to Billy and Emily England. I had hoped that Bello Nock would get the chance to move on to the semifinals, but I guess his luck has officially run out. At least he can think about coming back next year. Who knows, perhaps he will be the one to win the million dollars.
The AGT Dunkin' Save went to Christian Guardino. I look forward to seeing what musical treat he will bring as the semi-finals approach. Yoli Mayor got saved by the judges, thus completing the first top seven acts. Just Jerk Crew, unfortunately, got sent home. I wonder if there is a chance for them to come back as a wild card?
Side Notes
Last year's winner Grace VanderWaal returned to perform an original song, Moonlight. It reminded me of the song by King Harvest as it had "dancing in the moonlight" in the lyrics. Perhaps the young singer could do a cover of it sometime?
Howie channels his inner Mrs. Doubtfire as he dressed up as a woman to prank unsuspecting people who have come to audition for the show. He looks pretty convincing as a woman.
Photo via NBC
America's Got Talent Season 12 Episode 14 Review: "Live Results 1"
Summary
Twelve acts fight for a spot in the first top seven to move on to the semifinals on tonight's America's Got Talent. Will your favorites make it?