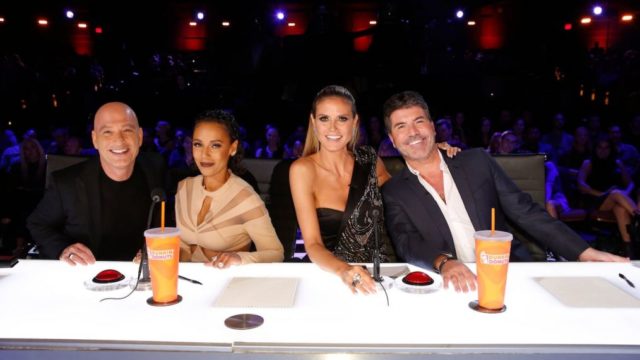 The quarterfinals are almost over on tonight's episode of America's Got Talent. The final group of twelve acts give it all they got for a spot in the upcoming semifinals. Who will step it up and who will take a step back?
DaNell Daymon and the Greater Works started things off with an energetic performance. By the end of it, Howie exclaimed that he had accepted Jesus. I'm sure that it was in the spur of the moment, but hey, people change. Though I agree that the gospel choir brought the house down, I'm not sure that they would be able to make it to the semifinals. I just can't envision them onstage in Vegas.
Dancing brother and sister duo Junior and Emily performed next. Although their routine was very impressive, it's like it's the same thing all over again. Junior spun his sister like he did before and it makes me think that they don't have any more new moves. Good luck to the both of them when they reveal the final top seven tomorrow.
When Final Draft appeared on the stage, I was intrigued. Apparently, the A Capella group Got the chance to comment back and compete thanks to Simon pulling some strings. Either that or the network asked them to come back because they needed a few more acts to fill up the two-hour time slot. Ironically, Simon thought the performance was too fast paced while Mel B thought it was incredible. Howie said it was boring and I'm sorry to say, I agree with him. Not sure if they can make it through, so we will have to wait and see.
Colin Cloud's act was nothing short of mesmerizing. Though it took kind of long from beginning to end. I was waiting for the instant wow factor, but it didn't appear as instant as it should. He still deserves a place in the semifinals so vote, America!
Kechi and Chase Goering both delivered spectacular performances tonight. Kechi sang Katy Perry's By the Grace of God while Chase sang an original song that he wrote called Illusion. Both acts gave me goosebumps as I listened to them sing. Fingers crossed that they will earn a spot in the semifinals!
Side Notes
Oskar and Gaspar's act tonight felt a bit slow paced. It was not as fast as before when they included Heidi in the performance.
Oscar Hernandez's dance routine felt the same as before. Not a lot of new things added to it. I have a feeling that he would be eliminated from the competition.
Hero and Sarah did a good job, but again, it felt like I was watching the same thing again.
When Howie said "Nyah Nyah Nyah Nyah Nyah!" to the camera after Chase's performance, I laughed quite hard.
Predictions for Final Top Seven
Chase Goering
Colin Cloud
Kechi
Diavolo
Junior and Emily (maybe?)
Oskar and Gaspar
Hero and Sarah
Photo via NBC
America's Got Talent Season 12 Episode 17 Review: "Live Show 3"
Summary
The final group of twelve acts perform for a place in the upcoming semifinals in this week's America's Got Talent. Will your favorites make it?