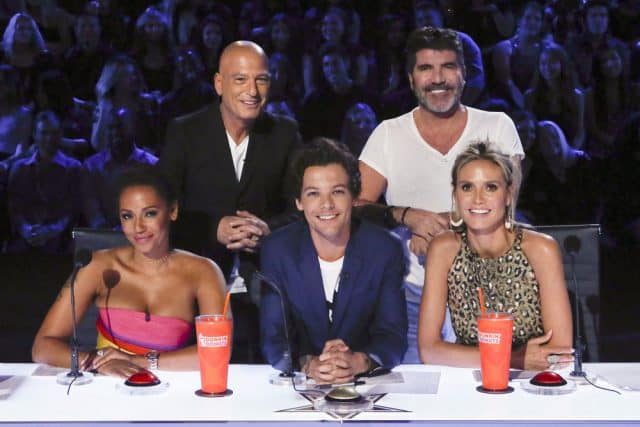 It's the final round of Judge Cuts on America's Got Talent. Things are going to get crazy, crazy, crazy, crazy. See what I did there? The final guest judge is none other than Louis Tomlinson from One Direction.
The final twenty acts that performed tonight were once again a mix of good and bad. The good ones either did okay but didn't make it through or stepped up their game and earned themselves a spot in the finals. I loved The Clairvoyants' act. When Amelie predicted a wrong number on the hundred dollar bill, I thought the mentalist duo wouldn't make it. Looks like my own "predicting" powers need some work because they earned a place in the live shows. I'm not going to call it or anything, but I think that the final two acts will be Jon Dorenbos and them in the finale. Just a thought.
Viktor Kee's juggling act was mesmerizing as usual. My heart went out to him when he said during his interview that his older brother had passed. It's saddening when we lose a loved one, but as long as we remember them, they will always be with us. I wonder how long it takes him to put on all that makeup? Care to weigh in, Viktor? Louis also pressed his own Golden Buzzer in this final round of Judge Cuts. Singer Jayna Brown got the coveted buzzer from Louis after her amazing performance. She truly deserved that Golden Buzzer.
One of the acts that did okay, but didn't get a spot in the remaining top seven, was Nathan Bockstahler. His jokes this time around were sort of funny. I didn't burst out laughing though, just had a smile on my face. Kids may say the darndest things, but not everything they say is pure gold.
The act that almost made me change the channel was Jonathan Nosan's act. I could barely watch his first audition much less this one. All he did this time, was bend over backwards while wearing a full body sparkling suit that reminded me of the diamond girl from the X-Men movie. If I were one of the judges, I would've pressed my buzzer immediately so I wouldn't have to sit through a boring two minutes.
Next week, the show will be live from the Dolby Theater in Hollywood. America, please vote wisely and not send an abysmal act through to the next round of the finals. Thanks in advance.
Photo via NBC
America's Got Talent Season 11 Episode 11 Review: "Judge Cuts 4"
Summary
Things are going to get crazy, crazy, crazy on America's Got Talent. Louis Tomlinson serves as the final guest judge as last twenty acts perform for a spot in the finals.