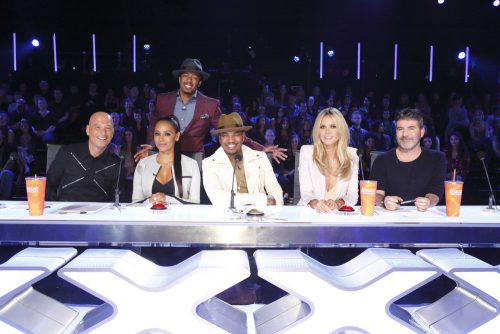 It's Judge Cuts on this season 11 of America's Got Talent. Twenty acts perform but only seven will go through to the live shows at the Dolby Theatre (apologies in advance for saying Radio City Music Hall in my previous reviews. I thought that the show would be doing their live shows there again this year). I've kind of "predicted" a few of the acts that went through, including Ne-Yo's Golden Buzzer act.
After watching Hara's performance, I knew for sure that he would move on to the live shows. When the container opened and no Hara in sight, I thought that it would hurt his chances of going through. I let out the breath that I was holding when the Japanese magician popped up from the judges' panel.
Jon Dorenbo's magic act blew my mind. At first, I thought he was bombing his performance when he made what seemed like a false prediction of Ne-Yo's card. Then he went and made the right card appear in the drawing; my eyes were bulging out of their sockets. I figured that Ne-Yo would hit the Golden Buzzer right after he said, "Can I do something?" Feels good to be right.
The Passing Zone's performance tonight was a nail-biter. I'm glad that they listened to Simon and included Howie again along with Mel B. I think the juggling duo should include Simon himself in their act one of these days. So he can get a sense of what it feels like to fear for ones' life. I felt a bit sorry for Howie when he got dunked into the water tank given that the man doesn't like to take baths.
I also loved Ronee Martin's performance. Her voice is right up there with Diana Ross, Gladys Knight and maybe the late Whitney Houston. I agreed with Ne-Yo when he said, and I'm paraphrasing here, that age doesn't matter when it comes to chasing your dreams and making them a reality.
Some of the acts messed up tonight and some I just didn't bother watching because they didn't do enough to wow me. That's just me, though. They might have wowed the rest of you who were watching along with me. I can't wait until next week when more acts will be put through/eliminated from the competition. Wonder who Reba's Golden Buzzer act will be? Any guesses?
Photo via NBC
America's Got Talent Season 11 Episode 8 Review: "Judge Cuts 1"
Summary
Judge Cuts begins on this week's America's Got Talent. Will your favourites make it or will their dreams for stardom come to an end?