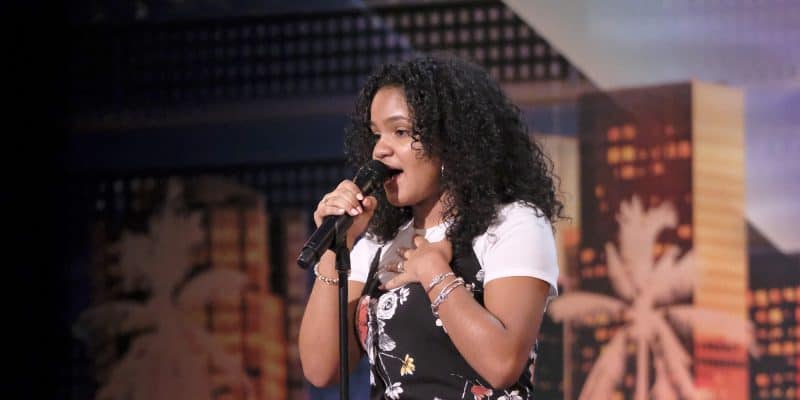 Tonight may be the fourth night of auditions on America's Got Talent, but the stakes have never been higher. Acts try to give it everything they got to impress the judges. Who will get the opportunity to move on to the next round?
Best Acts:
Jeffrey Li – This young singer from Toronto, Canada wowed the judges with his cover of Josh Groban's Raise Me Up. He made the song his own, and it reminds me of all the previous child singers that have auditioned for the show. The audience was also blown away by the performance, with Howie later comparing the young man to Celine Dion. What shocked me was Simon promising to buy Jeffrey a dog of the latter's choice should he do well in his audition. In the end, Jeffrey is going to get a #PuppyFromSimon. Wonder what his parents will say to that?
Udi Dance Crew – They previously auditioned for Britain's Got Talent and decided to try their hand at the American version. Their audition impressed me. It's quite similar to what Fighting Gravity did in their performance on AGT eight years ago. I agree with Simon; I like it when things go dark because it just lets the imagination go in a direction that will either thrill you or scare you.
Daniel Emmet – I applaud this talented singer for his ambition. During his performance, Simon cut him off halfway, saying that while the song is well executed, it's not good enough. The judge then gave Daniel another chance by telling him to learn a mystery song within the timeframe of an hour. If I were sitting in the audience, I would give him a standing ovation.
Duo Transcend – This married trapeze artist duo defies all odds with their high-flying act. There is an added danger to this because Tyce suffers from depleting vision. One wrong move then it's curtains for the two of them. The circus gods must have been smiling down on them as they dazzled the judges and the audience. It was truly stunning and jaw-dropping.
Average Acts:
Voices of Hope Children's Choir – I love their rendition of the song This Is Me from the musical film The Greatest Showman. Though I have to agree with Howie, I don't like it for the show. Kudos to them moving through though!
Quin and Misha – This young/old dance duo amazed the judges with their perfect dance routine. I give major props to Quin for still being able to dance at her age (she will be 71 next month), but I'm not entirely sure that they have what it takes to win. Maybe they will prove me wrong?
Annaliese Nock – The 21-year-old daughter of daredevil Bello Nock graces the AGT stage, following in her father's footsteps. Her act was dangerous and exciting, though it's not exactly a talent as she would have been trained by Bello to perfect her stunts. On the plus side, she was allowed to move on.
Abysmal Act:
Lioz – The self-proclaimed mentalist attempts to impress the judges with his ability to move objects with his mind. I don't think that he has any telekinetic skills or he could give the real mentalists out there a run for their money. He got the chance to move on because Mel B and Howie thought he was funny. Simon even took back his X after going back and forth a bit with his decision.
Mel B.'s Golden Buzzer Act:
Amanda Mena – I felt sympathetic toward Amanda given that English is also my second language and that I had trouble fitting in with the rest of the kids at school when I was younger. The only difference is that I immersed myself in books while she turned to music as her solstace. Her performance of (You Make Me Feel Like) A Natural Woman led Mel B. to hit the Golden Buzzer, sending the young lady straight to the live shows in Hollywood.
Photo via NBC
America's Got Talent Season 13 Episode 4 Review: "Auditions 4"
Summary
The stakes begin to get higher in this fourth night of auditions of America's Got Talent. Mel B. also presses the Golden Buzzer for a young singer.