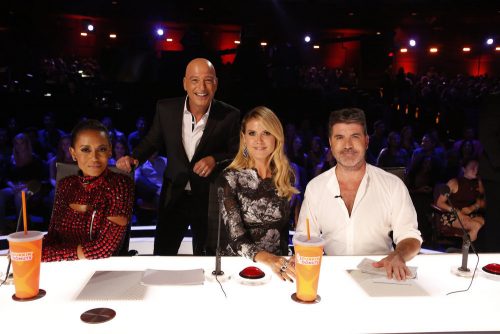 It's results time again on America's Got Talent, and the votes are in! Who will make it through to the semi-finals and who is going home? AGT Alumnus iLuminate returns to perform with Fitz and The Tantrums.
There's no question that The Clairvoyants, Viktor Kee, Steven Brundage, and Calysta Bevier are among the seven semi-finalists. Their performances were amazing and mind-blowingly good. Though if I were to see one of these acts in Vegas, I'd go with The Clairvoyants simply because they have that mystic mentalism ability to foresee things. I wonder if they can predict who will win the Presidential Election?
I'm also glad to see that Sal Valentinetti and Kadie Lynn also making it through. Sal got the Dunkin' Save votes while Kadie got the tie-breaker vote after tying with Throwings during the judge's votes. Sal's performance last night reminded me of those television concerts that Dean Martin or Frank Sinatra would do back in the day. His song choice fit his Italian personality very well. I wasn't too immersed in Kadie Lynn's performance, but her voice is good too. Best of luck to the both of them as they move on to the next stage of the competition.
The light show that iLuminate and Fitz and The Tantrums put on was nothing short of spectacular. I clapped along (in my mind) along with the audience as they performed HandClap. The LED costumes were flashy and felt like a techno music event. Makes me wish that I was there at the Dolby Theater watching it.
The show took a lighter turn in which Nick Cannon is talking to a group of kids. The topic of discussion was Judge School. Nick asked one of the kids who is the greatest judge of all time, instead of naming one of the AGT judges, the boy answered Judge Judy. I almost spit out the water that I had been drinking. Kids say the darndest things, don't they?
I felt sorry for Ryan and Amber Lynn. As a result, I thought America would give them pity votes after the near-death encounter that Ryan went through last night. Guess it was not to be. Better luck next year, Ryan and Amber Lynn!
America's Got Talent will return on August 23 at 8/7c on NBC after the two week Rio Olympics coverage. More remarkable acts will perform for their chance to go to the semi-finals. Don't miss a minute!
Photo via NBC
America's Got Talent Season 11 Episode 15 Review: "Live Results 2"
Summary
America has voted. Which acts made it and which ones didn't? It's results night on America's Got Talent!