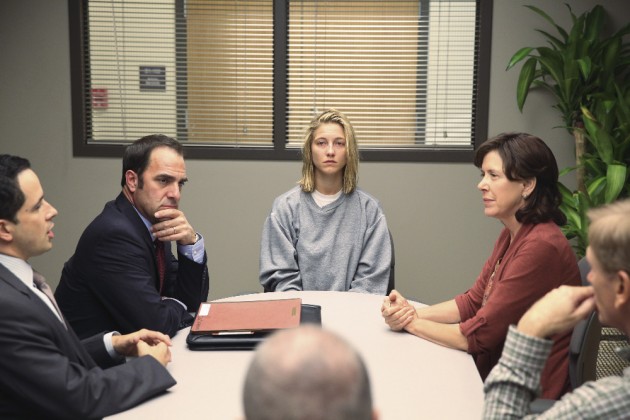 The most interesting aspects of the central murder of American Crime have not been the details of the case. It's been watching how that tragedy gets co-opted by others, morphed into statements and movements about observing the burden of mourning, and what happens when deep-seeded, buried memories are a part of that pain, be it from a unique, personal experience we've tried to forget, or the norms of society we are always trying to ignore. Either way, American Crime has struggled to keep these stories grounded; the more it dipped into radical dramatizing, the less effective its social critique became. "Episode Nine," in that regard, is a return to form. Mostly gone are the overwrought, heavy-handed dramatics of previous episodes as characters try to secure futures for themselves, and are left wanting: by their families, by the public, and by the state itself, leaving all in a state of suspended frustration, able to reach out and express themselves to others, but left lacking the connection they seek in their time of reconciliation.
That running undercurrent makes "Episode Nine" leaps and bounds better than the last few weeks – a clear thoroughline streamlines all these stories whirling around the central tragedy, which appears to gain true definition this week, when Aubry breaks down and appears to confess to the murder of Matt Skokie. But her truth doesn't really matter: the strongest connecting thread between Carter, Tony, and Hector is not how elastic they are with the same moment in time, but how little that appears to matter. The state is there to prosecute whoever fits the agenda (or assumed "timeline") the neatest, and puts their foot down on anyone (particularly minorities) who tries to challenge that truth or authority.
After watching his 'buddy' get choked to death during 'music time' (the episode's most melodramatic, disturbing real-life allegory so far), Tony begs his father to get him out of jail. Alonzo can't, because he doesn't even know what the cost of his son's freedom is – between court costs, possible charges, fees, and finding a good lawyer, the cost is so great that Alonzo is considering selling the business he's run since he came to America, just to get his son out of juvie – and across the way, I'd be willing to bet Hector's freedom is going to be thrown away, after it's revealed that Aubry made a confession (everyone's willing to believe a white girl over a convicted Latino; plus, if the court can have two people in jail instead of one, then everybody wins, right?). The police always spout truth as a defendant's greatest ally, yet increasingly, American Crime shows how little the truth actually matters once something takes on meaning, no matter how misguided.
Most importantly, American Crime offers little pockets of hope in "Episode Nine," slightly lifting the dour veil that's dragged down much of the show. Of course, all of these moments of happiness or connection come with their own set of impending horrors: Russ visits Barb and they reminisce together (though Russ is only visiting because she bought a gun); Hector talks to his girlfriend about the future (with his freedom about to be yanked from him); Tony asks his father for help (when Alonzo has no way to help him); and of course, Gwen's parents finally get to take her home (except she can't take care of herself in any way, shape, or form). American Crime barely gives these characters moments of light before Aubry's confession (or is it?) rips them all to pieces – but for a moment, American Crime offers hints of optimism in the aftermath of last week's riot, right down to Aliyah agreeing with Aubry's foster mother that the two need to "be saved" from each other (which is probably true, but is the catalyst for Aubry's confession, at the same time).
It may not be lasting, but those small moments of relief are huge moments for American Crime: it gives the audience a breather before it dives back into the un-subtle, which includes a dozen references to Barb's gun, and the overwhelming feeling that the murder mystery at the heart of the show still holds some importance, which had seemed to wane in recent weeks, paving way for other stories about hate, healing, and reconciliation with self. However, "Episode Nine" brings back the horrible crime at the center of the series, in a way that brings a little nuance to the show's overwhelming, over dramatized (but eerily accurate and familiar) examination of the deep-seeded racial issues still dividing our country, and fueling our "justice" system.
[Photo credit: Ryan Green/ABC]