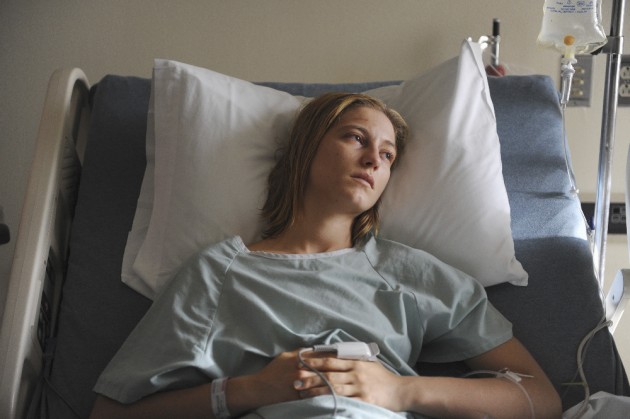 American Crime's examination of "the system" has led it to a number of intriguing, if not so subtly shaded, places in its first season. Politics, race, religion, family… all of these tenants, these cornerstones of civilization, are put through the twisted prism of "the system" when something happens, inevitably spitting out an image of someone that is dissonant from what we know, or think we know, about them – or in the worst of cases, ourselves. More than any other episode to this point, "Episode Seven" stares directly at 'the system', and how easy it is to miss the few opportunities the cruel, cold, unforgiving world of justice, politics, and society give us to find, and heal, ourselves (or just to "work the system," as Hector appears to do in this hour).
Every corner of "Episode Seven" features a character trying to attune for some perceived mistake they've made – as Carter tells his sister after an unnerving confession (if that's what it was, even), "I don't know how to make this right." That desperation has permeated every character on the show already, and "Episode Seven" only doubles down on this, arguing that while we find ourselves trying to operate within a failed system, sometimes we're really the ones holding ourselves back. It's a classic example of the system isn't fair – Aubry is basically given the choice of putting Carter in prison or going to prison, a choice we see Hector very, very quick to make – and boy, does "Episode Seven" lay it on thick in this regard.
Is it too thick? It's one thing for American Crime to jar the consciousness of America, but it's dour nature (and melodramatic underpinnings) undercut some of the points it's trying to make. Basically, there's no hope in American Crime – and although The Wire often operated under the same "the system is screwed up" mantra, it understood that there was still a point to grounding at least a few characters in hope. At its core, American Crime wants to challenge us by depressing us, by throwing the ugliest, twisted families into this orgy of depressive cutaways (why did Carter become a crackhead? Because he hated suburban life!) and sad turns of events (Aubry calls in her family and falsely accuses her brother of gang-raping and drugging her so she doesn't have to be compelled to testify against Carter). "She saved me" was a much stronger phrase (even though it wasn't all that powerful to begin with) before it was revealed why Carter fell in love with her: instead of the show offering us one small thread of hope, it's just another story to be crushed by.
Yet in that aforementioned scene where Carter tells his sister about feeling alone and depressed, there is a part of American Crime that kicks into place. Tragedies are often what brings families together, yes, but under the superficial guise of mourning as one, even though, as humans, we often mourn alone, in the deep recesses of our mind. And in there, grief can do funny things – so when families come together to process tragedies, naturally the ugliness will come to light (Matt's vaguely-racist internet search history, or everything else that happens with the Skokie family, always). When the story is as melodramatic as any of the families involved in American Crime, however, it undercuts this point a bit with superficial bits of shock drama, or throws at us unnecessary scenes of Ronnie stirring up drama with Barb, simply because she knows it will get a rise out of her (thankfully, it's the only time we have to see Barb this evening, putting the most annoying character of the show on the back burner).
Yes, there are many powerful moments in "Episode Seven": Carter's confession, Tony going back to juvie, Gwen's parents wondering how to heal her from a tragedy and a life she may never remember. But how the episode assembles them, it again offers the audience nothing at all to invest in: eventually, the political and justice systems swirling around every story on the show is going to step in and crush the souls of us all. At its heart, American Crime may be going for a nuanced portrayal of what happens during a particularly salacious murder case; however, its brash attitude and unforgiving, relentless pessimism undermine the serious, meaningful points the show has to make about the legal system and how it works (like the "check if you are a felon" box on an application – we don't think of it, but how many millions of lives are affected by this?). In the end, American Crime seems to suggest, we all end up like Russ: alienated, shirtless, and damaged, a victim of a voiceless, heartless system whose pursuit of "truth" is really just a pursuit of easy, uncomplicated justice – something that really just doesn't exist, at least not in our modern, diversified world. That is a depressing fact – but is it as useless and pointless as American Crime suggests we are to fight it?
[Photo via ABC]