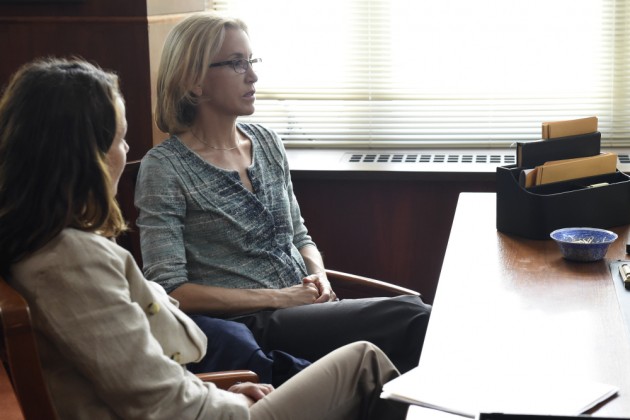 The dour nature of American Crime's layered story requires a very difficult balancing act: skew too far towards the overt commentary, and scenes can become dull soapboxes to thud characters against. By the same token, if American Crime strays too far from its point, it could easily be lost in the schlock-y plot dramatics we typically expect from network television dramas not named Hannibal. "Episode One" struggled to find its footing with this, while "Episode Two" stood as a haunting example of how well these stories can illuminate each other: "Episode Three," on the other hand, finds itself somewhere in the middle, unflinchingly honest in some moments, and in others, treating fragile stories and difficult ideas with no sense of subtlety at all.
Barb is the show's most glaring flaw at the moment: as wonderful as Felicity Huffman is, her character is such a thankless drag, she's dragging down the emotional connection the episode tries to make to the material. We can relate to her as a grieving mother who just lost the child she spent her life protecting, but often, this is coming in the face of simple logic for her character, who is aggressive, blunt, and focused to the point of near-parody. The journey of a mother in this situation is something we can all empathize with, but "Episode Three" once again loses her in this attempt to be 'even-keeled.' Barb's inability to deal with the truth about her son's death is brutally blunt and short-sighted. She wants to admonish her ex-husband for leaving their kids, but she also wants to punish him for bringing drugs into the house and addiction into the gene pool: her grief is causing her character to lose all consistency – which may in fact be intentional, but makes for very thin scenes that don't give Huffman any room for nuance in her performance, the kind of nuance she brings to strong-headed characters (like on Sports Night, for example).
Thankfully, her story is but one amongst the colorful palette of American Crime, and like in Barb's case, where plot and characterization are a little off, the performances and cinematography remain arresting enough to make up the difference. Sure, there are plenty of heavy-handed moments – the arrival of Carter's Muslim-converted sister Aliyah being chief among them – but there are plenty of other great stories to cover these flaws, like the various members of the Gutierrez family. The scene with Jenny and the faceless police alone speaks to how evocative American Crime can be when the creative elements of the show come together: how can she trust the police, no matter who they are, after what's happened to her family? The parole officer at the juvenile center won't let Tony go home (the most heartbreaking element of the episode; seeing him get defended on that basketball court was akin to watching Bubbles walk down a darkened alley), telling Alonzo that the state knows what is best for his child, even though Tony's walking around with a broken face. Moments like those are so powerful, pulling back the assumed nobility of the American justice system, and exploring a different side of the legal systems in America that crime procedurals ignore.
So despite some overwrought bits of story and character – Aubrey's magazine hunting is just getting annoying – American Crime remains an engaging watch, even in those less-than-subtle moments. When John Ridley can strike a balance between the powerful performances and the script, without engaging in silly dramatics like Barb's constant rants or the "secret" life of Tom and Eve's daughter (Eve: nominee for worst mother of the year?), it is unforgiving in its attempts to enlighten us all into our various predilections and biases, no matter how deep-seeded or innocently misguided they may seem. American Crime not only examines the tensions with a society, between a government and its people, but within families, examining the spiderweb of emotions and life events that can lead us down the road of assumption and anger – and how dangerous that can be to ourselves, the ones we love, and our world as a whole. When it finds that balance, American Crime is as powerful and gripping as anything on television.
[Photo via ABC]