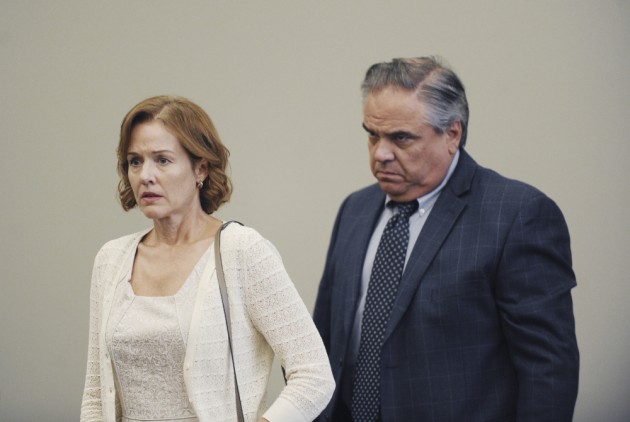 Everything about American Crime, at least through four episodes, is about image, about interrupting specific presentations of self, of others, or of situations which we are on the outside of. This idea of undercutting assumed perceptions seeps through every facet of the show, most notably its cinematography, which continuously distorts conversation and visual continuity, allowing conversations conveying one idea to play in voice-over, over static shots of characters exhibiting very different behaviors. Of all the episodes to this point, "Episode Four" hits this drum harder than any other – and like previous episodes, continues to be a mixed bag of how it handles (or heavy-handles) its story and players.
The biggest drag is the central murder mystery, which continues to unravel an All-American couple into this orgy-having, drug-addled couple barely able to keep up public perception, one of the heavy-handed examples of American Crime's storytelling. The idea of stripping away preconceptions to reveal more complex, broken human beings is intriguing on the surface, but the execution of it is so over-the-top, the sordid details of Gwen's affairs and Mark's drug use weigh down a tense scene of confrontation between the two parental units at the center of this tragedy. Moments like Tom calling his daughter a slut and Mark a drug abuser, accusing the Skokie family of putting her daughter in danger with their reckless son is a powerful scene; step back and examine the details, however, and the whole thing becomes a little too over the top to really be poignant (and throw in another round of Barb's extremely overt racism, and the whole thing becomes a little overwrought).
However, "Episode Four" does spend a lot of time on the woman that is Carter Nix's Muslim sister, and it really shines an interesting light on the ideas of religious perception this show's hinted at since she arrived on the show. Her scenes, again, are cliche-laden (woman gets inspired at impassioned religious speech, then goes over the top in her emotional commitment?), but Regina King embodies these spoken ideals with such fierce passion, it fills out the persona and story in ways the script can't necessarily do. Just look at her reactions when she's sitting in court or listening to Carter talk about Aubrey: her passion is as grandiose as Barb's racism, but enjoys a little more ambiguity at humanizing Aliyah's spiritual journey, along with taking a long look at the convenience of how she's applied her principles immediately to him, ignoring the simple facts that remain underneath the surface (drawing a great parallel to Barb, whose equal amounts of passion lack this kind of dimension in many scenes).
Much of the rest of "Episode Four" is bogged down by characters running in place, each character's personal delusions informing their external presentations to varying degrees of success, but only in service of the two moving plots of the episode, Gwen waking up and Carter's hearing. Arguably the show's best story so far is backgrounded for the most part: Alonzo cleans up from some graffiti left by local gang members, and Tony learns his first lesson from the gang, getting out of juvie by being a yes man – and while he gets drawn into the gang, we see the other end, with Hector's attempts to leave the gang before he gets extradited to Mexico. That parallel is a really strong one, and I wish there was a little more culled from those moments, rather than focusing on the bickering between families on the other end. There's an emotional component to Tony's story (maybe it's that innocent smile) that isn't quite there with the Skokie and Carlin families, at least not until Gwen begins talking again (hopefully next week, since she wakes up at the end of the episode).
So far, American Crime's stories have either succeeded from the show's unflinching look at the various political, religious, and racial cultures of modern America, or they've suffered from that same intense glare, many scenes going a little too far in dramatizing its point to the audience. However, when American Crime can ease off the pedal a little bit and find a good cruising speed, it can be an utterly fascinating glance in the mirror, examining how we as Americans view each other and ourselves in the modern world – and more importantly, how those presentations and observations of self can only reveal a small sliver of the real picture of who we, and others, are. In those moments, American Crime is really onto something interesting.
[Photo via ABC]