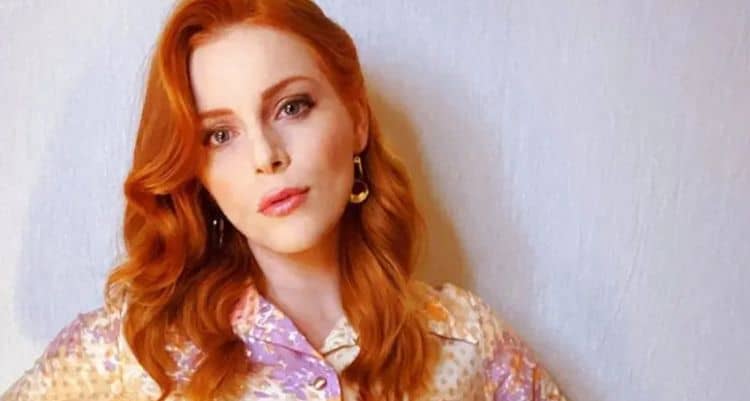 Amber Skye Noyes may have less than a decade of professional acting experience to her name, but she's already shown that she can act with the best of them. She has worked alongside some big names like James Franco, Priyanka Chorpa, Mariska Hargitay, and Lorraine Toussaint. Noyes is best-known for her roles in The CW series, Beauty and the Beast and the NBC series, Quantico. Although Noyes has yet to land a main role, she is certainly headed in the right direction. As a new cast member on Macguyer, fans are excited to know more about her. Keep reading for 10 things you didn't know about Amber Skye Noyes.
1. She Released An EP
On top of being an actress, Amber Skye Noyes is also a singer/songwriter. She released an EP titled Rivers in 2015. Some of her music can be found on her YouTube channel. However, it looks like Amber may have chosen to put more focus on acting for the time being. She hasn't released any music or YouTube content over the last couple of years.
2. Her Brother Was A Soap Opera Star
Amber's older brother, Tyler, is also an actor. In fact, he is a big part of what inspired her to pursue a career in the business. She did some small jobs with him when she was younger, so it's no surprise she decided to follow in his footsteps. Tyler portrayed CJ Roberts on the soap opera, One Life to Live. Amber also appeared on the same show in 2013. According to Tyler's LinkedIn page, his acting days are behind him and he is now the co-founder of a beef jerky company called Kalahari Bitlong.
3. She's Open About Her Political Views
Some people in the public eye prefer to keep their political views private. However, that isn't the case for Amber Skye Noyes. She has been very open about her political stances and spoke openly about supporting the #MeToo movement. She also attended the Women's March in Washington D.C. and said, "Even though here in the U.S. we are more fortunate than elsewhere in the world… we must continue to campaign for inclusivity and visibility. We must also lift each other up and celebrate all forms and communities of womanhood."
4. She Worked As A White Water Rafting Instructor
Before Amber Skye Noyes was living the life of an actress, she was working 'regular' jobs. One of those jobs was a white water rafting instructor. While not the most glamorous job on earth, working as a rafting instructor is a great opportunity to meet new people.
5. She Has A Siberian Husky
For a pet lover, there's nothing better than coming home to your fur baby after a long and stressful day. Amber Sky Noyes is the proud mom to a very cute Siberian husky named Nali. She enjoys exploring the world with Nali and the two can usually be found playing in the snow during the winter.
6. She's A Graduate Of NYU
Amber Skye Noyes began her college career at Emerson College in Boston. However, she ended up finishing her degree at New York University. Her brother Tyler took a similar path. He completed his first two years of college at the University of Miami before graduating from New York University as well.
7. She Had A Great Relationship With Her Dad
Amber and her father, David, had a very close relationship. He was always supportive of her acting career and was a fan of her work. Sadly, he passed away unexpectedly in the fall os 2018. Amber shared a heartwarming post on Instagram in honor of her father.
8. She Loves A Good Adventure
As you may have been able to guess from her stint as a white water rafting instructor, Amber Skye Noyes is very adventurous. She loves spending time outdoors and enjoys traveling. One of her favorite places to visit is Scotland.
9. She's A Fan Of Mysticism
Amber Skye Noyes is heavily inspired by mystic themes and incorporated them heavily into her EP. In fact, her personal website describes her as "Part mystic lady of the forest, part 1940's siren." Many of the phones Amber takes also incorporate these themes.
10. She Has Native American Ancestry
In an Instragram post, Amber shared an old picture of her maternal grandfather. In the caption, she revealed that her great great grandmother was a member of the Blackfoot Native American Tribe. Amber never really knew her maternal grandmother but does know that she worked as a model.
Tell us what's wrong with this post? How could we improve it? :)
Let us improve this post!