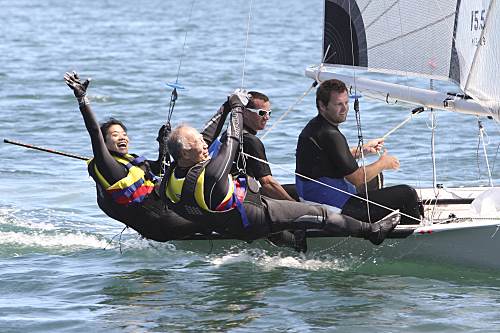 'It's a once in a lifetime opportunity…again.'
If there was ever a quote that best describes any reality TV all-star season, The Amazing Race 18: Unfinished Business wasted no time in finding it, as the Cowboys (season 16) pretty much delivered the season's tagline within the first ten minutes of episode one. Unfortunately, that's about all the Cowboys did right in the season premiere of the Emmy-favorite.
They're not alone in being a little unlucky, though. The 18th season of The Amazing Race is all about second chances, as these eleven teams combined to go through every awful way you can lose this show, from too much in-fighting to being U-turned to stumbling on a pivotal roadblock on the last leg, so you know there were 22 hungry, determined people on the starting line in windy Palm Spring, California. It was there when Phil Keoghan dropped the first bomb of the season; the team that comes in last on the first task (trying to find QANTAS Airline stamped on a paper airplane in a sea of paper airplanes…I see they've updated the ol"needle in a haystack'challenge) would be automatically U-turned and have to complete the two roadblock tasks on the first leg. Now, I know you guys love dramatic irony as much as I do, so obviously Amanda and Kris (who were U-turned in their respective season) were last (they were so discombobulated) and it was delicious.
Our racers first destination was Sydney and they've been divided onto two planes based on how quickly they found the airplane. And that's when stuff went silly. The bottom three teams (sisters Kisha & Jen, father/daughter Gary & Mallory, Amanda & Kris) were scheduled to arrive in Australia about 90 minutes after plane 1, but due to the fact that someone on plane 1 had a heart attack (I kid you not! They were okay, though!), plane 2 ended up getting to Australia about 20-25 minutes ahead of plane 1. If you thought the last couple of seasons were a bore, you might need to check out this season because 'Head Down and Hold On'had a pretty darn cool first 15-20 minutes.
Oh! And to beat it all, once they got there they had to swim with sharks to find a large compass to help with the season's first puzzle. The tank holds 1.5 million gallons with sharks up to 16 feet and stingrays as large as a queen sized bed. Not sounding as easy now, huh? The swimming was a mostly docile challenge, as those who were afraid of water managed and everyone else seemed to want to get it over ASAP. Vyxsin (season 12) was the only real struggle, as she couldn't find her way out, which would have caused me to freak the hell out, so points to her for staying calm, focusing on Kent's recently deceased father, and making it out. No freak outs or moments of hydrophobia; I'm just glad nobody drowned or got eaten on what was surely a nerve wracking challenge.
The puzzle, though, is where I pretty much lost it with the episode. The teams had to use the compass to decode this series of national flags and it was supposed to give them a message ('I am between the devil and the deep blue sea') they were supposed to say in order to get their clue. Simple enough, right? Apparently not as only a few teams actually solved the puzzle themselves. Jet and Cord went back and forth a good 3-4 times because they didn't grasp the clue (they're still there as the episode ends…they're probably still there as I'm typing this), the Globetrotters got a serious assist from Zev and Justin (to me, that's unfair), and it seemed like one team solved it in the back of the pack and they all went to say it together. I love puzzle challenges and I think to be a good racer you have to be at least passable in them, but it's irritating to me that some people didn't even try to solve the puzzle and they got the answer told to them. Such is reality show politics, I suppose.
But seriously, the show won me back instantly by throwing another curveball that I absolutely loved. As we've seen on past seasons, coming to the pit stop (this time it's Shelly Beach, basically heaven on earth with its white sand and crystal blue waters) can be a cathartic release of all the emotions you've dealt with in the leg. People have laughed, cried, collapsed, messed up. This time, they were told they would be racing again because the leg isn't over.
I'll give you a second to get out your 'ooh's and 'wow's and such.
Heck, I knew what was coming and I might have thrown in an 'oh snap'or two, Joy Hickey style.
The express pass, a fantastic idea introduced last season where you can skip any task in any leg, was won by charming southern belle Mallory and her pretty tough dad Gary. Mallory was on the ball tonight, serving some serious Susie Sunshine realness, but you can't help but adore how happy, positive, and into it she gets.
Going into episode 2, we have a pretty strong front runner (Gary & Mal were in first from the time they touched down in Australia and seem to have a good lead), but will they manage to hold off the pack? Will the Cowboys be able to right themselves and catch up? Who do you think will be the first team eliminated?
Running Order:
Gary & Mallory
Amanda & Kris
Kisha & Jen
Zev & Justin
Flight Time & Big Easy
Jaime & Cara
Margie & Luke
Ron & Christina
Mel & Mike
Kent & Vyxsin
Jet & Cord
Favorite Quotes:
'Mallory, this is no time to dilly dally!'
'I'm from Oklahoma. I don't do water. I don't even take baths.'
'She's good at word puzzles and things'(beat) (confused while working on a puzzle) '…what?!'
'Gracias'(keep in mind, we're in Australia…I didn't think the 'Spanish is the language to speak whenever you're not in the US'thing would pop up until at least somewhere in Asia)
'I wouldn't trade this moment for anything…except an express pass.'
'You've been to Kentucky. You know we don't lie there.'
Stuff I Liked: No in-fighting, no weak older players, Phil's hat
Next Week: The Cowboys are still puzzled, Ron starts yelling at Christina again, and Mel may or may not have hurt himself. Plus, Amanda and Kris get to do their U-turn, so expect the rankings above to flip flop and be rather jumbled this time next week.
Grade: B+