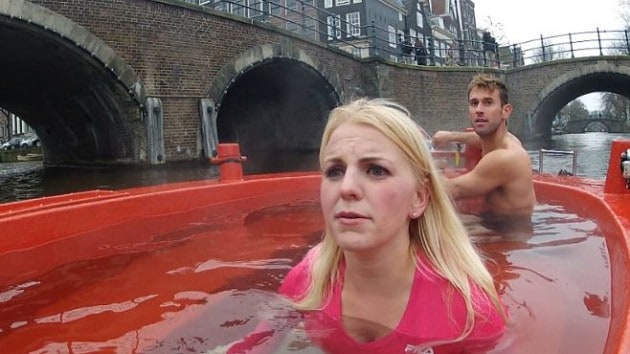 When this season of The Amazing Race started, the teams consisted of six established couples and five blind date couples, and it seemed obvious that the established teams would have an advantage. Now with only five teams remaining, comprised of two established couples and three blind date couples, it's becoming evident that knowing your partner beforehand doesn't necessarily guarantee success in the race. While the pressure of the race became too much for four of the dating couples, only two of the blind date pairings have fallen apart. Maybe in the end the race isn't about how close you are to your partner but instead about how well each person communicates and performs under pressure.
Laura and Tyler continue to prove week after week that they are strong contenders, combining their athletic abilities with their mental capabilities. This week, Tyler thrived in a Roadblock that required a strong attention to detail, finding a matching shoe in a room full of nearly identical shoes. He stayed calm and concentrated on the task at hand, making quick work of it. The two went on to further succeed in a Detour that had them floating down a river in a hot tub, deciphering clues along the way. Bouncing ideas off each other, they were able to easily figure out the answer, making them the first team to Phil for the second week in a row. They're peaking at the right time, and if they continue on this path, they could take it all.
Against all odds, Hayley and Blair also continue to do well, this week taking second place. It wasn't an easy leg for them as they argued their way through the bicycle ride around Amsterdam. After sailing through the Roadblock with no problem (other than Hayley's annoying cheering that I, for one, wouldn't have been able to deal with), they had to make their way to the Detour on bikes. Of course, Hayley felt the need to nag Blair the whole way, claiming that he wasn't waiting for her and was too far ahead. When he acquiesced, she then found another reason to nitpick, this time about directions. She ended up being right about which way they should have gone, and he will never hear the end of it. Thankfully, the rest of the leg was less eventful, and they managed to not let the argument get to them (mostly thanks to Blair's unending patience).
Jenny and Jelani have remained rather consistent throughout the race, their only notable issue being with Matt and Ashley who U-Turned them last leg. Despite that obstacle, they made it through and now have their sights set on Matt and Ashley if they are ever given the opportunity to do the same. The two had some difficulty figuring out the clues in the Detour this week but persevered and weren't afraid to ask for help, landing them a third place finish. This also meant that all three of the top teams consisted of blind date couples, while the established pairs took the last two slots.
Mike and Rochelle have been playing by the belief that slow and steady wins the race, and so far, it's worked out for them. They're rarely in the front of the pack but always manage to do what needs to be done to stay in the race. One of their biggest strengths is their ability to stay calm even when faced with obstacles, and I'd argue that's why they're still around. While it took Rochelle a while to find the matching shoe in the Roadblock, she never once gave up. Later, at the Detour that required them to play a form of shuffleboard, Mike didn't let his frustrations with the game get to him, and Rochelle didn't get angry with him for not catching on to the game right away. Because of this, they managed to get it done and get to Phil before one other team, landing in fourth place.
As the race continues, we've seen what was already a strong bond between Matt and Ashley grow even stronger, and not only because of their engagement earlier in the season. They clearly have a lot of love and respect for each other, remaining supportive and understanding through even the difficult times. This bodes well for them once they're married, and it's been a joy to watch them on the race. Matt struggled through the Roadblock this week, losing them so much time that it was impossible to make up. Patience and perseverance paid off, however, as they arrived at Phil last only to learn that it was a non-elimination leg. They'll live to see another day on the race, and the bond they share will continue to grow.
[Photo via CBS]