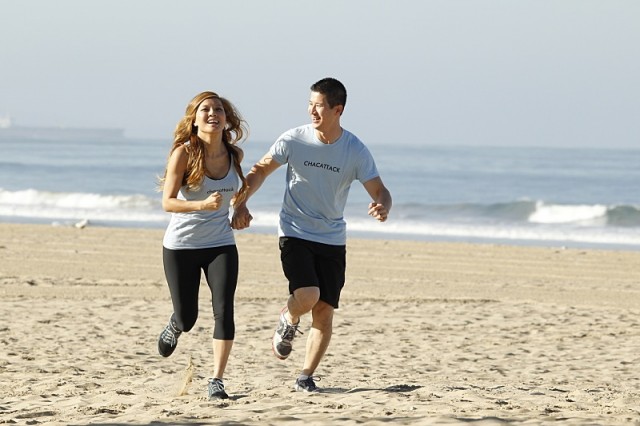 The Amazing Race kicked off its 27th season last night. How reality shows manage to last so long is still beyond me. For most of them, the intrigue and excitement wear out after just a few seasons as the sob stories and same old routines every year starts to get old. One of the reasons I love The Amazing Race so much is that they manage to keep it fresh season after season. It helps that the beautiful locations they travel to each season are constantly changing, allowing the audience and the contestants to see places around the world that they wouldn't have otherwise. On top of that, this show is able to introduce new concepts while still bringing back the race we love each time. Last season, The Amazing Race relied on blind date couples to keep things interesting, a risk that worked out in the show's favor.
This season, The Amazing Race decided to go back to the normal concept of team members who all knew each other beforehand. Noticeably, however, is the fact that there are quite a few reporter teams this season on the race. Between paparazzi photographers, TMZ reporters, and news anchors, these people know what it's like to report on other people's lives. Now, they are getting to go out and experience their own life instead of living adventure through other people. Along with these teams, we have a team of bros, cheerleaders, doctors, track stars, mother/son, a dating couple who previously recreated their own version of the race, and more. With a mix of athleticism and brains, any of these teams could easily take home the million dollars. But before they could do that, they needed to survive the first leg of the race.
Kicking off the race in California, the teams quickly made their way to Rio De Janeiro. Before getting there, though, they had to use water bikes to make it to the first stop. Whoever made it there first would automatically have the only spot on a flight leaving thirty minutes before the other flight. While the bros, Tanner and Josh, managed to get a quick start, their bike broke down halfway through, taking them from first to last place quickly. It was the couple who got engaged at the end of their own made-up version of The Amazing Race, Justin and Diana, who reached Phil first and won the coveted spot on the first flight. As superfans, they were thrilled to get off to such a great start. The rest of the teams made their way there, landing on the second flight.
Despite their great start, Justin and Diana hit a roadblock when their flight got delayed twenty minutes and the other flight arrived five minutes early, essentially canceling out any lead they might have had. Still the first to the clue box, they opted to take the Fast Forward, thinking it might buy them the time they lost and secure a first place finish for them, giving them an Express Pass to use during the race. Instead, it ended up losing them a lot of time as the Fast Forward was not able to happen because of dangerous wind conditions. They had to return to the clue box and complete the detour like everyone else, only now they were an hour behind.
Meanwhile, everyone else was choosing between completing a puzzle or playing sand volleyball against pros who would only use their feet and heads while the contestants could use their hands. Some teams, like the bros and mother/son team made it through the detour with no problem while others struggled quite a bit. One team that stood out was the doctors, who seemed to have quite a bit of trouble communicating while doing the puzzle. Rick clearly thought he knew what he was doing and kept talking down to Cindy, telling her what to do or what not to do. I could easily see her becoming frustrated with his attitude as the race goes on.
In the end, it came down to the cheerleaders and the TMZ reporters, both teams who had given up on volleyball and had switched to the puzzle. The TMZ reporters struck a nerve with me early in the episode, as they made it clear that they were going to judge every single other contestant. People like that can be difficult to watch, especially when they fail to realize that they themselves aren't perfect. The two were forced to face that fact, however, when they couldn't complete the puzzle before the cheerleaders, who they had earlier deemed "not very bright." At least they recognized at the end that they'd be getting a taste of their own medicine when they returned to the TMZ office having not even survived one leg.
This season of The Amazing Race should be another exciting one, with interesting team dynamics already presenting themselves in the first leg. As the race goes on and teams get more stressed, true colors will start to show, and we'll find out who really is tough enough to make it all the way to the end. So early in the game, it's hard to pick frontrunners, but the bros did end up with an Express Pass that will be useful later on. The super-fans also know now that they have to make smarter decisions to stay in the race. Hopefully, they've learned their lesson and will be able to make it far.
[Photo credit: Robert Voets/CBS]
Tell us what's wrong with this post? How could we improve it? :)
Let us improve this post!