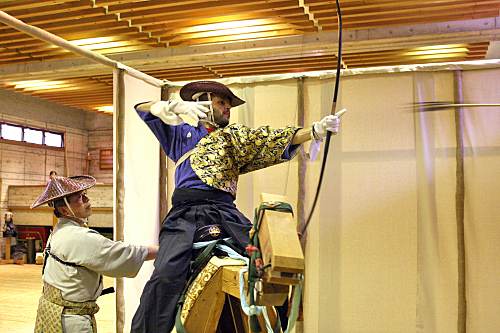 After two pretty solid episodes to open the season, The Amazing Race amped things up during Sunday night's episode, an hour that featured time penalties, flight delays, and a medical emergency that knocked a team out earlier than their time to go.
One of the main things I noticed about the show was that people's roles are getting more defined as we go along. I came into this season only being familiar with a few teams, so the first couple of episodes did nothing to really give me teams to root for and teams to root against. But man did that ever change after tonight. First off, how awful are the Globetrotters? I mean, seriously. It's not enough that they didn't have a map during the Bottom Feeder Caravan, choosing again to piggyback off the work of other people, but they disingenuously 'paid back'Zev & Justin for their aid in episode one with a risky flight and worst of all, they hid Christina's fannypack at the quasi-religious detour (Phil gave them a time penalty and I wanted to give Phil a hug). I know that they can be charming and whatnot, but they're my love-to-hate-'˜em team at the moment because they've done absolutely nothing to deserve to be there. I'd much rather racers who are less personable but more competent win than two guys who only did as well as they did last time based off of who they were.
Heck, I'd even rather Ron win and I'm pretty sure he hates everybody. If the race ends in a fiery explosion and the last thing we hear is an elderly Asian man laughing, don't say I didn't warn you.
On the other side of things, I'm liking Zev & Justin a lot more than I figured, especially after their charge tonight. A lot of teams would have just thrown in the towel after losing their lead as quickly as the best friends did (they made it onto a flight that was scheduled to get in earlier than the other main flight, but due to engine problems and pushy teams, they ended up leaving the futuristic Japanese car garage last), but they pulled a pretty neat first-to-last-to-first bounce back that resulted in another trip, this time to Costa Rica. They seem like good guys, they have a fantastic repartee with one another, and they're very smart this time around, so don't expect another passport fiasco like last time they were on.
Jaime and Cara's car crash was a lot less dramatic than it seemed from the previews. Here I was expecting somebody with road rage and a hatred of maroon hair dye to go ramming into the Race Mobile, but it was just a case of narrow, crowded streets and awkward driving that left a mirror as the only real casualty. The two cheerleaders had been left for dead once Mel & Mike and Margie & Luke decided to ditch '˜em, so one would think this would be a crushing blow, but alas poor Race fans, you are quite mistaken. Harnessing the power of the pom poms and panda poo, the two ladies made it into 9th place, dispatching Mel & Mike on the fields of the mud pit. It was sad to see the father and son go, especially since it was due to medical reasons and not competency, but it seems like they had gotten what they needed to after the second time around and it's a lot less crushing to bow out on the 3rd leg than to make it to the end and not be able to finish things.
The main thing that I liked about Sunday's episode was that the detours and roadblock improved. While some may dislike that the Frog of Luck was a little too much like the haystack challenge the show has trotted out twice, it was balanced out by a more thoughtful Prayer of Purity, as well as a detail oriented bit of samurai awesomeness at the Yabusame Dojo. You can have as many personal fireworks as you want, but if the challenges aren't great, you're seriously missing the target (perhaps your cowboy hat is covering your eyes?).
Grade: A-
Running Order:

Zev & Justin
Gary & Mallory
Ron & Christina
Kisha & Jen
Flight Time & Big Easy
Jet & Cord
Kent & Vyxsin
Margie & Luke
Jaime & Cara
Mel & Mike
Favorite Quotes:
"I guess we're the Special Kid and His Friend."
"We're going to Tokyoooo….raise the roof."
"I thought I'd just get me a soda pop out of there."
"Come on Ferrari! Come on Porsche!"
"Do we have to make the noise?"
"Judging from the skirt and the yellow, I think it's promising."
"I like those kids a lot!"
"You know I'm from Oklahoma. I like to shoot bow and arrow. I felt right at home."
"It's like we're really skinny sumo wrestlers."
"It's not my first time in a pit of mud, but…"
"You look like a frog. I'm gonna grab you!"
"You're gonna have two redheads coming through here later. They'll look really good in this outfit, I promise."
"I'm not wearing any underwear." "Right now?" "Yeah." "That's hot."
"We're definitely used to dunking and we got dunked."
"I don't think I've ever talked to strangers in my underwear before."
"I kept listening for the ribbit."
"Frogs weren't alive. Did you know that?"
"We're a team…don't touch me."
"Somehow my make-up still held."
"I'd rather die here with you than at home in bed."
Other Stuff I Liked: Zev & Justin showing how strong they were, poetic justice + time penalties for the Globetrotters, Mike's Vegan Mafia shirt, Mallory's highlighter-colored shirt, Commodore Matthew Perry?, Justin running around Japan pantsless, great detour/roadblock, the car distribution thing, Christina's engaged to Azaria from her original season, Kent's cowboy hat

Next Week: Zev's stuck, Ron freaks out some more, and Kent/Vyxsin are l-o-s-t.