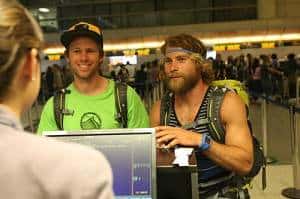 First coined by sociologist Robert Merton, the self-fulfilling prophecy is a concept that involves expectations forming reality. If one chooses to define their situation a certain way, the reality of their definition will eventually come to fruition, which is often a fairly negative ordeal.
In a nutshell, if you think something will be awful, chances are it'll be awful, which can easily transfer to television.
When I first saw that the title of Sunday's episode of The Amazing Race was "This is Gonna Be a Fine Mess", I had to laugh because, like America's Next Top Model last season, the show was just taunting me. It's been a lackluster season of the race, characterized by lame challenges, static running order plagued by time equalizers, and a lack of charismatic, root-able teams in which to invest in. If you're going to title your episode something about a "fine mess", you're just asking for it, especially after the first three episodes, right?
Surprisingly, "A Fine Mess" wasn't quite as frustrating as I was expecting, though it still had its issues. But first, can we talk about how stunning the visuals were this episode? One of the consistent strengths of The Amazing Race is how much travel porn we're exposed to on a weekly basis and it was no different here. The crystal blue waters and picture-esque scenery of Phuket, Thailand (another Top Model parallel: Phuket was their international destination in cycle 6) were nothing short of magnificent and it was nice to see the contestants try to let it sink in that they were in a pretty special place, as sometimes the "YOU'RE SEEING THINGS OTHER PEOPLE WILL ONLY SEE PICTURES OF, SO ACTUALLY LOOK AROUND!"-ness of the race can be, well, annoying. Soap Island, in particular, was something to marvel at, so like every season, I'm hideously jealous of the teams on the race.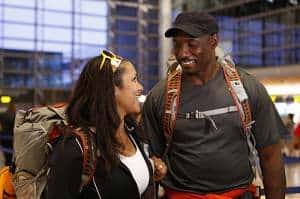 But that jealousy and towering piles of rock can only extend so far, as the rest of "A Fine Mess" was spotty at best. I thought we were in for an actual curveball when it turned out that the flight Andy/Tommy and Laurence/Zac booked was the later flight, throwing two frontrunners in the back of the pack to fight it out, but as soon as I thought something interesting was going to happen, out came the scribbly dock sign that said all teams would have to wait until much later to continue the race. I have no problem with the occasional time equalizer, as they do have their place in the race (at least from a TV standpoint), but they ruin whatever rhythm you get whenever you're trying to watch an episode. It makes things very stop-and-start and dashes out any sense of fluidity the episode had thus far. I know that they don't want certain teams to go home and they want to have as many teams in one place at one time, in hopes of something dramatic happening, but it comes at the cost of enjoying an episode, at least to me.
Another thing that works best in moderation/thoughtful use is the non-elimination, which saved Liz and Marie from certain 8th place doom. When used on a team that was only just beat to the mat and edged out of the competition, the non-elimination can provide a serious jolt of energy and urgency, especially since the team never has to worry about a difficult Speed Bump. However, all too often it's used on a team that had an awful day and finishes a ways behind the next closest team; I can rationalize it with the opening leg, since we don't know what the teams can do (and Bill/Cathi made good use of it this season), but by now, it's a little tedious to keep a team like Liz/Marie on. They've done well by lasting this long, but they've not shown to be a threat for the top spot and this is just delaying the inevitable. But you just know, deep down in your heart of hearts, that they're going to do everything in their power to keep Liz/Marie in the thick of things, so look for a very early "X doesn't open for another 12 hours" or "there's 1 flight to Y" to even things up. Don't say I didn't warn you.
The challenges both looked fantastic but felt a little empty, at least to me. The road block, scaling part of Soap Island, was almost an after thought following the detours, which is a shame because I would have liked more time spent there in the episode. There wasn't much to the challenge and nobody seemed to have any problem whatsoever climbing to retrieve the clue (in addition to the fact that it didn't affect running order whatsoever, minus Ernie and Cindy getting lost), so it wouldn't have made for great TV; it's always strange to me to have a certain number of parts in every episode and have most of the focus be on one. It makes for weird pacing and while I understand the dramatics were in the detour, the road block got the shaft. My main problem with said detour is that neither element of it seemed that challenging and most of the teams were undone by their mistakes (as well as nature) and not the task itself. Both the tedious beach blanket bingo "puzzle" and the coral restoration were disappointing, as the first was too much like the previous week's Buddha challenge and the latter undid several teams due to a strong current and nothing more. Without the current and a mighty wind that tousled the umbrellas, this would have been yet another challenge that resembled a darn Speed Bump and not something fit for an 8-time Emmy champion known as The Amazing Race.
"This is Gonna Be a Fine Mess" may not have been a complete disaster like other recent episodes of The Amazing Race, but it was still mostly underwhelming, to say the least. Take that, Robert Merton.
Thoughts, Quotes, & Observations:
"We're going to bucket."
"I've always wanted to go to Thailand. It's going to be so foreign to me. Once again."
"I'm gonna puke on a speed boat."
"I can't even unfold the damn chair."
Final Order: (1) Andy/Tommy (-), (2) Justin/Jennifer (+2), (3) Jeremy/Sandy (-), (4) Laurence/Zac (-2), (5) Ernie/Cindy (-), (6) Amani/Marcus (-), (7) Bill/Cathi (-), (8) Liz/Marie (-)
Historical fact of the episode: Indonesia has 129 active volcanoes. The more you know.
I think Ernie and Cindy are my favorite team thus far, but nobody's been bowling me over. I love Bill and Cathi, though, for their resilience as well as the fact that they're having a lot of fun together.
My guess is the reaction of the umbrella and chair people that worked at the beach with Liz and Marie looked like the reaction of the Thai men watching them with their umbrellas.
The Thai woman who laughed at Andy/Tommy and Laurence/Zac being an hour behind the other teams is my favorite supporting character this season. Can we bring her to every location, specifically to point and laugh at the bottom feeder teams?
Speaking of Laurence and Zac, going into the race, they were the team I thought were going to dominate, but they've made way too many silly mistakes. I still think they make the top 3, but they're less a threat to Andy/Tommy than I originally pegged.
I like Andy and Tommy, but I wish I felt like they wanted this more. It's good that they're not the typical tense, bickering Amazing Race team, but they may be a little too laidback to win it all.
Justin and Jennifer are pretty tolerable when they're not bickering. When they are bickering, they're the worst.
We finally get to see/hear from Jeremy and Sandy and…they're fighting like I knew they would be. He seems a little tightly wound and super competitive; she seems a little flighty but nice.
Next week: Elephants!, Jeremy and Sandy are lost (and bickering), and Liz and Marie apparently have no money.