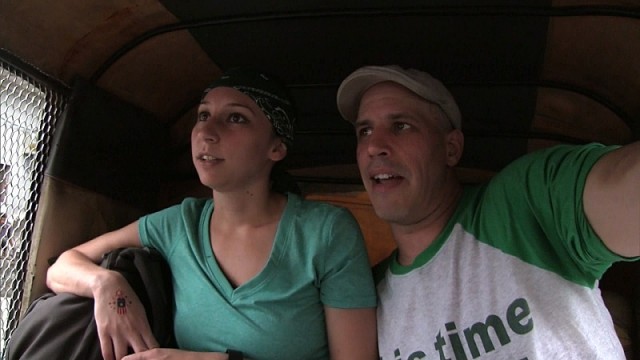 As The Amazing Race draws to a close, with only five teams left racing in last night's episode, it's becoming evident that it's going to take a lot to beat Justin and Diana, who took their seventh first place finish in a row last night. Even after running a perfect leg, Joey and Kelsey still ended up coming in second place to the Green Team, just minutes behind them in getting to Phil. For all the other teams, it was a race to not take last place as has become customary this season. Between Logan/Chris, Tiffany/Krista, and James Earl/Denise, all three teams have had their problems and setbacks throughout the race, making it a toss up on who might be joining the other two frontrunners in the final leg and race to the half million dollars.
With Texas boys Josh and Tanner being sent home at the end of the last leg, a team that had posed a big threat at the beginning of the race was no longer going to have to be a concern for everyone else. These boys started out strong but didn't have what it took to see the race through all the way and were eliminated sooner than expected. Other teams that from the beginning seemed like they might be weak, such as the cheerleaders, have proven that maybe they do have the strength to make it all the way. But as so many of the teams have pointed out, it all means nothing if no one can get ahead of power couple Justin and Diana.
These two ran another flawless leg of the race, running into no problems during the Roadblock, which required them to blow up balloons and deliver them to a wedding party, or the Detour that had them delivering either a groom or a children's ride to a wedding. With Justin questioning after each experience that they got to have "What could be better than this?" the two seem to be having the time of their lives and while Justin still comes across as annoying and obnoxious at times, there's no doubt that he's enjoying himself. This leg of the race, they were able to use the U-Turn on the one team left that they did not feel like they had a good relationship with, Logan and Chris.
It wasn't at all surprising to see a team take a shot at the paparazzi couple as they've done nothing but fight and argue throughout the race. Their relationship seems to be one based on anger and frustration and yet somehow despite their lack of ability to communicate effectively, they've managed to make it this far. Like every other leg, they bickered their way through this one as they had to take on both detours and once again managed to pull off a miracle by not being eliminated. It's a mystery to me how they are still in this race but they must be doing something right. Perhaps it's just time to accept that constantly yelling at each other is what works for them.
For the remaining two teams, Tiffany/Krista and James Earl/Denise, the balloon challenge proved to be a bit difficult as they had to contend with the loud and rambunctious locals. They made it to the Detour around the same time that Chris and Logan were finishing up their first Detour, leaving these three teams one again racing for last place. In the end, it was the mother/son team of James Earl and Denise that just couldn't get the groom to his wedding fast enough, thereby eliminating them from the race. After quite a few end of the pack finishes, this team would have had to pull off a miracle to make it to the final three and though it wasn't surprising to see their journey come to an end, it was sad.
Right now, the only team that has a chance at beating Justin and Diana are Kelsey and Joey, who have come closer and closer to that first place finish each week. They're content right now with their place in the race, knowing that if they can just get to that final three, they'll be able to push themselves to their limits to beat Justin and Diana. As a fan of the race, I would absolutely love to see Kelsey and Joey pull this off, adding some excitement to a race that so far as been rather predictable. Anything can happen in the next two week and hopefully someone will be able to mix things up and take the lead from the Green Team.
[Photo via CBS]