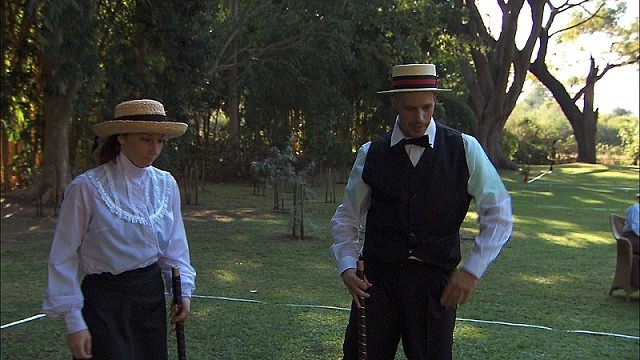 The rivalry between Tanner/Josh and Justin/Diana continued in this week's episode of The Amazing Race, as the two teams held their positions as frontrunners in the race. With Justin's cockiness and obnoxious behavior getting on their last nerve and the promise of a double U-Turn this week, Tanner and Josh hatched a plan to get rid of their biggest competition once and for all. At the Roadblock, they would use their Express Pass, guaranteeing that they'd be the first to the Detour at which point they would use the first U-Turn on Justin and Diana. They made a deal with the reporters, Kelsey and Joey, that they'd give them the Express Pass if they got to the Detour and used the second U-Turn the Texas boys, ensuring it had no effect and that Justin and Diana would go home. Unfortunately, in the race, not all things always go according to plan.
With all the teams in on the plan, it seemed like a given that Justin and Diana would be running their last leg of the race, and everything started off smoothly as Tanner and Josh arrived at the Roadblock and immediately used their Express Pass to get a headstart on the Detour. However, what seemed like a decent game move ended up being the worst possible use of their pass. All the other teams were able to complete the Roadblock fairly quickly, as they flew over Victoria Falls in Africa and had to spot the red and yellow flag, leading them to where they'd get their next clue. While still maintaining a 20-30 minute lead, the Express Pass did not buy the Texas boys as much time as they thought it would, and it only got worse from there.
Having arrived at the Detour, the boys were incredibly disappointed to discover that the next challenge wouldn't start until 8 a.m. the next morning, with other teams starting at 8:10 and 8:20, essentially cancelling out any lead they had. All teams agreed that it was not very strategic for them to have used the Express Pass at the Roadblock, which they knew wouldn't take them long to do. They would have been much better off waiting to use it until the Detour, where they would have actually secured themselves at least an hour lead.
Instead, Tanner and Josh started the Detour at the exact same time as Diana and Justin, and it was once again a race to see which team could finish first. Given the option to either play croquet or polish sculptures, they both went with croquet, with Justin and Diana finishing slightly before the boys. This gave them an advantage as they made their way to the Double U-Turn and to Phil. They had made a deal with Tanner and Josh to not U-Turn each other, a deal that the boys had every intention of going back on if they made it there first. Lucky for them, Justin and Diana arrived first and unlike the boys, realized that it made no sense to U-Turn their greatest competition at this point. They decided to wait until the next chance they'd have to U-Turn to take a shot at the boys, a move that proves they at least know what they're doing in the game.
As for the rest of the teams, everyone seemed to be working together fairly well with no real drama presenting itself this week. Logan and Chris spend a fair deal of time bickering but at the end of the day, they still get the job done. The only other team that might give Tanner/Josh and Diana/Justin a run for their money right now are the reporters, Kelsey and Joey. Having landed at the front of the pack last week, they were able to use their position to solidly align with Tanner and Josh while also playing the other side and pretending that they were working with Diana and Justin. While they don't plan to stay true to that second alliance, it does put them in a good place for now.
In the end, Justin and Diana and Tanner and Josh were the first ones to make it to Phil, the latter of which also didn't use the U-Turn as the only people they wanted to take out had made it there first. Both teams were excited to hear that the leg of the race wasn't done yet though, as Phil announced it would continue into next week. For Tanner and Josh, however, this meant they had a big decision to make-and one that they didn't have much time to think over. We were left at the end of the episode wondering who they would pass their Express Pass onto. Would they show their hands and give it to Joey and Kelsey or pick another random team to pass it off to? With their plan having fallen apart, leaving them on even ground with their rivals, Tanner and Josh will have to prove that they do know the game well enough to win it all.
[Photo via CBS]