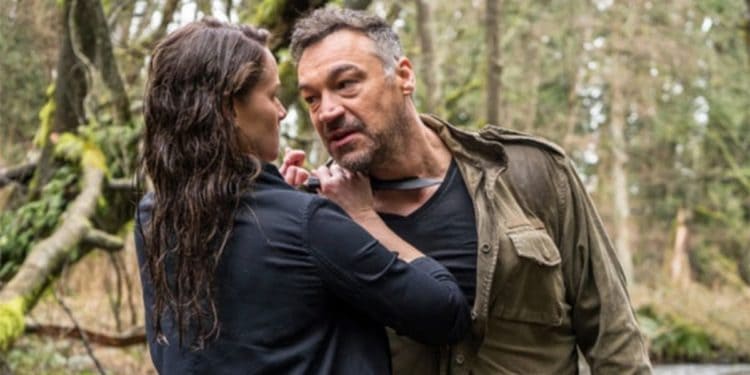 Aleks Paunovic's journey to becoming a professional actor was a lot different from many of his contemporaries. He didn't grow up loving acting or thinking of it as a possibility for his career, but the universe clearly had other plans for him. Since beginning his career in the early 1990s, Aleks has grown tremendously and he has become widely known and respected all over the world. He has built a solid resume that includes lots of successful projects and he's worked with some of the biggest names in the industry. His fans will be happy to know that he has a handful of films in the works that will continue to help him build his legacy. Here are 10 things you didn't know about Aleks Paunovic.
1. He Was A Champion Boxer
Before Aleks got into acting, he was doing something completely different. He comes from a family of boxers and he decided to follow the same path. He was a competitive boxer until injuring himself in the 1999 Pan American Games. Although the injury ended his career, Aleks still enjoys boxing for fun and it's helped him stay in great shape over the years.
2. He's A First Generation Canadian
Aleks was born and raised in Canada, but his mother and father immigrated to the country from Croatia and Serbia respectively. He is thankful to have grown up in Canada and he is incredibly proud of his hometown, Winnipeg. Aleks told Swagger Magazine, "Winnipeg made me. The creativity and friendship I were blessed with growing up shaped me."
3. He's A Musician
Aleks isn't just a great boxer and a talented actor, he's also a skilled musician. He used to play the bass guitar in a rock band called Specula Black. Although the band hasn't released any music in over 20 years, some of their early recordings are now available on Spotify.
4. He Loves Food
Throughout his career, Aleks has often been complimented on his great physique. While it's true that he works hard to keep himself looking good, that doesn't mean he doesn't let himself enjoy good food. He is a firm believer in 'everything in moderation' and he loves working out hard so he can enjoy food he loves.
5. He Was Bullied As A Kid
If you take a look at Aleks, you'll probably agree that he doesn't seem like someone you'd want to mess with. However, when he was younger his reality was much different. He was bullied a lot during his childhood years and he has since become very vocal about anti-bullying.
6. He Has Well Over 100 Acting Credits
No matter how talented an actor is, work can be hard to come by. The fact that Aleks has been able to work so consistently throughout his career is a true testament to his dedication and resilience. According to his IMDB page, he currently has 133 acting credits which include the projects he has in the works.
7. He Learned A Lot From Anthony Hopkins
Aleks has gotten the opportunity to work with lots of talented actors over the years, but Anthony Hopkins is the one who taught him the most. While talking to Swagger Magazine, he revealed that he and Hopkins formed a tight bond while working together and Hopkins gave him some great advice.
8. It's Unclear If He's Had Formal Acting Training
We know that Aleks got into acting after his boxing career ended, and we also know that he booked the first role he auditioned for. However, what we weren't able to uncover is whether or not he's undergone any kind of formal acting training. By the looks of things, he started with nothing more than raw talent.
9. He Has Lots Of Behind-The-Scenes Experience
Aleks has spent the majority of his career in front of the camera, but acting isn't the only part of the industry he enjoys. He is also a writer, director, and producer and he has worked on several projects over the years. There's no doubt we're going to see him continue to add to the list in the years to come.
10. He's A Very Positive Person
Things in Aleks' life haven't always gone the way he wanted, but that's never stopped him from being optimistic. In an interview with Robert Irvine, Aleks said, "Everyone's going to be faced with obstacles. Everyone's going to face tragedy. There's no easy way through suffering. You still need to mourn. Even if you lose your job or something like that, you need to mourn it because it meant something to you. But then you can say, "Ok, I've mourned. Now we can move forward."