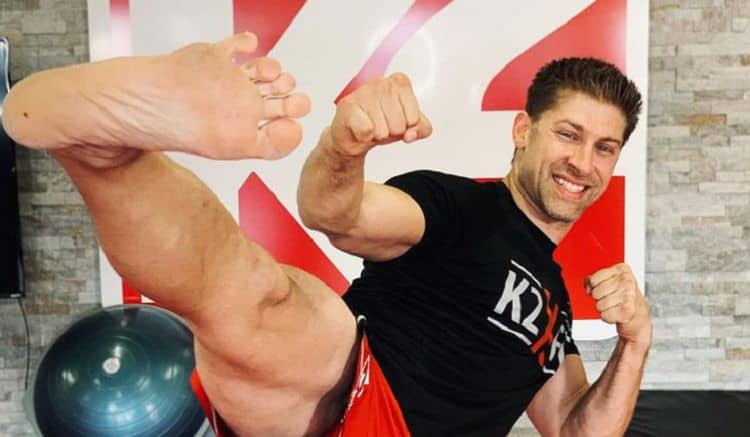 Alain Moussi has had the kind of career that many performers can only wish for. Over the years, he has gotten a wide variety of opportunities and he has always knocked them out of the park. Well known for his skills as a martial artist, Alain is a black belt in bot jujitsu and karate. He initially gained notoriety for his work as a stunt man. He performed stunts in several well-known movies including X-Men: Apocalypse and The Smurfs 2. Eventually he shifted into acting and it was clear that he had some serious star power. Over the years, he has continued to leave audiences stunned and he's got a lot more to offer. Continue reading to learn 10 things you didn't know about Alain Moussi.
1. He Comes From A Diverse Background
Most people would agree that diversity is the spice of life, and Alain has plenty of it. He was born and raised in the central African country of Gabon, however, his mother is French-Canadian and his father is Lebanese. He is very proud of all of the cultures that have blended together to help him become the person he is today.
2. He Is A Father
Alain has dedicated countless hours to his career, but that isn't the only area of his life he's been devoted to. He is also a proud family man. He has one daughter and he loves spending as much time with her as he can. His relationship status at the moment is a little unclear.
3. Jean-Claude Van Damme Inspired Him To Get into Martial Arts
Everybody has at least one person in their field that they've always admired. For Alain, that person has always been Jean-Claude Van Damme. In fact, he credits Van Damme with getting him interested in martial arts. Alain's journey came full circle when he eventually got the chance to work alongside Van Damme
4. He Loves Being Outdoors
There's nothing better than being outside and appreciating a deep breath of fresh air. This is a feeling that Alain never takes for granted. Alain enjoys spending time outdoors. He loves doing things like exploring, hiking, and hanging out by the water. Being outside gives him a chance to rest and recharge.
5. He Started His Career On Stage
Martial arts probably isn't the first thing that comes to mind when people think of theater, but that's exactly where Alain got his start. He told Black Belt Magazine, "Over the years, I did tons of stage shows … across Canada, Europe and the United States. Essentially, they were like fight scenes onstage. I love action movies and creating choreography that would be what you would see in a movie, so everything we did, we did with that in mind. Then, when I started doing stunt work, I just had to learn how to how to apply it to an actual film and how to work with cameras."
6. He Enjoys Traveling
Anyone who has ever gotten the chance to travel will probably tell you what a great experience it was. With all of the beautiful things the world has to offer, traveling is the best way to experience them. Alain has been fortunate to live a lifestyle that has offered him plenty of opportunities to travel.
7. He Is A Writer
Acting and stunt work aren't the only things that Alain has contributed to the entertainment industry. He also has some screenwriting experience. His IMDB profile lists one writing credit for a video called NX Files: Discover the Secret which was released in 2005.
8. He Has A Large Social Media Following
Alain Moussi may not be a household name, but he's done a lot of work to build a strong social media presence. He is very active on Instagram and he's built up a following that includes more than 57,000 people. He also has an account on Twitter although his following is much smaller.
9. He Loves Connecting With Fans
Building a strong relationship with his supporters has always been important to Alain. He loves engaging with his fans and he does so whenever he gets the chance. Although he isn't extremely active on Twitter, he does his best to respond to questions and comments from fans.
10. He Has A YouTube Channel
Instagram and Twitter are not the only platforms where Alain likes to share content. He also has a YouTube channel which he started in 2011. It's been a couple of years since he's posted any videos on the channel, but he still has more than 4,000 subscribers and over 6.6 million total views.
Tell us what's wrong with this post? How could we improve it? :)
Let us improve this post!