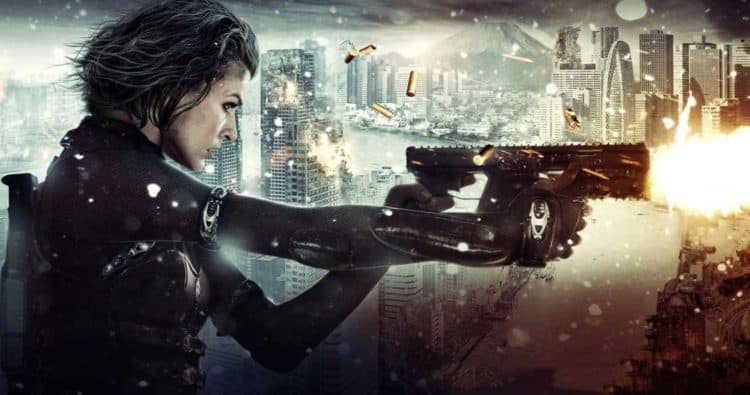 Obviously things are stepping up in the world as we continue to weather the effects of the coronavirus, but are now listening to PSA's from Albert Wesker of Resident Evil on what kind of face mask to wear when we go out. Yep, it's become that serious to the point that people are being asked to wear face masks when they leave their home since the spread of the virus has slowed down a bit, but still not enough to think that it's fully contained or safe to go out as we like. One of the biggest issues with face masks, apart from wearing them of course, is that some of them just don't do much to protect a person and will allow the virus past as though a person wasn't wearing it in the first place. The CDC has guidelines in place for people to look at when it comes to selecting or making your own mask as Mike Wilson of Bloody Disgusting has mentioned, and it's best if people visit the site just to give it a look so that they know what to do and how best to utilize the materials they need. It's a pain in the backside to be sure when it comes to having to strap on a mask every time you go out, but some states have actually started requiring this measure in some areas, and as a precaution it certainly can't hurt to pay attention.
https://twitter.com/MrDCDouglas/status/1249562718438215681
Taking advice from a guy like Wesker might be kind of dodgy, but at least in this instance he's making some sort of sense given that even the bad guys know when to pay attention and do the right thing from a societal standpoint. Apart from that Wesker is still the pile of human garbage that he plays in the game since even if a person hasn't played Resident Evil they might have at least watched the movies and figured out that the guy is something of a creep. After all as part of the Umbrella Corporation he is responsible for his own share of the bs that came from the creation of the T-virus and the outbreak that followed. There had to have been a lot of people cheering for Wesker to get his just desserts at some point, though whether or not we'll see him again in another Resident Evil movie is hard to say since as you can already guess, Hollywood is never really done with a movie until they've drained every last cent they can get out of it.
Hopefully if we do get any more Resident Evil movies, and there have been rumors, they'll go back to the drawing board and admit that they might have veered off course a bit and need to correct things here and there. Those of us that haven't played the games couldn't really tell just what's supposed to happen and what's deviating from the source material, but there are moments that feel a little too contrived and those that were just pure awesome during the movies. The first one, as basic as it was in comparison to what came after, was likely one of the best since it didn't rely so heavily on CGI and kept things fairly simple since despite all the questions it still raised there was an overall plot, premise, and a goal that the characters were trying to reach. It was kind of obvious that most of the cast that were being used were bound to be extras since they didn't get a whole lot of explanation and were kept in the background more often in order to allow the main actors their time on screen. It's the kind of red shirt theory that's been seen on Star Trek for so long, if you're not getting that much screen time the chances are pretty good that you're an extra or that your character is going to die at one point and there's not a lot of sense in giving that character too much screen time. The first Resident Evil movie had the advantage of building up the story in a way that made it clear that this was just the beginning and there would be more to come. Unfortunately it didn't really prepare those of us that didn't play the game for the roundabout way that the outbreak would be explained. After a while it grew rather stale and was just an excuse to create more and more CGI effects that eventually became more of a distraction than anything.
As the coronavirus, thankfully it's not the T-virus, continues to spread and also continues to be a serious problem for the world at large it's PSA's such as this that help to make us laugh and continue to appreciate the entertainment industry for making that possible. It might not be the end-all, be-all solution for the problem, but it's still just as important to smile every now and again.