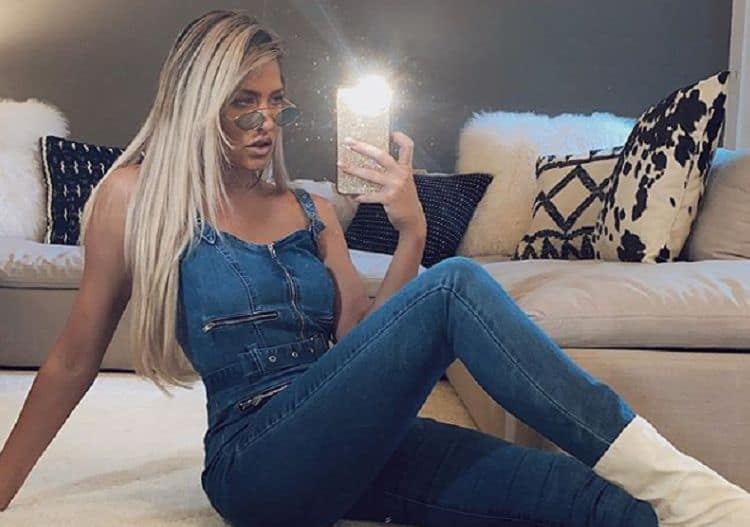 Barbara Jean Blank-Souray, known as Barbie Blank, is a professional wrestler, a television personality, and a model. She is also known by her ring name Kelly Kelly. Barbie Blank was born in Jacksonville, Florida, on January 15, 1987. She made her debut with the WWE in 2006 when she was just 19. She stayed with WWE until 2012. She has since focused on becoming a star of reality television. Here are five things you might not know about Barbie Blank
1. She is a Cast Member of 'WAGS'
Following her career in wrestling, Barbie Blank became a cast member of 'WAGS'. The title of the show is an acronym for 'wives and girlfriends'. The show features the partners of professional sportspersons in their daily lives. Barbie Blank has been one of the main cast members since the series launched in 2015. Other main cast members include Autumn Ajirotutu, Natalie Halcro, Nicole Williams, and Sasha Gates.
2. She Dated Andrew 'Test' Martin
Between 2006 and early 2009, Barbie Blank dated Andrew Martin for two and a half years. He was a professional wrestler who went by the ring name of 'Test'. Sadly, Martin died on March 13, 2009, shortly after the couple finished dating. His neighbor could see him through the window and noticed he hadn't moved for hours. Concerned, the neighbor rang for help. Unfortunately, he had passed away the day before. Initially, it was believed he had died form an accidental overdose of oxycodone. However, the forensic pathologist later revealed he had had severe chronic traumatic encephalopathy which was caused by repeated head injuries and concussions.
3. She Was Married to Sheldon Souray
In August 2014, Barbie Blank got engaged to Sheldon Souray and they later married in Mexico on February 27, 2016. They lived together in their Malibu home and also had a home in Las Vegas. However, they announced in July 2017 that they are now separated. Sheldon Souray is a former professional ice hockey player. He played 13 seasons in the National Hockey League before deciding to retire from the sport in 2013. Souray has also been married previously to 'Baywatch' star Angelica Bridges, with whom he has two daughters.
4. She Has Appeared in Video Games
Although she is best-known for her wrestling career, Barbie Blank has been involved in many other ventures. One of these is appearing in video games. He video game debut was in 2008 when she appeared in 'WWE Smackdown! Vs. Raw 2008′. She then appeared in updated versions in this series of games over the next three years. She has also appeared in 'WWE'12' and 'WWE'13'.
5. She Was Scouted by John Laurinaitis
Blank was a fan of wrestling when she was a child but this was not a career she had intended to pursue. She trained as a gymnast before quitting following an injury. She also considered becoming a journalist and studied broadcast journalism. She was working as a model at the time when she was scouted by John Laurinaitis in 2006. Laurinaitis contacted her via her modeling agency to say he was interested in her having a contract. Although she had no experience of wrestling at all, she signed a contract with the WWE in May 2006.