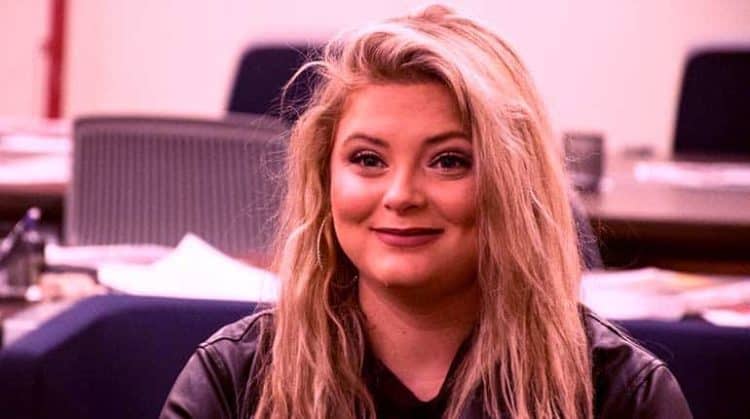 Reality star Aimee Hall from MTV's 'Floribama Shore' has been getting a bit of attention lately. Between the television show and working gigs as a model, as well as promotions that she posts on for her 80k Instagram followers, she is a busy girl indeed. It's no wonder that people are noticing; she is making an effort to be noticed, which is a smart move for anyone interested in show business as a career. But how did she come to get into the business, anyway? Most of us realize that Aimee's is a fairly fresh face, and are curious to learn more about her.
According to Famous Birthdays, Hall was working as a bartender just before landing her spot on 'Floribama Shore'. The business she was employed by prior, The Scrap Yard, which is a roadhouse in Bay Minette, was her only job until hooking up with MTV. The then-25-year-old viewed herself as a 'hot mess', a little goofy and a little serious, and she claimed that folks from the south are nicer than in other United States areas. While she can slam a can of beer like the boys, she seems to be something of a soft spoken sweet thing, so how DID she hook up with MTV? We're going to try to answer that question and a few others below. There you will find a list of ten things you probably didn't know about the young reality star, which we have put together after a bit of research and a lot of reading. So, if you're curious about Aimee, keep on reading and you will discover…
1. How Did This Small Town Girl Make Good?
While Aimee will tell you she is not an actress, she managed to land a spot on 'Floribama Shore', which is a takeoff of the popular 'Jersey Shore' of years gone by, when she applied to appear on MTV's 'Party Down South'. Hall told al.com during a phone interview that she had just gone through the breakup of a relationship and just wanted a change of scenery. While she didn't get a spot on that show, she prayed for another opportunity to hit the road to come her way. To make a long story short, the show's producers were impressed enough by her personality and her audition to call her to Florida to interview, which she says she attended while a bit tipsy. Soon, she found herself taping the show in Panama City, which only took about a month in its entirety.
2. How Does She See Herself?
While some of us may answer this question by describing ourselves as 'friendly', 'generous', or 'outgoing', Aimee tackles the question with a surprising response. She sees herself as nothing less than a 'princess goddess mermaid'. She says she's bold and not afraid to say what's on her mind, uses her 'down-home wisdom' to keep things running smoothly on the home front, and has a bit of a 'potty mouth'. Otherwise, she is pretty much the girl next door, and nothing more. For more you can view her personal bio on the 'Floribama Shore' archives, which can be found at Life & Style Magazine.
3. She Is Baptist
One of the things she appreciated most during taping was the fact that the cast prayed before their meals. This is most likely due to the fact that she was raised Baptist, and is a member of the First Baptist church in Bay Minette, Alabama. It made her feel more comfortable, and those prayer sessions likely gave her plenty of opportunity to give thanks for her blessings!
4. She Is Self-Conscious About Her Weight
According to Aimee, she is a 'homegirl' who eats 'cornbread'; in other words, she doesn't see herself as picture-perfect. However, the other cast members never made her feel uncomfortable, which she really appreciated, especially when she shot those bikini scenes ( though that was when she felt the most self-conscious).
5. Her Birth Date and Zodiac Sign
Aimee was born in Perdido, Alabama on October 1, 1992, which currently makes her 27-years-old; she also grew up in the small town, which she claims doesn't have a stop light, and where people always go barefoot. As for her Zodiac sign, Aimee is a Libra, which is described as being a 'manic pixie dream girl' by Astrology.com. Interesting, because we think that is a fairly apt description of Hall, if you ignore the fact that she is effective when backing up her friends in a fight.
6. What Is Her Middle Name?
Simple enough to answer! The young model and aspiring actress is formally known as Aimee Elizabeth Hall. No frills and no gimmicks, it the real name of a real young lady!
7. Can A Reality Show Make You Rich?
Or in other words, what is Aimee's net worth after two successful seasons and while working on season three? Well, we were fortunately able to narrow that down for you as well. According to Wiki Celeb Info her net worth is approximately $50,000, which may seem small to common folk like ourselves, but it isn't bad for one who, at the time our source gained the information, was only 2-years-deep into her MTV contract. In case you haven't had enough sleep, that comes to about $25k per year.
8. Besides 'Floribama', Who Else Does She Work With?
Aimee has become quite the busy girl in that short two years. She has gained quite a bit of yardage in that time, and she has gained a very high number of fan-followers through her work. Not only is her Instagram page a huge success, but so is the modeling she has been doing. She has contracts with Pretty Rebellious Boutique, Tropic House Swim, and BooHoo Clothing. We think it's safe to say that tending bar didn't get her halfway as far as the work she is doing now has.
9. Relationship Status
In the very beginnings of "Floribama Shores' she made a statement that she was only interested in one night stands for a while. Such a statement can likely be attributed to the fact that she had recently broken up with her boyfriend of ten years. However, time and a change of scenery tend to impact things greatly. She found a good friend and shoulder in co-star Nilsa Prowant, and as it turned out, both of them had just ended relationships due to their partner cheating. The rumor mill also put out some information stating that she might be dating Wesley Clements, but that was due to simply being seen together a lot. Officially, Aimee is not in a relationship, and she has no children.
10. Her Family Background
While Aimee has not yet chosen to share much about her family, including their names or ages, she has posted several pictures of her mother on Instagram (Aimee was born on her mother's 21st birthday!), and a single photo of her father. As for siblings, The Celeb's Closet reports that she has one younger brother.
Well, it all really boils down to this: Aimee Hall herself claims that she isn't an actress, and in the beginning she likely didn't yet have a taste for the business. But now she is working on her third year with 'Floribama Shore', and it seems like acting and modeling fits her and her personality like a glove. She has soared in popularity, and we are sure that with a little work she will easily be able to move on to bigger and better things. For those of you who are big fans, keep your fingers crossed; it will more than likely turn out very well for this spirited young actress!
Tell us what's wrong with this post? How could we improve it? :)
Let us improve this post!