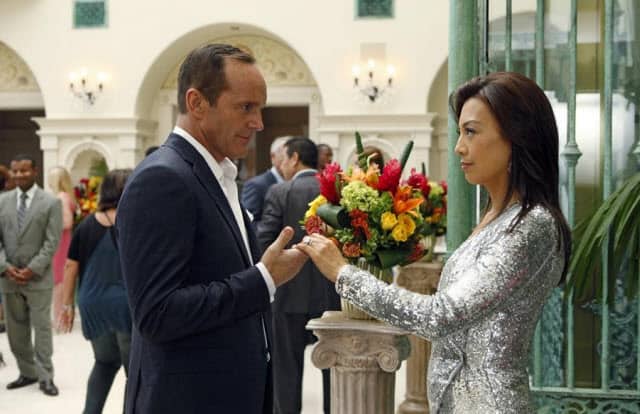 This week's episode of Agents of S.H.I.E.L.D. officially become one of my favorite episodes of all time and it was the type of episode that I have wanted to see in a long time, which focused on Director Coulson and Agent May a lot.
Before I go on, I want to put an emphasis on the fact that I love all the characters, both new and old ones, but when it comes to the working relationship between Coulson and May, it gives a different focus for the show. It's also cool to get to see not just all the young S.H.I.E.L.D. agents get all the action. Clark Gregg and Ming-Na Wen has some of the greatest chemistry on television and seeing them go undercover was more fun than I expected it to be.
The thing that made this episode so special was seeing Wen getting to play different sides of May (even if she was just protecting her cover), we got to see her laugh, flirt and not just be the super serious May that we always see. I think it's important for any actor to get to play different versions of their character no matter how serious or witty the character they are playing is.
"I Will Face My Enemy" also focused a lot on their relationship in the past and the future as Coulson repeatedly brings up the fact that they need to have a contingency plan, if he gets worse. That's the only aspect that I got concerned about after seeing this episode because what are the writers trying to hint at? That Coulson is heading down a dark path, that he will turn into the next Garrett? I'm getting worried what they are doing with him and hopefully, we won't see anything bad happen to him because he has been through a lot already.
Something that I have commented on a lot this season so far is that the show has become more comic book-y which is perfect. We see Talbot supposedly working with Hydra, only to find out that it was just Bakshi wearing this hologram mask or whatever they want to call it. Since I'm a huge fan of Adrian Pasdar and Talbot, I freaked out when it first appeared that he was working with Hydra, but luckily it wasn't him. We also see Agent 33 take out May so that she can become her and trick Coulson. Things like that is what is making me love this season so much. I liked that it didn't take long for Coulson to figure out that "May" was in fact Agent 33.
Meanwhile, while Coulson and May are dealing with that, we see some great interactions on the bus with Fitz, Mack, Hunter, Triplett and Skye. I think Fitz got to find himself again as a member of the team and got to connect with these people again. When "May" puts a virus into the bus that would make it explode, that's when Fitz is put to test and see if he could save the day. His interaction with Hunter as they were saving the bus was such a fun dynamic and seeing him have a bear with the guys at the end, was a great character moment for Fitz.
The episode was written by Drew Z. Greenberg who has written for amazing shows like Buffy the Vampire Slayer, Smallville and recently Arrow so seeing him join this show was very exciting to hear. Seeing his writing for all of these characters was outstanding, I have enjoyed the way his writing on some of my favorite shows and having him part of S.H.I.E.L.D. now is great. If I can only pick one moment as my favorite, it was without doubt Melinda May Vs. Melinda May as we had the show's best fight so far. The choreography was mind-blowing and let's be honest here, haven't you ever thought what it would be like if May went up against herself?
The post-credit scene of the week features Whitehall finding Raina and puts some sort of device on her (supposedly something that will explode) if she doesn't bring him the Obelisk to him in the next 48 hours. This is a great set up for next week's episode which will also feature the first live-action appearance of Bobbi Morse a.k.a. Mockingbird, played by the phenomenal Adrianne Palicki.
Overall, "I Will Face My Enemy" is once again my favorite episode of the season so far as it focused on two of the show's greatest characters and it continues to keep up with the other great episodes we have been getting so far. We got a lot of great comedic moments during Coulson and May's cover from them dancing together to them mingling with the people at the event.
Marvel's Agents of S.H.I.E.L.D. airs on Tuesday nights, 9/8c on ABC.
[Photo via ABC]