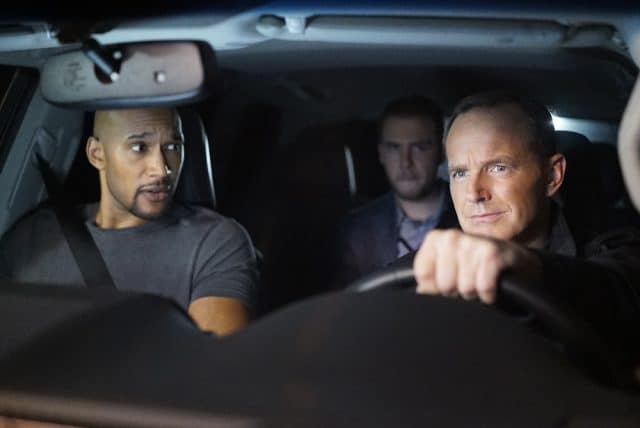 After a week's hiatus thanks to the much less entertaining Vice Presidential debate, Agents of S.H.I.E.L.D. is back and at full throttle. This high stakes episode didn't slow down for much of anything, and was by far the best episode of the short season so far. Our favorite SHIELD members were all back in action, and I loved every minute of it.
This week on Agents of SHIELD: On the eve of the announcement of the return of SHIELD, blackouts caused by "Inhumans" happen all over the globe. Coulson, Mack, and Fitz are sent to handle the blackouts, and enlist the help of Yo-Yo. Simmons enlists Dr. Radcliffe to help her fix May. Daisy and Robbie rescue Robbie's brother, who doesn't take to Daisy kindly.
I really don't have much criticism with this episode. Normally, I'd say that it spent too much time on one plot versus the others, but it really did a great job balancing the three major stories, and even connecting them. There was only one little bit I disliked, and it was that Robbie's little brother turned out to be a little jerk.
Daisy and Robbie's story was mostly expository in nature. It gave a little more information about both characters, and simultaneously (with Yo-Yo's story, anyway) showcased the hostile environment they live in with respect to Inhumans. Though it mirrors what the X-Men films have done in the past, it's a real and relevant story. People living in fear can turn into dangerous people very quickly. There are a lot of illusions to today's political climate on TV right now. Weird.
May and Simmons' story really brought the intensity. We've seen the other team members get annoyed at Simmons because of her new role at the director's ear, but we haven't seen the kind of stress it has caused her to be there until this week. Every scene with Simmons and Radcliffe brought serious intensity. Elizabeth Henstridge absolutely killed every scene (and May, briefly). It was so intense that I was actually worried we might lose May for a minute. The power outage was perfectly timed, and I wasn't sure that the LMD would have been able to provide the power source that it did. Agents of SHIELD has been excellent at mastering unpredictability and ramping up the intensity. My heart pounded through every one of those scenes.
I've saved the best for last, and that was the Coulson, Fitz, and Mack in the field story. I'll throw Yo-Yo in there too, but I think it could have been as epic without her. I would watch a show that was just these three doing field work for SHIELD. The chemistry between Gregg, Simmons, and De Caestecker was phenomenal. Each had special skill sets that they brought to the table, and they had such prowess and precision. Their scenes were well acted, directed, and written. Adding in Yo-Yo brought in some extra flare, too. It was a fun story.
Here are a few other thoughts I had during the episode:
Is there a ship name for Mack and Yo-Yo yet? Myo-yo? Yo-Mack? Yo-Yack? I'll keep working on it. Send me your best ones and we'll make it a thing!
Lorenzo Henrie is probably a nice kid, but he's doing a really good job playing insufferable nitwit kids on two shows now.
What's up with the stone dude from the end? Were we supposed to recognize him? Or was it just revealing the nature of the senator's vendetta?
This was a nearly flawless episode of Agents of SHIELD that I enjoyed very much. It had action, pulse-pounding drama, and still some fun superhero-esque moments for our beloved cast. Now if we could only get Hunter and Bobbi back…
What did you guys think? Did you enjoy the episode? Let us know!
Agents of SHIELD airs Tuesdays at 10/9c on ABC
Agents of SHIELD Season 4 Episode 3 Review: "Uprising"
Summary
Simmons works to save May, while Coulson, Mack, and Fitz chase down a threat on this week's stellar episode of Agents of SHIELD