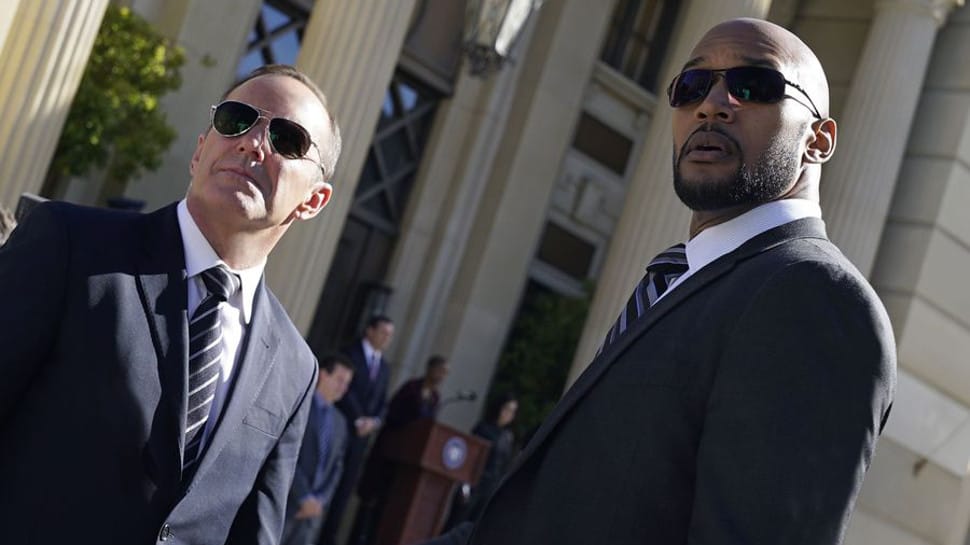 Since returning to the second half of it's fourth season, Agents of SHIELD has shifted it's main focus to the LMD story line. With last week's reveal of Radcliffe being the main antagonist behind the scenes, it has completely shifted the landscape of the show's second half and what's in store. Although Agents of SHIELD has been doing wonders with this season, it will be interesting to see the show tackle a similar idea to what was presented in Avengers: Age of Ultron.
One of the more interesting dynamics that Agents of SHIELD has established is the one between newly appointed Director Mace and former Director, Agent Coulson. At first, the transition to Mace felt really clunky and typical with the team not trusting him and the new Director having plenty of secrets that he was unwilling to reveal. Yet, as the season has progressed, the writing has really calmed Mace down and made his interactions with everyone feel more natural as opposed to the insecure feeling that came with him trying to step into his new role. It's been nice to see Mace and Coulson begin to respect one another and work well as a team to rebuild SHIELD and it's public image. "ThePatriot" once again incorporates a new twist to this relationship with the surprise that Mace isn't actually Inhuman, he's just been taking a serum that temporarily powers him up. It's an interesting development because the deception has led everyone on with the idea that Mace is an Inhuman, but going forward it creates an even more unique dynamic between The Patriot and Coulson. While Mace will still handle the spotlight and politics of SHIELD, Coulson is now back in the driver seat when it comes to calling the mission shots. It's clear that Agents of SHIELD has the intention to promote Daisy to Director (probably by season's end) which would line up well with her comic counterpart, but it hits closer to home to have her be passed the position from Coulson compared to Mace.
While the plot with Mace has gotten much more interesting, the main focus of this half season for Agents of SHIELD is the LMDs that Radcliffe is creating. Even though the LMDs are a huge part of Marvel canon, it definitely feels like the show is introducing the idea in a very repetitive way. It's frustrating to see May once again be the target of an impostor, but "The Patriot" revealed the idea that the LMD May doesn't know she is a machine, until now. It's frustrating that Radcliffe has gone from interesting reformed scientist to secret evil scientist, but he clearly is in way over his head without realizing it. Aida 2.0 is clearly becoming more and more angry at Radcliffe and his insulting comments and LMD May now knows that she is, in fact, a robot, which gives both motive to team up without Radcliffe suspecting anything and take control of the Darkhold. The Darkhold is probably the most interesting aspect of the LMD story because it can enhance the AI so much that there is no telling how much things could possibly escalate.
On top of all of this, Agents of SHIELD has done a very good job at creating multiple conflicts for the back half of the season. In the past, the show has always felt rather one note with it's villains, making the season outcomes very predictable and generic. Last night showed an increased level of intelligence from the Watch Dogs and the set up around their plan, knowing the first part would probably fail and force Mace into the jet. Between the political antagonist and the LMD plot, there will be plenty going on to keep the characters occupied. Agents of SHIELD is setting up so that each character seems like they will be stretched super thin and pulled away from being able to work as a team.
Agents of SHIELD seems to be, once again, taking the show to an interesting and fresh place. Despite certain aspects of the LMD plot feeling repetitive, the show is always creating interesting plots that will mysteriously unfold. The show really feels like it's setting up for Daisy to step up in a big way by the end of season. Between her adjusting to being in the spotlight again and the constant reminders of how powerful she is, Agents of SHIELD has been building her up since the first season and it's all to takeover at some point. It would be a lot of fun to see her have to make some big decisions that end up leading SHIELD and the team to victory. There has been nice development throughout each episode and the show feels like it's in a solid place so far.
Other Thoughts:
Radcliffe is such a tool, it's such a shame to now know that his relationships with other characters are so fake.
Talbot is always good for a couple of laughs. "I'm gonna squeeze our prisoner like a lime wedge on a dollar beer night."
Hopefully Fitz isn't too tempted by Radcliffe and the LMD program. I don't want him to get roped into keeping secrets from Gemma. Oh wait………….. I WROTE THIS DOWN TOO SOON.
It will be interesting to see if they reveal the serum Mace is taking to be the IGH (Presumably meaning Inhuman Growth Hormone) that Simpson takes in Jessica Jones. It would be a super nice subtle connection for the universe as a whole.
Agents of SHIELD Season 4 Episode 10 Review: "The Patriot"