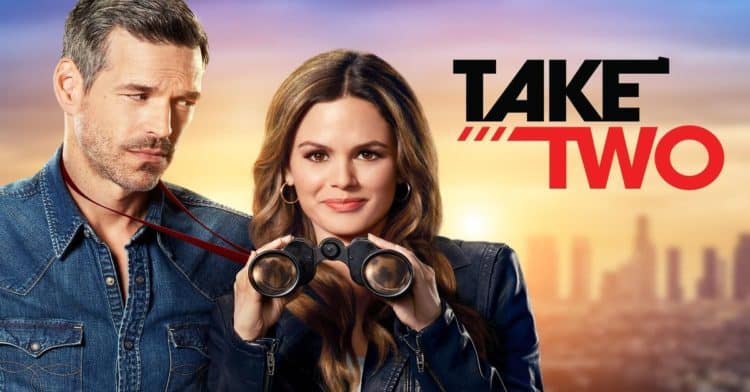 When television shows all tended to be 22 episodes the proverbial wisdom was that you should watch the first six episodes before deciding if it was worth your time or not. These days many viewers don't even want to start a show until after they've learned it will be getting a season 2! The problem with this idea is that the networks make the renewal decisions based on a show's ratings. By the time you get around to watching a show, you thought was interesting, it's gone!
That's where recaps and reviews come in. Bloggers like me watch these new shows and give you our opinions about them. Of course, that can be a lot of reading! So, here's a cheat sheet. After viewing six episodes of ABC's Take Two, I feel confident in saying this. If you like the "will they/won't they" genre of television you'll want to watch ABC's Take Two!
Here are 6 Reasons You Should Watch ABC's Take Two
1. The Creators of ABC's Take Two are the Same Ones who did ABC'S Castle
Most fans of Castle would say its best seasons were when Andrew W. Marlowe was at the helm, and that the best episodes were penned by its creators, Marlowe and Terri Edda Miller (MilMar). Take Two is created and run by them.
Great show creators have a definite style to them that bleeds through regardless of the subject. Grey's Anatomy wasn't Private Practice, and both were very different from Scandal. Yet they all have that Shonda Rhimes feel that is hard to explain – but you know what I mean.
This is even true with procedurals. Despite the erroneous idea that they're all the same, you'd never mistake an episode of any CSI show created by Anthony E. Zuiker for an episode of one the Law and Order franchise shows by Dick Wolf. After watching the first 6 episodes of Take Two it's appropriate to say that the show has a rhythm and vibe that is reminiscent of Castle, while absolutely not being Castle.
Call it the MilMar effect. Recently I've seen a couple of shows try to mimic that and fail utterly. If you watch ABC's Take Two, you'll know it's MilMar. Granted, it helps that they're using a number of writers and directors who worked regularly on Castle. Both the costume designer and composer are from Castle as well.
2. Rachel Bilson and Eddie Cibrian Have Great Chemistry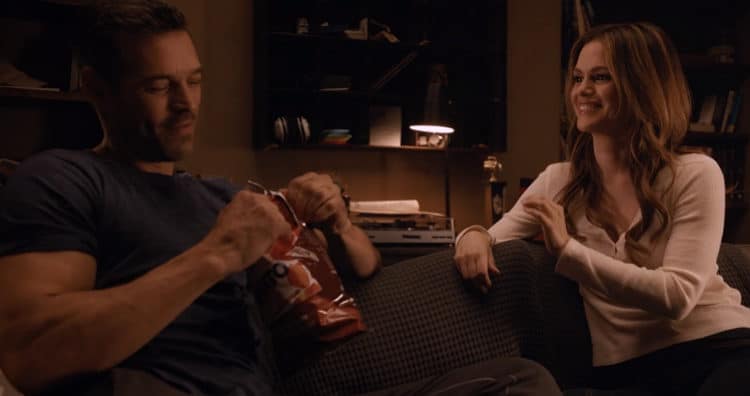 Rachel Bilson is Sam Swift, the actress who, fresh out of rehab, ends up working with P.I. Eddie Valetik (Eddie Cibrian). I'll admit that at first, I had doubts about this match.
In the Take Two pilot, and up through episode 3, it was difficult to buy into a romance between these two. Yes, each of them singularly is very attractive, but the way their characters were presented made it feel like Eddie was babysitting his bratty little sister.
On Castle, Richard Castle (Nathan Fillion) was described as a "manchild" and a "12-year-old on a sugar rush," but from day one that was balanced by his interactions with his family. The characters came off as equals – with Castle at times even outsmarting the detective. For the first 3 episodes, of Take Two, even when Sam has a good idea that works it doesn't come off as her being Eddie's equal.
It isn't until Take Two episode 4 that the maturity in Sam comes out and really shines. It's at this point that dynamic shifts and Eddie and Sam, while still very different, seem to be like peers. The sparks have been flying ever since!
This is a perfect example of why you should give a show 6 episodes before making up your mind. If you're a viewer who saw the pilot and dropped out, I suggest giving it another shot.
3. The Cases May Be Fun or Serious, but They're Always Twisty
The procedural romance doesn't work if the procedural part can't hold it's own. It's more than 6 episodes in and so far the cases on Take Two have been solid. They are in the style of the good old-fashion whodunit. There's also a slow building arc within the series about a nemesis named Deacon to build on – and he affects both Sam and Eddie. (See point 4.)
Marlowe said this about the cases on Castle.
There are some episodes where the case will dominate and there are some episodes where it will be a little bit more character stuff but we try to keep it in that sweet zone in the middle where each element of the storytelling is contributing. I also think that the thing that we look to do is have the personal stories speak to what the main story is so it feels as if it's all a part of the whole.
From the cases on Take Two, you can see that he's using the same principles. The cases all give us a glimpse of who the characters are and their history.
4. Second Marriages, Children – and TV Shows – All Benefit From Experience
There's something to be said for things done the second time around. With Take Two, Marlowe and Miller have made changes that give Take Two even stronger storytelling possibilities than their first show.
There's no title character. Castle was always about Richard Castle and Kate Beckett (Stana Katic). Sometimes people would get confused and think it was supposed to be mainly about Richard Castle. This makes things clear that the show's main premise involves two people.
Another thing that's different from Castle is the set up for the "big bad" character. The story about "Deacon" (Brian Markinson) – the judge who Sam and Eddie put away in the pilot as crime lord – has been set up to be equally a problem for both Eddie and Sam. Eddie has more history with him, but Deacon has them both on his radar. The characters are approaching Deacon as their problem – not just one character's big issue that the other one is helping with.
In general, MilMar has made some changes for the better in setting up the characters in Take Two. It's especially striking to note the strong early development of Sam and Eddie's helping hands, Monica (Alice Lee) and Roberto 'Berto' Vasquez (Xavier de Guzman). It took far longer for Detectives Kevin Ryan (Seamus Dever) and Javier Esposito (Jon Huertas) get as defined. However, since the characters really are the heart of a show, they all deserve their own section.
5. The Main Characters in Take Two All Have Complex Backstories
For the first few seasons of Castle, Kate Beckett clearly had the more compelling backstory. Castle was bored with his life of book signings, uninspired to write a new series, loved his daughter and eccentric mother. Meanwhile, Beckett's mother had been murdered, a fact that had changed the entire course of her upper-middle-class life. It's no wonder she became his muse! We didn't learn much about anyone else under seasons 2 and 3.
In Take Two the co-lead characters both have heavy background issues, and the more viewers learn, the more they're going to want to watch ABC's Take Two!
Sam Swift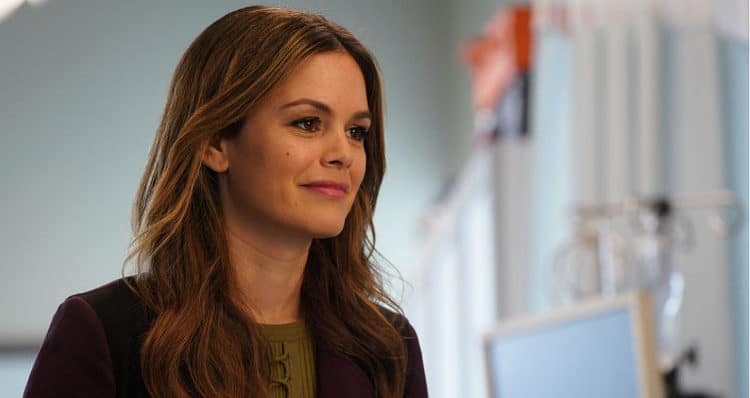 Sam Swift being a recovering addict is a character issue that will always be relevant and offer possibilities for story tangents and room for growth. We've already seen her sobriety issue come up in two different storylines. Another big one piece of history is Sam's ex-fiance cheating on her – and publicly humiliating her to boot. That's been "resolved" in episode 4, but it's the kind of thing that's bound to have repercussions down the line.
There's also a couple of breadcrumbs that could become relevant: Sam not having a babysitter since she was 10, and the"5th-grade teacher that said she'd never amount to anything. The issue of proving herself to others, of being independent, feeling abandoned – these are themes that could be expanded. Finally, there's always the pitfalls of fame, and questions about her career. (That seems like a big one. Unlike novel writing, acting takes up huge chunks of time that aren't scheduled by the actor.)
Eddie Valetik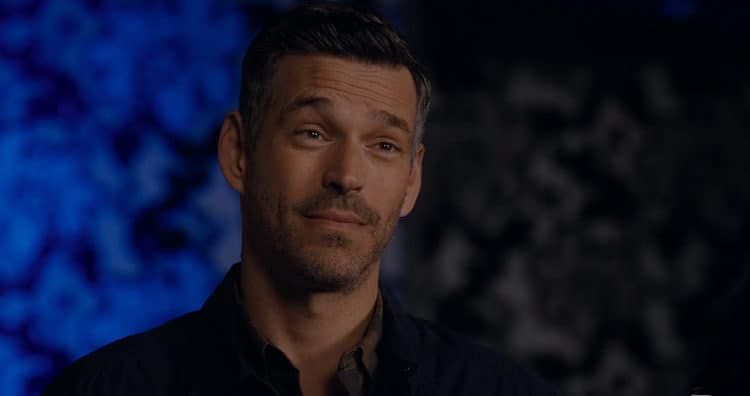 Eddie's past with the police force is just one bitter life pill that's shaped who he is – but it's a big one. He discovered Deacon's crooked cops, but, because he wouldn't play ball, Eddie's the one who got burned and dismissed. Then, the guy he was training as a P.I. went and burned him as well. That's enough to make someone a cynic, but that's not all going on with Eddie. There's the surfing accident that nearly killed him when he was 15. He's never surfed since.
Then there's something going on about him and women. He's an ultra decent guy, the kind that wouldn't look at Sam's sex tape. At the same time, he's in this friends with benefits relationship with Detective Christine Rollins (Aliyah O'Brien). She's the one that's encouraging him to pursue Sam, so clearly it's not that deep. Even weirder is the fact that Sam's agent Syndey (Heather Doerksen) is an ex-girlfriend of his. It came out in the pilot. Remember this?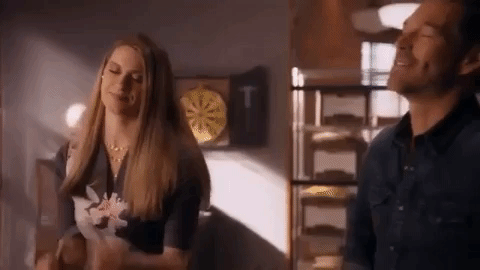 Yeah…so Eddie's a nice guy, but there are clearly some issues going on with the opposite sex.
Eddie's difficult history with women and people he's worked with get combined in the character of Piper Mannox (Tattiawna Jones). The lesbian bounty hunter that he was reluctant to work within episode 6 was obviously not a romance, but the ways that Sam related to her impulsiveness, and that Piper, yet again, managed to betray him, suggests some dark possibilities for future relationship misunderstandings.
Monica and Berto
In the pilot, Berto was presented as a kind of tech wiz that worked as Eddie's assistant. Monica was introduced in episode 2. Then we learned that aside from her having an artsy-hipster-street style of dressing, the psychology student who is also Sam's assistant is a 'body-hacker."
Monica: a cyborg with attitude. #TakeTwo pic.twitter.com/6BTso2M3bt

— Take Two (@TakeTwoABC) June 29, 2018
(FYI, if you Google Monica cyborg…there seems to be a number of cyborgs named Monica!).
Right off the bat, you can see that these two misfits are good for each other. There's also a lot of their backstories revealed already. This scene from episode 6, is one in a series of interactions where the two end up sharing about their pasts.
The Other Regular Characters Are Certainly Colorful
Aside from the main characters, here are four that lured me in to watch ABC's Take Two. It's true that we don't know as much about these people. However, their interactions with Sam and Eddie are insightful and never boring!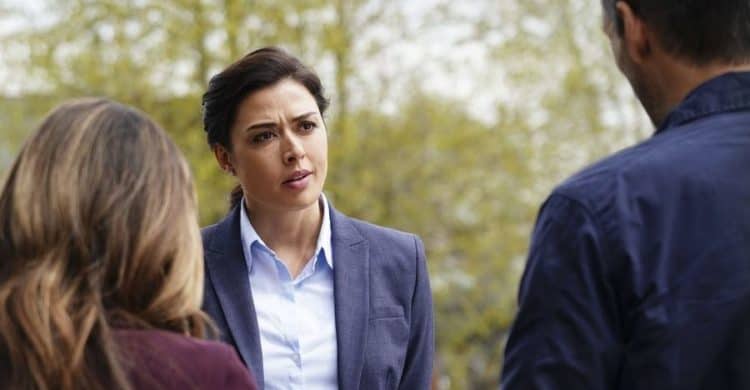 In every episode Detective Christine Rollins is always there to give Eddie that helping hand that only someone connected to the police department can, She once had a boyfriend that was a fed but seems content to be Eddie's occasional bedmate. In fact, she's kind of pushing Eddie towards Sam. I guess that last guy really broke her heart?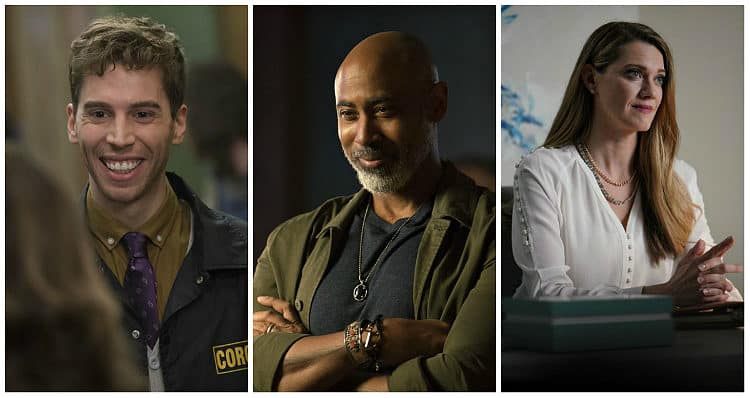 (From left to right)
Medical Examiner Mick English (Jordan Gavaris from Orphan Black) is a huge Sam Swift fanboy who is tickled and amazed that he now actually gets to work with her.
Zeus (Lamont Thompson) has known Eddie a long time and respects him greatly. The former cop now owns a high-tech security company – and a bar that Eddie convinced him to buy. Like the god he's named after, he drops in to give Eddie that touch of tech magic that's out of nowhere!
Sydney's not exactly Sam's friend, but she knows her pretty well, How she ended up with Eddie at some point is still a mystery though.
6. There's Nothing Else Like it on TV Right Now
There used to be a ton of will they or won't they shows on television. In fact, one point, The Mentalist, Bones, and Castle were all airing and fans used to fight over which couple was the best! These days the well of romance has been dry.
Sure. there are shows that have the element of romance in them, but that's not the same as having a show built around the dynamic of the relationship. If you miss having that kind of show in your lineup of dystopian dramas, snarky comedies, and unreal reality shows, you should watch ABC's Take Two. (For the record, I watch at least one show of each type listed!)
Tell us what's wrong with this post? How could we improve it? :)
Let us improve this post!