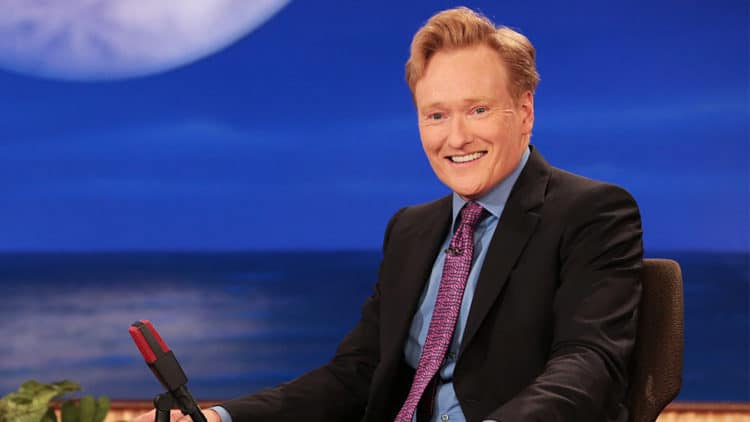 After almost thirty years on late-night, Conan O'Brien officially left his post as the elder statesman of late-night television last year, marking the end of an era for the comedian and for talks shows as a whole. Commemorating his work in TV, many of his colleagues paid tribute to him during his departure, including Stephen Colbert, John Oliver, Jimmy Kimmel, and even Jimmy Fallon, who took over from Conan O'Brien as host of The Tonight Show after a tumultuous PR drama between O'Brien and Jay Leno, its previous host. Last year, Conan ended his late-night tenure with a poignant end-of-show speech: "I've devoted all of my adult life to pursuing this strange phantom intersection between smart and stupid," O'Brien said at the end of the show. "There's a lot of people who believe the two cannot coexist, but god I will tell you, it is something I believe religiously, I think when smart and stupid come together… I think it's the most beautiful thing in the world." While he has left late-night, O'Brien is far from retiring from the limelight, shutting down rumors that he is abandoning the entertainment industry altogether. "Since I left 'Late Night,' I've had people on the streets saying, 'Congratulations on your retirement,'" Conan O'Brien tells Variety. "And they have no idea that I'm as far from retired as you could possibly imagine." Given this, what is in store for Conan O'Brien in the future?
Conan O'Brien Needs A Friend
Not too many know this, but Conan O'Brien has a highly successful podcast titled Conan O'Brien Needs A Friend, which he hosts with his personal assistant Sona Movsesian. Conan started the podcast a few years ago and has since had A-list guests, like Hillary Clinton, David Letterman, Michelle Obama, Tina Fey, Tom Hanks, and former President Barack Obama. In a review by Vulture in 2019, they described Conan O'Brien as the perfect podcast host, writing: "There is, ostensibly, a conceptual hook to the podcast: O'Brien, noted self-deprecator, is worried he has no real friends beyond the staffers on his payroll, and therefore embarks on a quest to find out if he can actually be friends with any of his famous guests. It's a good framework gag, but it ends up only being marginally utilized, for better or worse. For the most part, Conan O'Brien Needs a Friend is a fairly conventional comedy-interview show, which is to say, expect mostly straightforward if not casual interviews punctuated by bits and surreal digressions depending on the guest. Each interview is also generally followed by an extra segment that involves some banter work between O'Brien, Gourley, and Sona Movsesian, his personal assistant and podcast foil/sidekick." An amusing part of the podcast is the part where the guest introduces themselves and shares their sentiment about being Conan O'Brien's friend. Hillary Clinton, who guested twice on the podcast, introduced herself as "I'm Hillary Clinton and I feel great (but a little apprehensive) to be Conan O'Brien's friend."
Podcast production
Due to the overnight success of his Conan O'Brien Needs A Friend podcast, Conan O'Brien took podcasting production seriously, creating a Team Coco Podcast Network. Some of the podcasts that he oversees include May I Elaborate? by Arrested Development actor JB Smoove, Parks and Recollection by Allan Yang and Rob Lowe, Why Won't You Date Me? by Nicole Byer, Three Questions by Conan O'Brien's former sidekick Andy Richter, and Literally! with Rob Lowe.
Conaco
Conan O'Brien's television production company, Conaco, continues to be active. The company was responsible for all three of Conan's ventures in late-night, Late Night, The Tonight Show, and Conan. It's also produced TV shows such as Eagleheart, Deon Cole's Black Box, Super Fun Night, The Pete Holmes Show, People of Earth, and Final Space. Conaco is currently working on the British web series Don't Hug Me I'm Scared.
Future HBO Max show
Conan O'Brien still craves the camera, and while he's found much success in the podcast production world, he is still planning to perform on screen in the near future. With his late-night talk show Conan officially ending, Conan officially announced that he has something special for fans in 2022, which will premiere on HBO Max. While his upcoming show has been described as a variety, Conan explained that it's the farthest thing from how people think variety shows are. "Someone in the machinery somewhere at the network threw the word variety in there because we're in the variety comedy category, which is an old term. A lawyer in the bowels called it a variety show," he said, according to Deadline. "That is completely not what's going to happen. What I'd like to do is something that does not come on every night. We have this world now, in this streaming universe, where people can make fewer of something, and I was thinking I'd really like to double down on the things I love, which involves getting out of the studio, which combines a lot of the elements that make me a little different."
Possible travel show/segment
Conan O'Brien has expressed interest in doing travel segments in the near future, explaining how he immensely enjoyed doing Conan Without Borders a few years ago. "I miss shooting those travel shows and I would like to do more of those because that is my favorite comedy to do. Us in a foreign country, way over our heads, sometimes being attacked by angry mobs," he joked, according to Deadline. His Conan Without Borders was a massive hit, seeing the comedian visit countries including Mexico, Italy, South Korea, and Cuba, becoming the first American entertainer to perform in the country since the embargo ended. A review of the show for IndieWire took note of how the show highlighted Conan's spontaneity. "Any late-night show is all about the host, and rarely is this more evident than when Conan O'Brien goes on the road in his increasingly popular travel specials, "Conan Without Borders." These fall back on the host's talents, instead of pimping a cavalcade of so-so guests, and gets him out of the studio to interact with compelling people. But they also allow for tighter, more precisely edited episodes, which helps remind viewers why they tune in every evening: It's Conan, and nothing but the best of him."
Tell us what's wrong with this post? How could we improve it? :)
Let us improve this post!