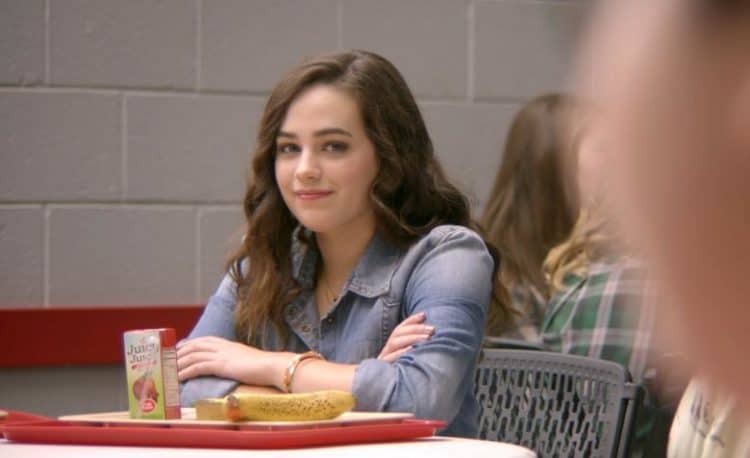 If there's every been someone who was born to be an actress, it's Mary Mouser. Even though she's still in her early 20s, she's already been acting professionally for more than half of her life. She made her first onscreen appearance in an episode of Without a Trace in 2004, and she has been on a roll ever since. Between TV roles, film roles, and voice work, Mary has already managed to earn more than 50 acting credits. Her undeniable skills and flexibility have made her an asset to every project she's been a part of. Regardless of the role, you can bet that Mary is going to give it her all and put on a good show. Continue reading for 10 things you didn't know about Mary Mouser.
1. She's A YouTuber
Mary Mouser isn't just an actor, she's also a content creator. She loves making her own videos and has built a pretty impressive following on YouTube. Her channel has over 52,000 subscribers and more than 1.7 million total views. She posts a wide variety of videos including tutorials and vlogs.
2. She Has Diabetes
In 2009, Mary was diagnosed with type 1 diabetes which is also known as juvenile diabetes. She was just a teenager at the time and has to learn how to make some serious adjustments to her lifestyle. Mary has since become a strong advocate for diabetes awareness and research. She has gotten involved with several charitable organizations that focus on the illness.
3. She's In A Relationship
There are probably lots of people out there who have Mary on their celebrity crush list, but there's only one person whose crush she's interested in being: her boyfriend's. That's right, Mary is in a happy relationship with her longtime boyfriend, Brett Pierce, who is also an actor.
4. She Loves To Sing
Mary loves to express herself and acting isn't the only way she's able to do that. She also loves to sing and is learning to play the guitar. However, making music is more of a hobby for Mary and not something she seems to have any interest in doing professionally.
5. She'd Never Seen The Karate Kid Prior To Cobra Kai
The original Karate Kid movie was released more than a decade before Mary was born, so it's not something she grew up watching. In fact, she had never even seen any of the movies before getting the part in Cobra Kai. She told Brief Take, "I sat down with my boyfriend and binge-watched the movies. I loved them! I ended up watching them about five more times over filming the course of the show [laughs] Think I'm bit of a fangirl?!"
6. She Reads A Lot
Mary may be a star, but she isn't afraid to admit that she has a bit of a nerdy side. When she isn't on set or rehearsing for a new role, she loves to sit back and read. She has a massive book collection and is always looking for a good new book to add to her list of things to read.
7. She Would Love To Work With Tim Burton
So far, Mary has gotten to work with lots of amazingly talented people, however, there are still some she hopes to get the chance to work with down the line. Tim Burton is at the top of her list. She would also love to do a project with Dwayne Johnson because she feels like he would be fun to work with.
8. She Considers Dana Delaney A Mentor
Mary has managed to successful make the switch from a child start to a successful adult actress. There have been a lot of people who have helped her along the way, one of which is her former co-star, Dana Delaney. Mary considers Dana a mentor and thinks of her as family.
9. She's A Big Star Wars Fan
Saying you haven't seen a Star Wars movie is one of the worst things you can say to some people. Up until early 2019, Mary was one of the people who'd never seen one of the films. However, after finally watching Star Wars, Mary was hooked and she is now a huge fan of the franchise.
10. She's Passionate About Skin And Hair Care
As someone who spends a lot of time in front of cameras, Mary knows how important it is to keep your skin and hair looking good at all times. However, keeping both of those things healthy is equally as important. She is really into both skin and hair care and often posts videos about these topics on her YouTube channel.