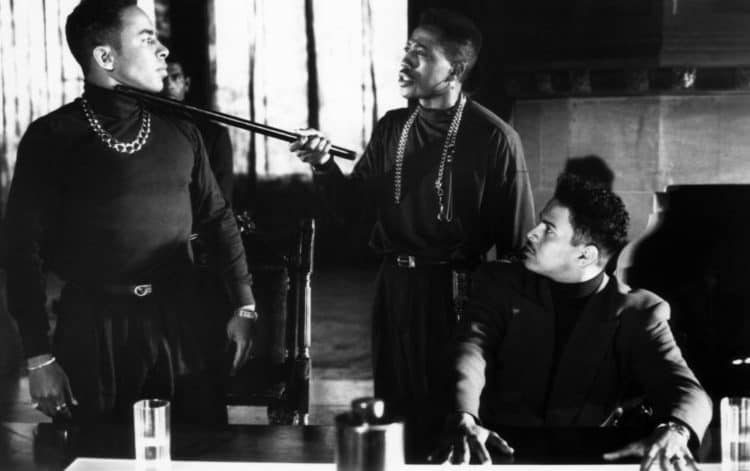 New Jack City is a crime movie that first premiered in the U.S on March 8th, 1991. Thomas Lee Wright and Barry Michael Cooper wrote the screenplay of the American Neo-noir gangster movie. The film's directors were Mario Van Peebles, and its stars were Wesley Snipes, Ice T, Chris Rock, Judd Nelson, Allen Payne and Mario Van Peebles. According to Deadline, Warner Bros Inc. has confirmed the remaking of the classic film. However, it is not clear on how it will be made to fit the current modern context.
Original New Jack City Plot
Wesley Snipes plays a rising drug kingpin in Harlem known as Nino Brown while Ice T is an undercover detective called Scotty Appleton. Nino Brown and his Cash Money Brothers gang become a powerful drug cartel in New York City and turn a complex building into a drug house. Scotty Appleton, a passionate detective seeking revenge for the murder of his mother, goes undercover in Cash Money Brothers and attempts to unravel Nino's drug ring. Allen Payne acts as Gerald, also known as "Gee Money," Nino Brown's childhood friend and the deputy head of the Cash Money Brothers. Chris Rock plays a former violent robber kid who is shot by Scotty and eventually becomes an informant who helps Scotty bring down Nino's drug operations.
Judd Nelson acts as Nick Peretti, a detective who is Scotty's associate in investigating the Cash Money Brothers. The movie's director, Mario Van Peebles, assumes the onscreen role of Stones, a detective who leads the investigations against Nino Brown and Cash Money Brothers crew. It ends with the defeat of Cash Money Brothers and Brown is sentenced to prison for one year. Scotty is, however, outraged by the court's decision considering that Nino killed his mother as part of a gang initiation procedure. Nino Brown is later released from prison but shot dead outside the courtroom while addressing reporters.
Malcolm M. will write the film, and Bill Gerber will produce it
Mays is set to write the screenplay of the New Jack City film. Malcolm, who is both a writer and a director is best known for his starring role on FX's series "Snowfall." Malcolm Mays is also the mind behind the script of Warner Bros' film, "Ferguson," an adaptation of Lezley McSpadden's book about her slain son. Warner Bros Inc. has however not revealed whether Mays will star too or they are confining his role to screenplay writing. While Warner Bros is yet to announce the cinema's director, the company has disclosed that Bill Gerber is set to produce the film. Bill Gerber is the producer of the hit drama movie "A Star is Born" which became a household name and won two awards at the 91ST Oscar Academy Awards. Bill Gerber will reportedly produce the film alongside Doug McHenry, a producer of the original "New Jack City" movie.
Will it be a success?
Film production is a lucrative business if one plays his cards right and Warner Bros is hoping to make a killing as it did with the original. Warner Bros Inc. spent a total of $8 million in production costs, and to date, the film has grossed $47 million domestically. According to the Los Angeles Times, New Jack City debuted at number 2 of the highest-selling films with a total of $7 million acquired from ticket sales, in its opening weekend. Commentators are keen to see how Warner Bros will remake the movie and make it a success thirty years after its original release.
Some fans have expressed displeasure with the remaking of the 1991 crime movie, one of whom is notably Charlamagne Tha God. The popular host of "The Breakfast Club" show has openly come out to criticize Warner Bros for attempting to produce a new version. Charlamagne who is known for his boldness said on September 24th, 2019 that Warner Bros should explore new drug stories instead of repeating a story they had featured in 1991. Atlanta Black Star reported that Charlamagne cited that remaking the film in this era of contemporary music will devoid the movie of its classical sense. They advised the company to shelve the idea of rebooting the movie. If other people share this opinion, then Warner Bros Inc. will have made a costly mistake if it disregards the free advice.
How will the New Jack City Reboot be?
The news of Warner Bros remaking the classic film has just hit the headlines, and the company is yet to provide any specific details on the plot and cast. However, as many reboots are, fans should anticipate the new version to incorporate old elements of the 1991 "New Jack City." Fans should expect the reboot to feature a drug-related plot, an aspect that is portrayed in the original. Since the producer, Doug McHenry, is set to co-produce the movie with Gerber, there is a likelihood that the film will bring back some actors from the 1991 movie. There is a possibility that Warner Bros might opt for Wesley Snipes to star in the remaking of the film. Wesley is currently working to revive his over a 25-year old career as he is starring and executive producing Dawn's Light Media film, "Payline."
Will the New Jack City reboot beat the original film's ratings?
The original film received mixed reviews from critics and recorded 77% in ratings. Even though the film has maintained some degree of popularity among its fans, speculations are endless on whether Warner Bros will manage to appease fans and impress critics. To ensure high ratings for the film, Warner Bros should maintain the movie's classical touch, which is essential on how viewers will perceive the cinema. In this world of Hollywood, we should not be surprised to see Warner Bros outperform and make a better reboot than the original film. It is all in their hands now so let's wait and see.