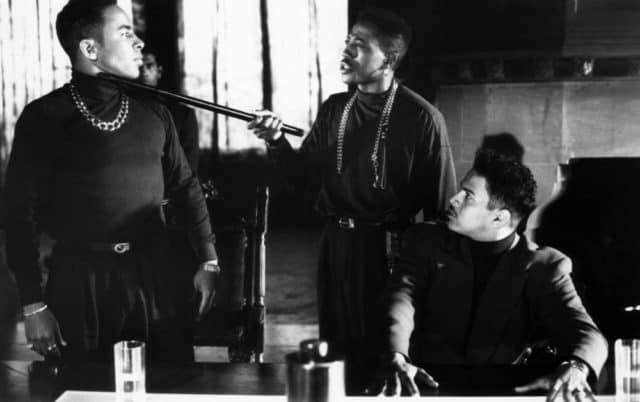 New Jack City was one of those classic films that shine a spotlight on a piece of the American fabric that isn't often seen. In this instance, it was the impoverished ghettos that African Americans live in. The poverty, the violence, the emergence of crack cocaine as a source of wealth for some and a source of addiction for others. There's a lot you can say about this movie, and it's impact. Some say it helped cause the riots and push drug culture. Some say it helped uncover the struggles of people living in poverty. I think that's left to subjective interpretation and both sides opinions hold at least a grain of truth. But let's get back to the subject at hand and why I sat down to write this article in the first place. It's been over 25 years since the New Jack City hit theaters, and looking back, there are a few things about the movie that makes it well ahead of its time.
Here are a few that I noticed.
It was the father of other inner city life and African American gangster films
South Central, Menace II Society, Paid in Full. None of those films, which have become cult classics in their own right would likely ever existed if it wasn't for the financial and critical success of New Jack City. And let's not forget that John Singleton's "Boyz in the Hood" released *6 months later also piggybacked off of the success of New Jack. New Jack City brought in nearly $50 million on a $8 million budget and helped propel the careers of Wesley Snipes and Chris Rock.
It was the first time Ice-T played a cop on screen.
Back in the 90's Ice T was a gangster rapper most known for his classic album "O.G: Original Gangster" and the most controversial song of his career "Cop Killer." In fact, Ice-T was so anti-police that he nearly turned down the role of undercover police officer Scotty Appleton in New Jack City. Fast forward 25 years later and Ice T is no longer a gangster rapper… He's an actor… Most famous for his role as Detective/Sergeant Odafin Tutuolaon on the NBC police drama Law & Order: Special Victims Unit. The most notable role of his career…I guess he warmed up to playing a police officer…
It showed that the story of being a successful drug dealer was bankable.
We now routinely hear the narrative of young black men rising triumphantly from poverty through the use of violence, ruthlessness, and drug sales most often in the lyrics of rap songs. They also tell us the story of what it's like growing up in the ghetto through their music. We see this trend first start taking shape after the release of New Jack City, with numerous references to the film and it's characters throughout hip hop culture as "Gangster Rap" grew to prominence. In fact, Lil Wayne actually has 3 Albums named "The Carter" after the drug slum from the movie. The story of the drug dealer rising up the ranks of power has become extremely commonplace in hop hop culture. Record labels and hip hop artist make millions by packaging the narrative and the gangster persona and selling it to the masses. You can at least in part thank New Jack City for helping them discover how profitable that could be.
Conclusion
When you go back and watch New Jack City, it's clear that the film was the first of it's kind. The start of something in film and popular culture… Its impact still being felt today… Simply put… It was way ahead of its time…