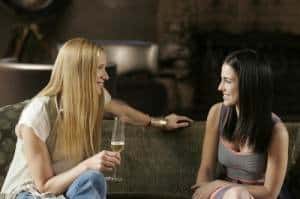 So, folks, Naomi met Karma and that was not nice to her at all last night. In other West Bev news, Dixon caught feelings, Liam got a surprise visit from someone, and Navid worries about his manhood after seeing Adrianna with Gia. Gade ran into a dead end last night, as well.
Naomi is This Year's Annie/Liam Gets A Surprise
Naomi meets with Harry to talk about her upcoming hearing against Mr. Cannon, who is on leave with pay. Later, everybody rallies around Naomi in her 'time of need', but the more they encourage her, the more she feels like crap. When she finally faces Mr. Cannon, Naomi has to endure his sob story of him having a wife and why is she doing this to him. Liam shields her from Cannon, but the damage is done. Once they get in the hearing, Naomi flakes and comes clean. Mr. Cannon (and wife) are ecstatic. Naomi feels terrible. Harry is pissed. Once Cannon leaves, Harry berates Naomi, but the true punishment comes when she goes outside and sees that Liam has left her high and dry. As Liam gets in his car, a man (Scott Thompson) watches and trails Liam when he leaves the parking lot.
Later at her house, Naomi tries to explain to Liam, who is breaking camp, why she did what she did. He doesn't want to hear it and leaves. When he gets home, he finds the stranger in his shack. But the guy isn't a a stranger to Liam. He's his father. WHAT?!?! Well, I knew exactly who he was based on reports of Liam's dad returning.
The next day at school, Naomi faces the same torment that Annie went through except way milder. It turns out that is Annie who consoles her, because she knows exactly what Naomi is going through and then some. More on that later.
A Lie Becomes A Truth
Ivy and Dixon carry on their faux romance, but Ivy is done playing, while Dixon isn't. Some of those situations turn out for the better when Dixon shows Ivy how to DJ, despite that not being all that good at it in my opinion. The two bond over Bob Marley, but who can't get along to some Bob Marley? Ivy is so impressed that she enlists Dixon to DJ at her mom's music industry party. While I balk at the thought, Ivy makes one request in return in her generous offer: they need to drop the boyfriend/girlfriend act. Dixon doesn't want to, but fakes as if he doesn't want to be the one to get dumped. Ivy doesn't care as long as it goes down, because after Naomi's stunt, she might have a chance at Liam. NOT! Liam practically tells Ivy to get real and to give it up, because they will never be an Livy or an Iam. Ivy is crushed, but the DJ saves her life as Dixon throws on some Bob Marley during the party and she immediately knows that it's for her.
Later, Ivy feels like she is ready to move on which is music to Dixon's ears, because he wants to move on too… with her. So Dixon goes in to ask for a date and Ivy accepts without hesitating. I like where this is going.
Oh and Dixon is still gambling. And still losing.
The Gade-Nila Quagmire
Navid is stunned when he sees that Adrianna is dating Gia now and immediately thinks it's his fault. Not personality wise, but bedroom skills wise. He questions Gia in the Blaze office, while Lila is sitting literally behind him. Dumbass. Lila asks what the deal is after Gia leaves and Navid nonchalantly says he's only looking out for Adrianna's interests. Whatever. Then later, Adrianna drops the bombshell of Laurel's music proposal to Navid, who thinks she should go for it and that her band mates would do the same. Not so fast, Kimosabi. Lila is pissed and ready to snap, but Navid doesn't think it's that big of a deal. Bad move, mojo bozo.
Meanwhile, Adrianna prepares for her night at Laurel's party, but Gia is not excited because A) Navid suggested that Adrianna go and B) the booze and drugs that will be in abundance, but that's a crock to cover her jealousy of Adrianna's newfound friendship in Navid. So the two have a fight and Gia leaves Adrianna to attend the party herself.
When Adrianna gets to the party, she's not in a festive mood and it takes Laurel to tell her to go chase her heart and that the contract will still be waiting. Only thing is that Gia is not as patient than the contract as she has already rekindle her relationship with her ex. Damn, Gia, that's fast rebounding there…
While Adrianna finds out about Gia's infidelity, Navid tries to make up to Lila for being inconsiderate earlier by reliving their cotillion dance. I don't know if this did any good since he bumps into Adrianna at a pastry shop and the two sit and discuss Adrianna's songs that she has written.
Get Out of My Dreams AND Outta My Car!
Annie feels like a new lady after Jasper is long gone and wants to get a new ride. Silver helps her pick out a prospect, a 1965 Mustang, and they both want to test drive it alone, but the dealership has a strict policy against that. So the girls come back and ham it up a little and manages to get a poor salesman to relent to their pleas. But for some idiotic reason Annie wants to drive down the road were her accident went down and lo and behold, she has a flashback, which paralyzes her from driving any further and Silver has to take the wheel. Damn shame, Annie. A damn shame.
Later, Annie has a nightmare of a picture of Jasper's uncle becoming the wallpaper to her room. If one wouldn't know any better, you would have that that either Freddy Krueger, or worse, Jasper would've jumped out the shadows. While I would have preferred Freddy to pay Annie a visit, I am cool with the outcome given. The next day at school Annie talks guilt with Naomi and how when you are ready to tell the world your sin, things get worse. Amen, sister.
Ryan Matthews Gets Loose…
Laurel has fun with Ryan and he with Laurel. But Laurel ups the ante by bringing Mary Jane into the equation. No, not a threesome, unless you count weed as a viable sex partner. Hell, some people do. So Ryan tonks on some weed and is feeling good, but when he sees Ivy and Dixon at the party, he freaks because he doesn't want his students seeing him loose. Well first of all, Ryan Matthews, you shouldn't be sleeping with the parent of a student to begin with and secondly, you got a hold to some tame ass weed if your high went away that damn fast. In the end though, Laurel apologizes for not being up sensitive to Ryan Matthews' feelings, but she likes him and can see herself having lot's of fun with him in the future. And, Laurel, while you are ahead? Take him with you when you leave. Please and Thank You.
The West Beverly Blaze
– I know Naomi screwed up big time, but again, Mr. Cannon was the one who assumed that Naomi wanted to sleep with him. His pompous attitude got him in this predicament and now he had to pay for it. I stand by this opinion.
– Gade didn't last at all and it was all Gia's fault!!!! Who woulda thunk it!?!
– Am I the only one loving the Dixon/Ivy storyline? I think I might be…
See you guys on the 27th of April!!!!