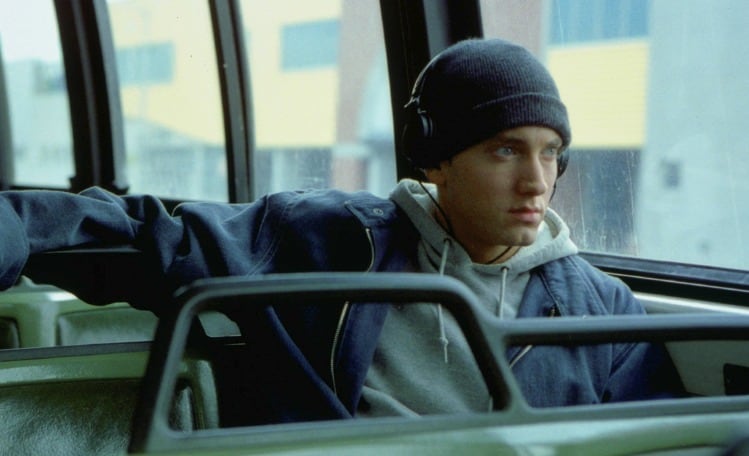 It's hard to believe that 8 Mile is turning 20 in 2022. It seems like only yesterday that the movie was every teenager's favorite film of the year. 8 Mile, which featured Eminem in his film acting debut, portrayed the story of a white rapper who's trying to break into the rapping scene. Alongside Eminem, the movie also featured actors Mekhi Phifer, Michael Shannon, Anthony Mackie, Kim Basinger, and the late Brittany Murphy, who appeared in the movie at the height of her career. The movie was critically acclaimed during its release, having won and been nominated for prestigious awards in 2002. Most notably, it won an Academy Award for Best Original Song for Eminem for the rap song "Lose Yourself." In a review for New Yorker, the publication wrote: "In the tradition of "Rocky" and "Fever," the movie is a shrewdly engineered piece of proletarian pop—a story of triumph—but, like Eminem's enraged lyrics, "8 Mile" has its own kind of vile candor. The great Mexican cinematographer Rodrigo Prieto ("Amores Perros") keeps the visual palette ugly and raw—gray skies, damp streets, dank factories, graffiti-covered buildings. "8 Mile" is about Detroitismo in all its misery of sunken hopes and defiance. The movie says, "Out of this junk, out of the self-hatred and anger that grow from living amid junk, rappers will make their art." In celebration of its 20th anniversary in the halls of moviemaking history, here are a few reasons you should rewatch 8 Mile in 2022.
8 Mile is a classic
8 Mile is a critical and commercial success that's still being enjoyed by audiences today. It's one of those movies that people either love or hate, and it has the staying power to be remembered for years to come. It was also the first film for which Eminem ever won an Oscar. The movie itself is a masterpiece, a gem directed by the late, great Curtis Hanson, who had worked on The Hand That Rocks the Cradle and L.A. Confidential. Roger Ebert took note of how carefully the movie's story was told, writing: "The movie, directed by Curtis Hanson ("Wonder Boys") and written by Scott Silver, is a grungy version of a familiar formula, in which the would-be performer first fails at his art, then succeeds, is unhappy in romance but lucky in his friends, and comes from an unfortunate background. He even finds love, sort of, with Alex (Brittany Murphy), who is loyal if not faithful. What the movie is missing, however, is the third act in which the hero becomes a star. We know that Eminem is awesomely successful, but "8 Mile" avoids the rags-to-riches route and shows Rabbit moving from rags to slightly better rags." The storytelling, combined with the direction of the film, gives audiences a renewed reason to watch 8 Mile in 2022.
8 Miles' soundtrack and "Lose Yourself"
Another reason to rewatch the movie is its soundtrack, particularly the Oscar-winning "Lose Yourself." It became the very first rap song to win an Academy Award. Eminem's "Lose Yourself" is a song that provides a message of acceptance and drive. Despite the challenges, Eminem encourages listeners to always keep going on in life with what they have, even if your situation seems hopeless. With all the negativity and difficulties in our lives, it can be easy to lose hope. But the song reminds us that we can still find happiness in the little things and celebrate each day as it comes. The lyrics are powerful and inspirational and provide listeners with inspiration on how to live their own lives. "Lose Yourself" is Eminem's most successful rap song to date. Jeff Bass, one of the people who worked on the song, gave an interview with Billboard, reflecting on what the movie's legacy has been. He also described his collaboration with Eminem on the rap song: "How we would do things is that, a lot of the time, I would do the music and track. I'd have it all ready and I would show him it, and he'd either like it or not like it. Other times, we'd sit down together raw — no music at all — and just start building something. I couldn't explain to him in musical terms at that time what we were gonna write, but he seemed to understand me when I said that we would be doing a happy song or a sad song or an angry song. He can understand those emotions, so that's how he was able to communicate with me on musical terms." On the potential of the song to be one of the greatest rap pieces in history, he said: "The only thing that we noticed, honestly, is that the track felt so good. We didn't know why it felt so good, but it was something that felt good to us. It wasn't until he got the script for the movie [8 Mile] where he came up with the lyrics and everything. It just came together. But something about the mode of the music really touched us. We kept pulling it out of the computer every so often to revisit it, to see if it could spark anything in us. We loved the track."
Watch it to remember Brittany Murphy
A good reason to watch 8 Mile is to remember Brittany Murphy's performance in the film. Murphy appeared in the movie as the love interest of Eminem's character. In 2012, the cast of 8 Mile had a reunion and remembered Brittany Murphy. Those who were in attendance included Eminem, Mekhi Phifer, and other cast members. Eminem had pleasant words to say about his former castmate, according to Contact Music, saying: "Brittany was a good person, a super-nice girl. She was very down-to-earth; she'd talk to anybody." Brittany Murphy died in 2009, seven years after the premiere of 8 Mile. She would appear in movies like Uptown Girls and Sin City. 8 Mile remains to be one of her most memorable projects. Brittany Murphy died in 2009, but her legacy still lives on. People all over the world continue to watch 8 Mile, her critically-acclaimed debut film as a rapper's love interest. She was only 32 years old when she passed away and left behind a huge impact. The film is often touted for its great music and its realistic portrayal of the Detroit Hip Hop scene, which the city continues to support today. With her powerful performance and amazing chemistry with Eminem in 8 Mile, Brittany Murphy undoubtedly left a mark on society that will never go away. Her performance alone should be enough reason for you to revisit 8 Mile in 2022.
Tell us what's wrong with this post? How could we improve it? :)
Let us improve this post!