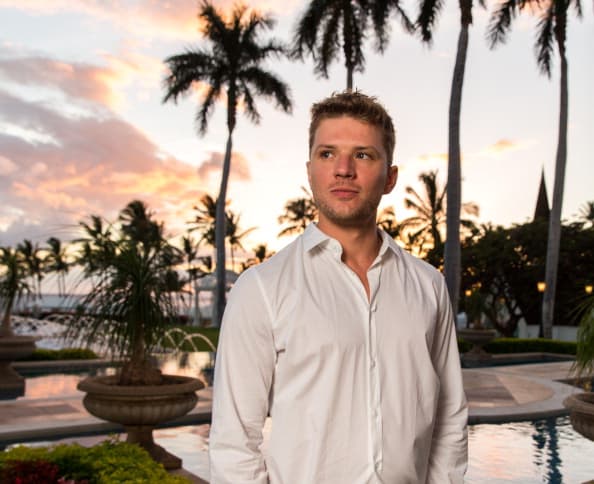 You may not have seen him in quite some time, but Ryan Phillippe has kept himself pretty busy over the last couple decades. Phillippe rose to fame in the late 1990's starring in such movies as I Know What You Did Last Summer, Cruel Intentions, 54, and Little Boy Blue. He would continue to act in movies during the 2000's. Some of his more memorable performances were as Brandon King in 2008's Stop-Loss, as John Bradley in Flags of Our Fathers, and as Officer Tom Hansen in Crash. After spending twenty years away from the small screen, Ryan Phillippe returned to television in 2012 to portray Channing McClaren in the final season of Damages. He would also make a comedic guest-star appearance on a 2014 episode of Men at Work. Now Phillippe is back on television in the new series Secrets & Lies, which began airing on ABC earlier this month. Here are seven things you may not know about him.
1. He suffers from depression
Ryan Phillippe comes off as a cool and collective guy, but he has been battling depression from an early age. In a recent interview with Elle magazine he admitted, "Depression has been a huge obstacle for me ever since I was a child. As you get older I think it decreases some, but I'm kind of a sad person. I'm empathetic, and I take on the feelings of others and transpose myself into the position of others. I see it in my daughter. She has it, and I wish she didn't. It's just, some people do have this pervading sort of sadness, or they're so analytical that they can kind of take the fun out of things because they think too much." Phillippe does go on to say that at times he is thankful for having depression as it has made him develop a higher level of sensitivity.
2. He threw up while filming a scene for Cruel Intentions
Who knew acting could be so tough? You may remember that Ryan Phillippe starred in the 1999 film Cruel Intentions. The actor had no problem filming the dark material as he told the movie's screenwriter that when you break down the movie it is really about Sebastian wanting to have relations with his step sister in a way that would make most women cringe. When he was filming the breakup scenes with Reese Witherspoon's character he actually vomited on the set and the director made the actors film the scene until he got the footage he needed. It must have worked because the scene turned out great in the version that made it into the final cut of the film.
3. He thinks most of his films are awful
Most actors think everything they do is a gift to the public. Ryan Phillippe does not feel the same way. While being interviewed for the Los Angeles Times, Phillippe announced that, "I've made 30-plus films over 20 years. In my opinion, five of them are good. You want to make something great and a lot of times you end up disappointed." Though he never says which movies he is proud of, we here at TVOvermind think that Flags of Our Fathers was one of the greatest movies that Ryan Phillippe has starred in during his 20 year career on television and film. Other critically acclaimed movies Phillippe was a part of include Gosford Park and Crash.
4. He is a former soap star
Ryan Phillippe's career did not begin with him starring in films. The actor actually got his big break by starring on television. He portrayed Billy Douglas on the soap opera One Life to Live at the age of 18. He would become the first actor to play a gay teenager on a daytime soap opera. Billy is scared to tell anyone about his orientation, but he does confide in the pastor. Rumors being to fly that the pastor made unwanted advances on Billy and his parents want him removed from the Parish. In order to show support for the pastor, Billy is able to come out to his family. Phillippe was praised for his performance in this role. It has paved the way for many other gay characters to appear in daytime soap operas including Passions and All My Children.
5. He met his ex-wife at her birthday party
Ryan Phillippe and Reese Witherspoon were married for nine years and the couple have two children together. They wed in June 1999 shortly before the birth of daughter Ava in September. Four years later, the two welcomed son Deacon into their family. The first time Ryan and Reese met was at her 21st birthday party in 1997. The two ended up talking all night and soon began dating and would become engaged in December 1998. Sadly in 2006, the couple announced that they were separating and they would officially be divorced two years later in 2008. They did not have a prenuptial agreement in place and Witherspoon wanted the court to refusal spousal support to Phillippe. She also wanted sole physical custody of the children, which would end up being denied by the court. Instead, the couple shares custody of the kids.
6. He is a music video star
Aside from starring on television shows and movies, Ryan Phillippe is a music video star as well. In 1999, he appeared in the music video for the song "Every You Every Me" by Placebo. The song was featured in the movie Cruel Intentions and is included on the movie's hit soundtrack. In 2004, Phillippe would return to the world of music and appear in Outkast's music video for "Hey Ya." He plays the role of a TV Host.
7. He has worked with Juliette Lewis in the past
Secrets & Lies is not the first time that Ryan Phillippe and Juliette Lewis have worked together. Both actors starred in the 2000 film The Way of the Gun. However, the two only appear in a handful of scenes together. In an interview with Yahoo!, Lewis explained, "I love Ryan. We are so similar to who we were back then, but older and hopefully wise and maybe both better actors."
Do you know any other interesting facts about Ryan Phillippe? Let us know in the comments section below.
Photo by Christopher Polk/Getty Images for Maui Film Festival