"Call me Mr. Brightside, but I think we're making some serious progress here."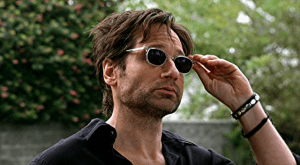 Things are looking pretty good for Hank Moody.
I loved how season three ended and now after more than a year, season four is finally here, picking up right where we left off. Need a crash course refresher on season three? Here you go.
One episode into the new season, the show is just as strong as it's ever been.
Charlie (Evan Handler) bails Hank (David Duchovny) out of jail after 72 hours, but he's been instructed not to bring him home. The two instead stop in front of a bookstore, where the sign in the window reads "Looks like THIS ONE was ACTUALLY written by HANK MOODY!" Word about the true author of F&P has spread while Hank sat in his cell for the weekend. As much fun as Hank has had wallowing and struggling to achieve success, this just could be the break his career needs.
Charlie then brings Hank home, but Karen throws some clothes at him and tells him he's not welcome and needs to leave. The men follow her instructions and meet with Hank's lawyer Abby, played by Carla Gugino. Great casting has always been a strength of the show, and they've made another great casting move bringing her onboard.
The next stop for Hank and Charlie is UTK (Unique Talent Kollective) where they have a meeting with their executives as well as young movie star Sasha Bingham, played by Addison Timlin – more great casting. Sasha wants to star in the film adaptation of F&P, but thinks the script is a mess. That's where she thinks Hank should come in. He isn't into the idea at all, but Sasha complements his writing in an attempt to soften him up to the idea.
Things are looking pretty good for Charlie too. One of the UTK reps tells him he can have his old job back if he convinces Hank to write the script. That's exactly what he wants, so he knows he needs to get Hank to do it. Charlie brings Hank to Sasha's hotel room and encourages him to write the script, informing him that if he stops feeling sorry for himself and takes the job, it will help them both. In true Hank Moody fashion, he sleeps with her. She asks him about the punch – referring to the title of his book – and he tells her to give it a shot. She does so.
Hank has a dream that night, in which he goes home to find Karen reading F&P and an angry Becca reading about her father's exploits on gossip blogs. Upon seeing him, she smashes most everything in her room with her guitar. This dream serves as an important reminder that though things are looking pretty good for Hank, he still has the two most important people in his life at home, and they've never been more mad at him.
Hank wakes up with a black eye, late for his arraignment. When he arrives, he is pleased to learn that the assault charges dropped. Unfortunately for him, there is bad news along with that good news. Hank is then arrested for statutory rape.
"Defending [him] just became a hell of a lot more interesting," says Abby.
Things don't look so good for Hank Moody anymore.
However, things look great for us Californication fans if this first episode of season four is any indication of things to come. Grade: A