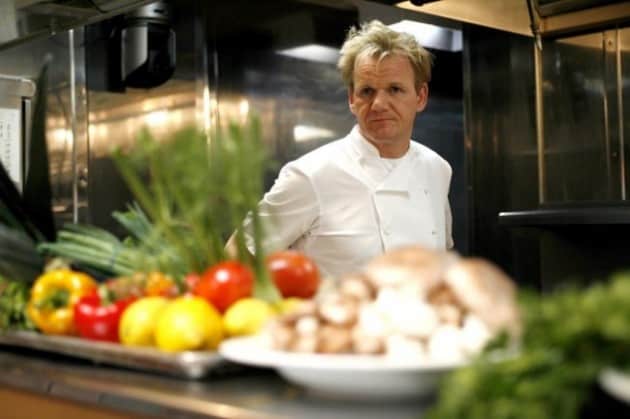 Gordon Ramsay is set to open his second Atlantic City restaurant over Memorial Day Weekend. Gordon Ramsay Steak will be located within Harrah's Resort. It is expected that the deal will be officially announced next week by Caesars Entertainment. They are Ramsay's partners at Gordon Ramsay Pub & Grill which is the celebrity chefs other Atlantic City Restaurant. His new restaurant will take the place of the current restaurant The Steakhouse at Harrah's. Other restaurants at this resort include an Italian restaurant called Martorano's and Veracruz, which is a Spanish and Mexican restaurant.
The Atlantic City Gordon Ramsay Steak will be the third of this brand's restaurants to open. The first Gordon Ramsay Steak opened at Paris on the Las Vegas strip in 2012. This was followed by a second restaurant with the same name at the Horseshoe Casino Baltimore, which opened in November 2017. The atmosphere at this new restaurant is likely to reflect that of other restaurants owned by Gordon Ramsay. They are best described as having a chic, swinging London ambiance where customers can feel relaxed while also enjoying an exquisite dining experience.
The full menu has not yet been released, but it is likely to include many of the same dishes as the other Gordon Ramsay Steak restaurants. Customers can expect to see dished on the menu such as American Kobe and beef that is dry-aged for a minimum of 28 days. Couples eating out can enjoy the experience of sharing the 32-ounce Royal Long-bone chop. There is also a nod to Gordon Ramsay's British roots on the menu as it will include classic British dishes, such as Beef Wellington on the entrée menu and sticky pudding on the desserts list. With such a delicious range of options on offer, diners are spoilt for choice.
This new venture in Atlantic City is just the latest of Ramsay's many restaurants. In fact, the celebrity chef has 40 restaurants located around the world. Thirteen of these are located in England, 12 in the United States, four in France, two in Italy, and two in the United Arab Restaurants. Other locations where he has one restaurant are Ireland, Qatar, Japan, South Africa, Australia, Hong Kong, and Singapore.
However, it is not just Ramsay's restaurants that have led to his fame as he is now one of the best-known celebrity chefs in the world appearing in many television shows on both sides of the Atlantic. He first appeared on television in 1998 in a documentary called 'Boiling Point'.
In 2004, he got his own series in the UK 'Ramsay's Kitchen Nightmares. This was followed by the launch of Hell's Kitchen in 2007. There have been US versions of both of these shows that are just as popular as the UK versions. Other shows for which he is well-known are 'The F Word', 'Ramsay's Best Restaurant', '24 Hours to Hell & Back', and 'Hotel Hell'. In the United States, Gordon Ramsay is a judge on Masterchef and is also a producer for this series.