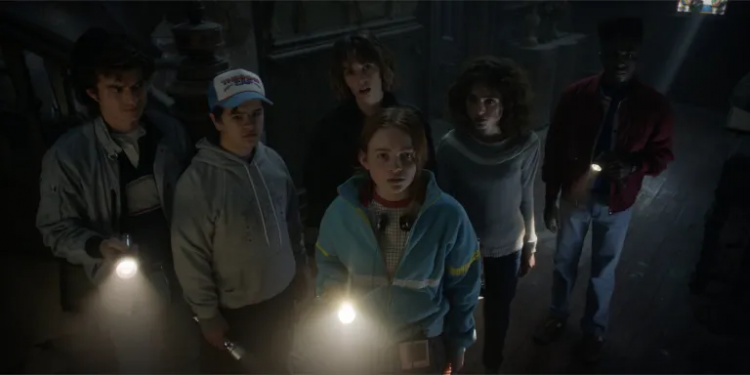 It's not very often that shows as original and unique as "Stranger Things" come out but since the release of the Netflix hit, more and more shows with unique twists that involve borderline-paranormal, time-travel, multiversal, or some similar concept with an unlikely group of people have been released on various platforms. Although the show has been sued twice by people who claimed to have created the general idea or concept of "Stranger Things," they were both unsuccessful. As interesting, strange, and oddly addicting "Stranger Things" has been, now 4 seasons deep, there have been other shows that are somewhat similar enough to be compared to the show for those that wish to be fans of shows like "Stranger Things."
"Stranger Things"
If you haven't seen "Stranger Things," the show revolved around a young girl known only as Eleven who escaped from the only home she's ever known, a secret research facility, with a severe loss of memory that takes refuge with her peers in age, but not ability. Eleven is a super-powered girl with apparent mind-mending abilities that endlessly surprise each season without ruining the show too much. Overall, as the show has announced the next season will be the last, fans can only hope for something similar to fill the void with shows like "Stranger Things."
"Paper Girls"
To start, we'll go into the newest show that's been compared to "Stranger Things" before its release. Although I personally find that the shows were entirely different, the overall vibe of both shows and the eras don't help the comparisons much. "Paper Girls," unlike "Stranger Things," has been an adaptation of the graphic novel of the same name. Overall, "Paper Girls" follows the surprising and accidental time-travel throttling adventure of four "Paper Girls" who never indeed met until the day of their adventure. While not available on Netflix, "Paper Girls" has been the newest adaptation from our list of shows like "Stranger Things" and can be found on Amazon Prime as of August 2022.
"Umbrella Academy"
Now, "Umbrella Academy" is another hit series on Netflix. The show is not only on the same service as "Stranger Things," but for those wanting more of an adult-rated show, "Umbrella Academy" is the fit. Much like "Paper Girls," "Umbrella Academy" was based on the still ongoing graphic novel series from Gerard Way. Although the Netflix show has had its own original version of the story from the comics, for the most part, "Umbrella Academy" has stayed unique. It would undoubtedly interest those that are fans of shows like "Stranger Things." Right from the start, "Umbrella Academy" made things interesting, with adopted siblings, once superheroes, reuniting after their father's death.
"Westworld"
"Westworld" from HBO may not be as paranormal as the shows mentioned above, but "Westworld" fits the dark twists and turns profile. "Westworld" certainly hit more of a futuristic setting with its robots posing as humans and vice versa, but as some of the other shows on our list have been inspired by other works, "Westworld" has been no different. "Westworld" was inspired by the 1973 film of the same name with the same premise, but the current HBO version has far exceeded anything the original film covers. Overall, those looking for shows like "Stranger Things" may enjoy "Westworld." However, being on HBO, it's undoubtedly intended for adult audiences for the various times of nudity, drugs, alcohol, and other M-rated parameters.
"The OA"
Another hit from Netflix and abandoned, "The OA," was exciting right from the beginning, with a blind girl that goes missing for seven years and re-appears with the ability to see. That wasn't even a part of the bigger mystery. From the point of her return, strange happening occurs around her, with her family and those nearest her either joining her journey or being opposed to it. Truthfully, it's hard to explain the immense and expansive story that has been covered throughout the literally universe-spanning, borderline psychedelic adventure, unlike any other series.
"Manifest"
"Manifest" may seem like a bit of a stretch if you're one that has avoided the show with expectations that it's simply "Lost" 2.0, but as twisted as Lost had gotten at points, "Manifest" has been a much more modern and universe-bending than Lost ever attempted to be. As twisted and dark as "Manifest" has been, it was initially on a television network before it was canceled and revived by Netflix. Before the final season premieres on Netflix, "Manifest" would be the perfect show for fans of shows like "Stranger Things." Overall, viewers looking for shows like "Stranger Things" would enjoy "Manifest" as a show like it due to its mysterious nature presented throughout the series and borderline alternate dimension talk. "Manifest" followed passengers of a missing plane that suddenly appeared again one day some odd years later, with no memory or change in appearance to correlate with the gap in time.