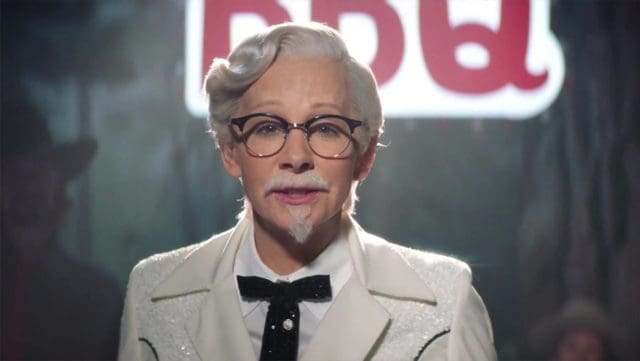 KFC has been actively utilizing its chicken mascot, Colonel Sanders in a number of unique ways over the past year or better. With several celebrities signing up to show off their skills as the iconic creator of the fast food chicken chain, one thing that hasn't been done yet is a female Colonel Sanders. Seem a little far-fetched? It all makes perfect sense when you find out who it is: Reba McEntire.
Yes, the country music legend has agreed to showcase her talents in true campy fashion with her first commercial portraying the Colonel. Her brand of country music has always had fans of good barbeque, and that is precisely what McEntire is set to promote with her latest KFC commercial. Her performance in front of a rowdy country roadhouse crowd in the commercial (as the Colonel) is set to promote KFC's new Smoky Mountain BBQ Chicken, which will be cooked and served in the same fashion as their highly successful Georgia Gold and Nashville Hot varieties.
Reba has always found a home in front of the camera though, as she once found great successes with her self-titled long running sitcom "Reba" about a single mother in a precarious situation. While one might not have thought that this comedic offering might have led to be the first female Colonel Sanders for a commercial, for fans of this episodic program, it really isn't that far of a stretch to make.
One of the unique things about making these commercials is that the country music legend has decided to take on roles as both herself and the Colonel for this first, and through believed subsequent commercials to come. She has even talked about the latest promotion by saying that it allows you to "poke fun at yourself" but that its still "very respectable" because of the role that KFC has played in many lives through their years growing up as a kid.
Other portrayals of the famous Colonel have come Norm MacDonald, Darrell Hammond and Billy Zane. When they donned the white suit, they were able to each make multiple appearances in front of audiences. We can only hope that the trend continues with the line of Reba commercials, as these look to be incredibly entertaining while simultaneously making your mouth water for the fast food chicken that is craved by millions across the country.
Now that KFC has crossed over into finally allowing both genders a shot at trying their hand at portraying the icon, it is only a matter of time before even more celebrities are getting to don the white suit for their own commercials to come. For now, we can just be happy that Reba decided to get involved in such dramatic fashion for the rollout of the new Smoky Mountain BBQ Chicken.
As early as this week, the latest edition of delectable chicken will be available in your local chain. Whether you are persuaded by her commercial (which you will undoubtedly see multiple times on television or by clicking here) or you are just a fan of BBQ chicken, this is your time to get out there and try some for yourself.