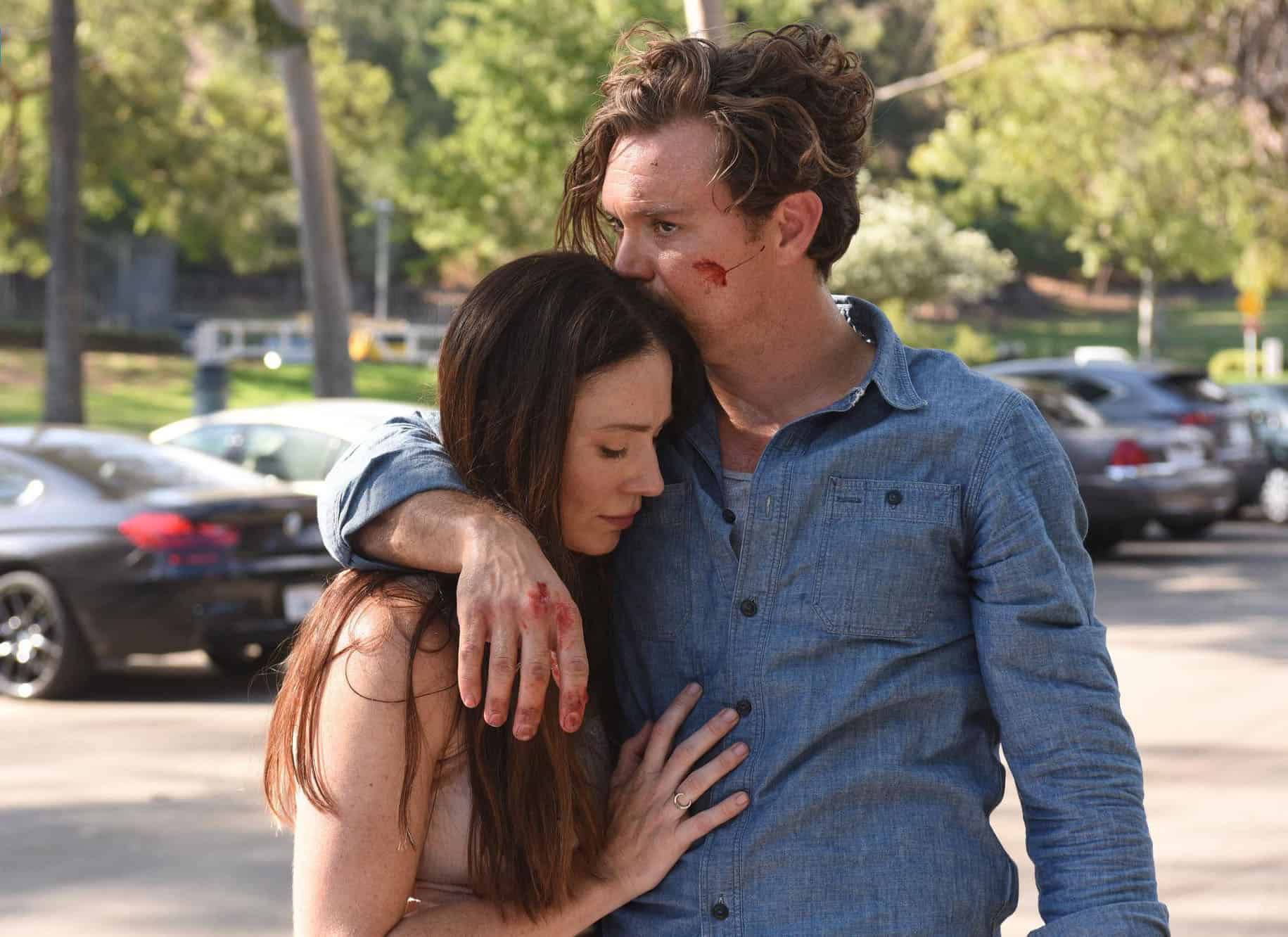 On this Week's Episode of Lethal Weapon Riggs helps a childhood friend get paroled but things don't go as expected.
The episode opens with a flashback to Kerr County Texas 1996. Young Riggs and young Jake go for a joyride and run from the cops. In present day Riggs testifies at Jakes parole hearing and is able to get him released. Things don't go as Riggs had planned when Jake leaves him to go with his friend Kenny.
Meanwhile at the Murtaugh house Roger finds a joint inside a box of cookies and suspects that it is Rianne's or RJ's so he takes a strand of their hair to have it tested by Scorsese.
Riggs and Murtaugh arrive at the crime scene of a robbery and murder. Riggs realizes that the man who was murdered is Kenny who Jake left with when he got paroled.
Roger goes to see Scorsese who tells him that he lifted the numbers that were written on Kenny's hand and they lead to Jake's girlfriend Molly Hendricks. Riggs goes to see Molly and Ben. He tells Molly that Jake was paroled and if he shows up he needs to talk to him.
Jake shows up outside of Molly's house and Riggs tells him that he was looking for him and he takes off in his car. After Riggs chases him down with his truck Jake tells Riggs that he didn't kill Kenny and Riggs let him go.
Riggs and Murtaugh go to see Jake and Jake lets them know that Kenny told him about the money. He was just a driver and there was a third person involved. When he heard the gunshot he drove off.
Avery tells Riggs to come back to the Station and Murtaugh stays with Jake. When Riggs arrives he meets Jakes Parole Officer, Robert McCoy. Captain Avery is upset that Riggs didn't tell him that he knew Jake but he understands why Riggs feels that he owes him. Jake causes Murtaugh to crash and then he takes off running.
Scorsese tells Riggs and Murtaugh that the hair found at the back door of the crime scene was Jakes. He also tells Murtaugh that the hairs he had him test did not come back positive for marijuana.
When Baily and Bowman go back to the crime scene Baily realizes that the safe that was broken into was not drilled into, which means someone had the code and the robbery was an inside job.
At the Murtaugh house when Roger accuses Trish of the joint being hers she denies it and leaves the room. At the same time Riggs falls asleep parked outside Molly's house. While sleeping he has a dream about the night Jake killed his abusive father.
Riggs and Murtaugh find out that the owner of the house was part of the robbery because the safe was opened with the code. The owner admits that he staged the robbery and gave Kenny, who he met at his parole officer's office, the combination to the safe.
When the owner of the house says that his parole officer is Robert McCoy, Riggs and Murtaugh realize that Jake, Kenny and the owner of the house all have the same parole officer.
They send Baily and Bowman to McCoy's office. While at the office Baily finds a listening device hidden and realize that he was listening in on the parolee's conversations. McCoy gets to the gold before Jake and Kenny can get to it. This means Jake is innocent and didn't kill Kenny.
Jake steals McCoy's car that had the gold hidden inside. He meets up with Molly but quickly realizes that he has been set up when his son is not with her.
Riggs tells Jake that he knows that he didn't kill Kenny but he must take him in. Before he could take him in Jake gets shot. While Murtaugh chase down McCoy, Riggs tells Jake to punch him in the face to make it look like he got away and not to come back. Riggs goes to check on Molly and tells her that he will come and check on her and Ben occasionally.
At the very end of the episode Trish realizes that the joint came from cousin Connie the last time she visited. Roger has been eating cousin Connie's special gummy bears and he is high. Trish calls Riggs for help.
Overall I think that this is a really great Episode and gave really good insight into Riggs past.