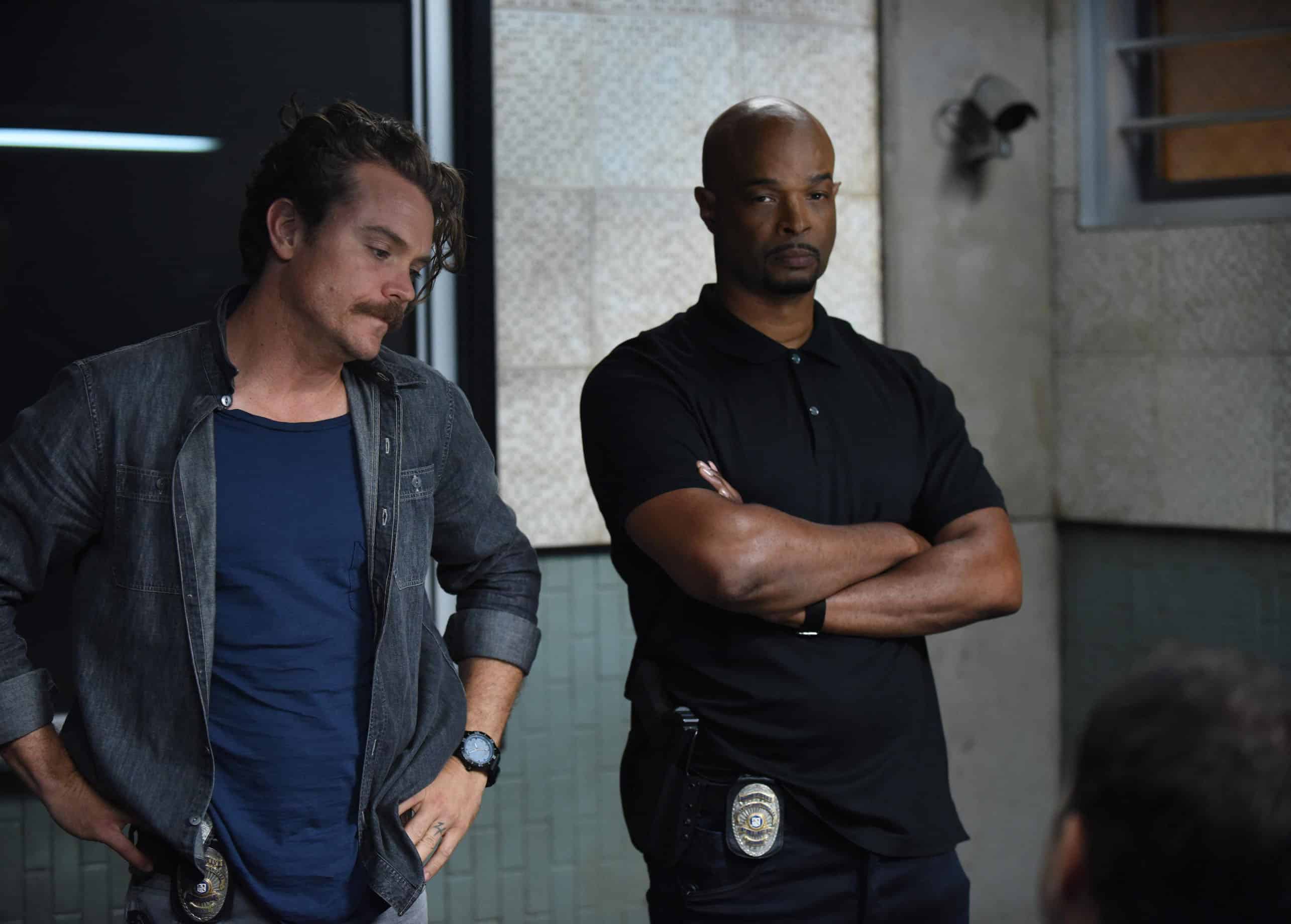 On this Week's Episode of Lethal Weapon Murtaugh and Riggs investigate the murder of a surfer and Murtaugh learns to trust Trish.
This episode opens with a surfer named Kyle Kennedy being harassed by another surfer because he is in the water. Later on Kyle is found dead on the beach.
Also Riggs is having reoccurring nightmares about his father with a disfigured face. Riggs goes to see Dr. Cahill for her to prescribe something to help him sleep but she says she can't until he talks to her.
Murtaugh becomes suspicious of Trish after she receives texts from someone named Scott. When Murtaugh and Riggs get to the crime scene Scorsese says that Kyle died from blunt force trauma to the head with something made of stainless steel.
Riggs hallucinates that his father is dead on the beach with a disfigured face.
Because Bowman knows a lot about the surf gang, (The Shore Boys) and the area around the crime scene he and Bailey take charge of the case. Riggs and Murtaugh go to the neighbor who filed a complaint about the Shore Boys gang, Tom Noble who says that Cody Lewis is the leader.
Bailey and Bowman go to the bar where the Shore Boys hang out. When Cody realizes they are looking for him he takes off and a chase ensues that ends with Riggs, who is hyped up on coffee, tackling him.
When Riggs interrogates Cody he admits to pushing Kyle but says he did not kill him. Cody tells Riggs that he was at the hospital getting stitches because he cut his leg on Tom Noble's boat. When Riggs and Murtaugh go to see Scorsese they find out that it is possible that Kyle was killed by a propeller blade.
Murtaugh goes to the Charity Event Trish is hosting to keep and eye on Noble and also to spy on Trish. When he asks where Trish is and he is told she is in Scott's dressing room he becomes angry until he realizes that Scott is Scottie Pippin a famous basketball player. Then he gets really excited.
Meanwhile Riggs goes back to the beach at night to search for Noble's sunken boat. When he recovers it he finds skin on the propeller blade as well as cocaine.
Riggs calls Murtaugh while he is at the Charity Event and tells him to arrest Tom Noble because he found cocaine on his boat. Murtaugh not only embarrasses himself while arresting Tom but Trish as well.
While Tom is being interrogated his lawyer informs Riggs and Murtaugh that Tom's boat was stolen causing Avery to release him.
Murtaugh brings flowers and wine home for Trish to apologize for how he acted at the Charity Event. When Trish comes back from getting wine glasses she finds Murtaugh looking at her phone, which causes her to be upset all over again.
Riggs has another nightmare of his father with a disfigured face while he is at the station. When Riggs wakes up startled he tells Murtaugh he has been having nightmares about his father but he doesn't want to talk about it.
Riggs finds a possession charge in Tom Noble's file that he took for his son Austin. When Austin tells Duke Rollins, who he has been moving cocaine for, that it was taken by the police Duke and his guys kidnap Austin in order to get money from his father.
Riggs breaks into Dr. Cahill's office looking for something to help him stay awake so he can finish the case. When she catches him he promises to come and talk to her as soon as the case is done.
Bowman and Bailey spot Austin's car and they go after him but quickly find out that it is actually Cody who is driving Austin's car and he is trying to find him.
When Riggs and Murtaugh go to talk to Tom Noble he tells them that Austin called and said he had been kidnapped and needed money but he did not believe him. He then gets a Skype call from Austin and realizes that he wasn't lying when Duke cuts off Austin's finger.
After Bailey figures out the location where Austin is being held Murtaugh pretends to be bird watching so he can let Riggs know how many guys are inside and where they are.
While in the process of saving Austin, Riggs has flashbacks of his father. At the end of the episode Murtaugh apologizes to Trish for how he acted, and Riggs decides to finally talk to Dr. Cahill about the nightmares he has been having.
Overall I think this Episode was a great balance of funny and emotional moments.
Tell us what's wrong with this post? How could we improve it? :)
Let us improve this post!