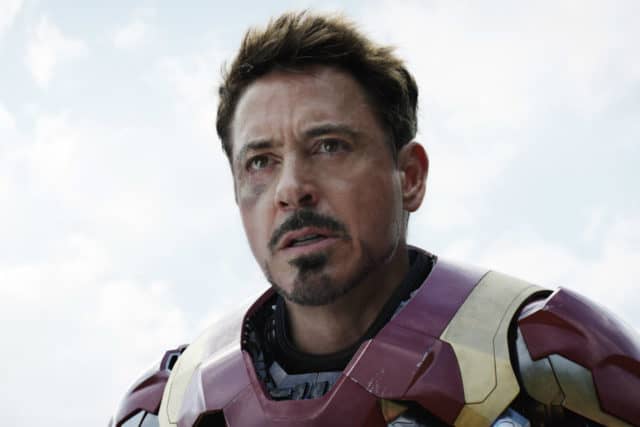 Have you ever wondered what your favorite movie stars were like when they first starting out in the business? Everybody has to start somewhere, and we know that as time goes by and fortunes increase, the celebrities that we see in the films have changed since the time that they were just getting their careers off the ground. While some were born into the business, and had a silver spoon in their mouths, others were dirt poor and had little more than their talent to depend on, along with a few lucky breaks. We've discovered 20 rare celebrity audition tapes for famous roles that are well worth sharing. We hope that you enjoy seeing what they were like just before they broke into the big time.
Robert Downey Jr. Screen Test for "Iron Man"
Robert Downey Jr. is known as one of the best American actors alive today. In fact, he's rated and 25th of those living and as number 13 of those who are still working in the industry. Although he has yet to win an Oscar for his acting, he's one of the more popular in the business. He's best known for starring in "Iron Man," "Iron Man 2," "Iron Man 3," "The Avengers" and "Sherlock." The 52-year-old actor was born in April of 1965 in Manhattan New York. He has achieved the distinction of making the Forbes' list of highest paid actors in the U.S. In a one-year period, he raked in approximately $80 million in earnings as an actor. He went through a period of trouble in the early 2000s with 2 arrests for drug related charges. He went into treatment and achieved sobriety, and went on to more successful film ventures. In addition to a professional actor, Downey is also a Singer-songwriter, Comedian, Screenwriter and Film Producer. He's won two Golden Globe Awards and is still going strong in his profession.
Jason Momoa – Khal Drogo audition for "Game of Thrones"
Momoa's really big break came when he secured the role of Khal Drogo on the popular HBO series "Game of Thrones." This showed him as he was prior to becoming a more seasoned actor. The 37-year old was born in Honolulu, Hawaii, in August of 1979. He is a professional model as well as actor, who is best known for his roles in "Conan the Barbarian," "Stargate: Atlantis," "Bullet to the Head" and "Baywatch." He has been ranked by viewers as the fourth best choice for becoming the next Wolverine. He is currently playing the role of Declan Harp in the "Frontier" series that airs on Netflix. He began this new role in 2016. You may also remember him from his role as Aquaman in "Batman v Superman: Dawn of Justice" in 2016 and in "Justice League" in 2017. He's continuing in the DC Extended Universe with a return as Aquaman in the most recent DC film that is set for release in 2018. In addition to acting, Momoa is also a director, producer and director.
Rachel McAdams Audition Tape for Allie in "The Notebook"
Here we see a young Rachel McAdams as she appeared prior to starring in her famous role in the romantic film, "The Notebook." McAdams was born in November of 1978 in London, Canada. She's best known for her role as Allie in "The Notebook." She made her debut as an actress in Hollywood in the comedy, "The Hot Chick." She went on to appear in "Mean Girls," and after "The Notebook," in "Wedding Crashers," "Red Eye" and "The Family Stone." She also appeared in "Midnight in Paris," "Sherlock Holmes" and "Spotlight." She is ranked as number three on the list of celebrities you'd want to have a beer with, 51 for most trustworthy celebrities in the world and number 48 for Greatest American Actresses of All Time. She's won numerous awards for her acting in both Canada and the United States. Most recently, she's appeared in the popular Marvel film "Doctor Strange" as Christine Palmer (2016).
Matthew McConaughey Audition Tape for David Wooderson in "Dazed and Confused"
McConaughey was young and handsome in this early audition tape. Now age 47, he was just 23 when he auditioned for the part of David Wooderson. He was born in Uvalde, Texas in November of 1969. This was the breakout role that led to many more successful acting gigs. He was popular in several romantic comedies including "How to Lose a Guy in 10 Days," "Fools Gold," "The Wedding Planner" and "Ghosts of Girlfriends Past." Matthew can deliver a stellar performance in any genre. You may also remember him from the "Texas Chainsaw Massacre: The Next Generation," "A Time to Kill," "Amistad," "U-571" and "Contact." Proof that he works with great proficiency across genres. He is number 36 on the list of Best Actors Working Today, number 46 on the Coolest Actors Ever list and 18th on the Best Living American Actors list. In addition to acting, McConaughey is also a voice actor, film director and film producer. He's won multiple awards and prestigious nominations throughout his career.
Russell Brand Audition for Aldous in "Forgetting Sarah Marshall"
Russell Brand is a popular British actor who did an amazing job in his role of Aldous in "Forgetting Sarah Marshall" This tape shows what he was like prior to the filming of the raging success that the film became. Brand was born in Grays, United Kingdom and is now 41 years of age. He's also appeared in "Get Him to the Greek," "Hop Hop" and "Arthur." He made the list of Funniest British and Irish Comedians of all Time, coming in at number 54, and 34th on the All Time Greatest Late-Night Talk Show Hosts. Brand is also a comedian, activist, author, television producer and screenwriter.
Chloë Moretz Audition Tape for "Let Me In"
This is Chloe's audition tape for the 2010 release "Let Me In." The twenty-year-old has come a long way in her career since then. She was born in February of 1997, in Atlanta, Georgia, and began acting when she was just 7 years old. She appeared in "The Amityville Horror" in 2005, "The Poker House" in 2008 and inn "Days of Summer" in 2009. The same year that she appeared in "Let Me In," she also appeared in "Diary of a Wimpy Kid." Chloe has been busy working as an actress for most of her life. She made her breakthrough appearances in the "Kick Ass" films which were released in 2010 and 2013. In addition to working as an actor, she is also a model and has been on the covers and in stories for Elle, Marie Claire and Vogue.
Alyson Hannigan Audition for Michelle in "American Pie"
We see Alyson looking young and innocent in her try-out for the role of Michelle in the part that would open a new world in her acting career. She's done very well in becoming well known to the public with roles that are unique and show the personality that people just absolutely adore. She's also well known for her role as Willow on "Buffy the Vampire Slayer" and Lily in the funny series "How I Met Your Mother." The 43-year-old actress was born in March of 1974 in Washington, D.C. She's listed as 21st on the Famous Women You'd Want to Have a Beer With, 8th for Best Actresses Who've Never Won an Emmy for Acting, and as number 20 on the Greatest '90s Teen Stars. Hannigan began her career as a child appearing in commercials. She didn't neglect her education and she earned a degree in psychology as well as a member of the Alpha Chi Omega sorority in college.
Hugh Laurie Audition Tape for "House M.D."
Hugh Laurie is a popular English actor, and this is what he looked like when he auditioned for his role in "House M.D." The actor is now 57, and was born in June of 1959 in Oxford, United Kingdom. You may also remember hi from a few other roles he's played. Laurie appeared in "Sense and sensibility," "The Borrowers," "Stuart Little," 101 Dalmatians" and as Senator Tom James in the comedy series "Veep." He made the Guinness Book of World Records by drawing in a record number of viewers for his portrayal of House in the wildly popular series. He is currently working in the role of Dr. Eldon Chance in the series "Chance," appearing via Hulu. He is ranked as the 11th best living, English actor, the 24th best English actor of all time and the 53rd greatest actor who has never won an Oscar award for acting. In addition to acting, he is also a comedian, singer, musician, director and author.
Hugh Jackman Audition for Wolverine in "X-Men"
Hugh Jackman is one of the Greatest Actors in Entertainment History and we know this because he made it to number 67 on the list. He also placed as one of the most trustworthy celebs in th world and one of the best actors working today. The 48-year-old actor was born in October of 1968, in Sydney Australia. He's best known for his role as wolverine in "X-Men," but has made some significant and impressive waves in a variety of other roles. In addition, he was successful in a wide variety of genres from drama, action and romance to fantasy, including "Kate & Leopold," "The Fountain," "Prestige," "Les Misérables," "Australia" and "Prisoners." He won an Academy Award nomination for Best Actor and a Golden Globe Award for Best Actor in 2013. He's also a Tony, and Emmy Award winner for his Broadway appearances. In addition to acting, Hugh Jackman is also a voice actor, singer, film producer and television producer.
Al Pacino' Audition Tape for a role in "The Godfather"
Here we see a very youthful Al Pacino as he auditions for a role that made him famous. Pacino, now 76 years old was born in East Harlem, New York in April of 1940. He rose to fame as an actor, placing as the second-best actors in film history and the 8th best living American actor, among others. He's known for his roles in "The Godfather," "Scarface," "The Godfather: Part II" and "The Heat." Pacino was typecast as a gangster, hoodlum type and it played the roles very well. He is a multiple award-winning actor who has starred in scores of films since his debut in "Me, Natalie" in 1969. His role as Michael Corleone has become iconic. He went on to star in the series "Serpico" in the early '70s, for which he won an Oscar nomination. He again gained recognition for starring in the lead role in "The Scent of a Woman." He's one of a select group of actors to have won a Tony, Emmy and Oscar Ward in his field. In addition to action, Pacino is a film director, screenwriter, film producer and theater director.
Jennifer Garner Audition Tape for Elektra in "Daredevil"
A young Jennifer Garner auditions for her role of Elektra in this rare find. Garner is ranked as one of the most trustworthy celebrities in the worked, the best living American actresses and one of the greatest American actresses of all time. The now 44-year old actress was born in April of 1972 in Houston, Texas. She is best known for her roles in "Pearl Harbor," "Catch Me if You Can," and "13 Going on 30." She got a great start on her career in "Daredevil" and "Elektra" in 2003 and again in 2005. She's appeared in several other films as well as television series and is largely regarded as America's Sweetheart. In addition to acting, she is also a Film producer, television producer, Spokesperson and Businessperson.
Robert De Niro Audition Tape for Sonny in "The Godfather"
Here we see the young Robert De Niro as he looked when he first tried out for the role of Sonny in the film that would boost his acting career to tremendous heights. The actor, now 73 years old, was born in Greenwich Village, New York in August of 1943. He is the second ranked best living American actor today, along with 3rd place as the greatest actor in entertainment history, the fourth best actor in film history and the sixth best actor working today. It would appear, he's one of the all-time favorites of the American public. He's won numerous prestigious awards and nominations throughout his long and successful career. He's been a longtime collaborator with famed director Martin Scorsese and has appeared in several major blockbuster films under his direction. In more recent years, he's gained popularity as the father in law of Ben Stiller's character in the "Meet the Parents" franchise films. In addition to his illustrious acting career, De Niro has also achieved success as a voice actor, film director and film producer.
Megan Fox Audition Tape for "Transformers"
This is Megan Fox as she appeared in her tryout for the film "Transformers." Her breakout part, in the blockbuster hit would open the doors for much more. She is also known for her role in "Confessions of a Teenage Drama Queen," which was her debut appearance as an actress. She went on to star in the "Transformers" sequel after landing a part in the first installment. She also appeared in "Jennifer's Body," in the lead role and as April O'Neil in "Teenage Mutant Ninja Turtles" and in a reprise of the role in the next film to follow in 2016. Fox was born in Oak Ridge, Tennessee, in May of 1986 and is now 30 years old. In addition to acting, she is also a professional model, appearing in Rolling Stone, Maxim and FHM.
Emma Stone Audition for Olive in "Easy A"
Here we see Emma trying out for her role as Olive in the film, "Easy A." She's a talented American Actress who has been ranked as the fourteenth best American actress working today. Her breakout role came in this comedy film for which she received nominations for the BAFTA and Golden Globe Awards. You may remember her for her film debut in "Superbad" and her appearance in the popular "Zombieland" with Woody Harrelson. She went on after "Easy A" to appear in "Crazy, Stupid, Love" and "The Help" in 2011. The 28-year-old actress was born in November of 1988 in Scottsdale, Arizona, and has achieved wide recognition for her voice and character acting in her short career. She won an Academy Award as well as a Golden Globe, and a BAFTA Award for her performances as an actor.
Gabourey Sidibe Audition Tape for "Precious"
This is Gabourey's tryout for the film that would become her debut appearances as an actress. She landed the role for the 2009 movie at the age of 26. The now 33-year-old was born in Bedford-Stuyvesant, New York in May of 1983. After "Precious," she received recognition in the form of the Independent Spirit Award for Best Female Lead, and numerous other prestigious nominations, for her performance. Sidibe also appeared in "Tower Heist," "White Bird in a Blizzard," and most recently in 2016, in "Grimsby." She is recognized as the 39th Greatest Black Actress of All-Time. She also appeared as co-star in the TV series "American Horror Story: Coven" and in other reprisals of her role in different installments of the series. She has been involved in the Fox drama "Empire," in the role of Becky Williams and is currently working with on the series.
Steve Carell Audition for "Anchorman"
This is Steve Carell when he tried out for the movie "Anchorman." He is best known for his role as Michael Scott on "The Office," American version of the hit series. He's also famous for his appearances in "The 40-Year-Old Virgin," "Crazy, Stupid, Love," "Get Smart," "Evan Almighty" and "The Incredible Burt Wonderstone and The Way, Way, Back." In addition to appearing in films and on television series, Carell is also a voice actor who lent his talents for "Horton Hears a Who!" and the "Despicable Me" films. Steve is age 54, and was born in August of 1962, in Concord, Massachusetts. In addition to acting, he is also a comedian, film producer, screenwriter, television producer and television director.
Kaitlin Olson Audition Tape for "It's Always Sunny in Philadelphia"
This is how Kaitlin Olson landed her role in "It's Always Sunny in Philadelphia" with co-star Danny Devito. The actress is also known for roles in other television series such as "The Mick," which made its debut in 2017 with Olson starring in the lead role. She's also played parts in films including "Leap Year," "Vacation" and "The Heat." Kaitlin loaned her voice for the character Destiny in the animated film "Finding Dory" in 2016. She's currently working as Mickey on her new Fox comedy series. The 41-year-old actress was born in Tigard, Oregon in August of 1975.
Natalie Portman Audition Tape for Mathilda in "Léon: The Professional"
This is a very young Natalie, barely in her teenage years, auditioning for the role of Mathilda in the movie "Leon: The professional." She's so young and her appearance has drastically changed in between this clip and when she appeared in her next role as Padme Amidala in "Star Wars III: Revenge of the Sith, which went on for two more installments after the 1999 film. Portman is ranked as 11th on the list of Greatest Former Child Stars. She went on to appear in "V. for Vendetta" and "Black Swan." The actress was born in Jerusalem, Mandatory Palestine in June of 1981 under the birth name Neta Lee Hershlag. She enjoys dual citizenship in Israel and America. She's received multiple nominations and prestigious awards for her acting performances. In addition to acting, she is also a film producer and director.
Raven-Symoné' Audition Tape for "The Cosby Show"
This is perhaps the most adorable footage of popular comedy actress Raven Symone. She first appeared in "The Cosby Show" in 1989 playing the character Olivia Kendall. She went on to appear in several television series including "Hangin' with Mr. Cooper," "That's So Raven," and her most recent series and reboot, "Raven's Place." Symone was born in Atlanta Georgia in December of 1985. In addition to her acting career, she is also a singer, television producer, film producer and fashion model.
Blake Lively Audition Tapes for Serena on "Gossip Girl"
This is what Blake Lively looked like in 2006, just prior to securing her role as Serena van der Woodsen in the television series "Gossip Girls. The series lasted from 2007 through 2012 and give her a definite leg up in the business. She also appeared in "Accepted," "The Sisterhood of the Traveling Pants," The Town," "The Private Lives of Pippa Lee," "Savages," "The Age of Adaline," "Green Lantern," (where she met her current husband Ryan Reynolds) and most recently, "The Shallows" in 2016. Blake was born in Tarzana, Los Angeles California in August of 1987 as Blake Ellender Brown. In addition acting, she is also a model.