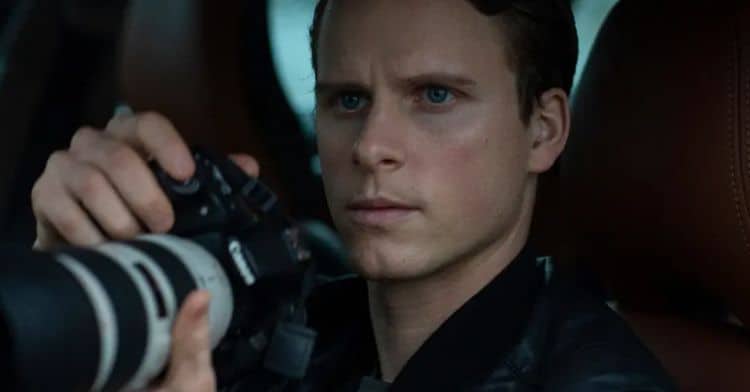 Adam Palsson has been acting professionally for more than a decade and a half. Over the years he's racked up more than 30 acting credits, but his most recent role might just be the one that changes his life forever. Adam plays Kurt Wallander in the new Swedish Netflix series Young Wallander and his performance is already getting him lots of attention. Adam's effortless acting ability combined with his boyish good looks have made it easy to see why people have fallen in love with him so quickly. As the show becomes more and more popular, it goes without saying that Adam will too. Keep reading for 10 things you didn't know about Adam Palsson.
1. He's A Musician
Adam is truly a multi-talented individual. In addition to his acting skills, he's also a great musician who was the lead singer in a rock band called ÅR&DAR. The band started in 2007 but didn't start releasing music for several years. They eventually started getting attention from record labels but decided that they didn't want to get caught up in the industry and instead preferred to make music from the heart. The band has since taken a break and Adam has become more focused on his acting career.
2. He's A Formally Trained Actor
There are lots of actors who believe that formal training is less important than gaining real acting experience. Others believe that formal training can help you make the most of real acting experience when it comes along. Adam has gotten the best of both worlds. He studied at the Swedish National Academy of Mime and Acting and has since gone on to have great success in his professional career.
3. He's Written Plays
TV may be where the money is, but Adam also loves the stage as well. On top of the acting experience he's gained from theater, he is also a playwright. In 2012, his play Frida är gravid! (Frida is Pregnant!) opened up at Teater Galeasen in Stockholm. He has also written his own version of the classic play Hamlet.
4. He Has Some Real Life Connections To Young Wallander
Playing the role of Kurt Wallander was ironic in some ways for Adam. He told The Guardian, "South of Sweden, where the novels take place. My whole family's from there. My grandma, she has a house in the same small village where Wallander's dad lives. So I've always had that in me. My dad's name is Kurt. It feels like my childhood was surrounded by Wallander in a way"
5. He's Not Very Active On Social Media
These days it's almost hard to believe that there are people who have no interest in social media, especially when it comes to younger people who work in the entertainment industry. However, that seems to be the case for Adam. He doesn't have any verified social media accounts on Instagram or Twitter.
6. He Was Worried About A Language Barrier Between Himself And His Cast Mates
Although Young Wallander is a Swedish series, most of the cast accept for Adam is from the UK. He admits that when he first arrived on set he was a little worried about there being a language barrier although he does speak English. During his interview with The Guardian he said, "after a while, I just started to think, 'Hey, they chose me. It's their problem, not mine.' I had to think that way to stay focused and confident."
7. He Was Originally Cast As An Extra In Avenue 5
Prior to Young Wallander, Adam was best-known for his role in the TV series Avenue 5. However, his role on the show almost never existed. When he originally began working with Avenue 5, he was brought on as an extra, but producers quickly saw his potential and offered him a bigger role.
8. He's A Very Private Person
When people work in the entertainment industry it's almost expected that they let the world into their private lives, but Adam doesn't seem to have any interest in doing that. He is a very private person who doesn't reveal much information about his personal life.
9. He Learned Russian For His Role In Moscow Noir
Adam is very dedicated to his craft and works hard to get into character as authentically as possible. or his role in the 2018 TV series, Moscow Noir, Adam revealed that he had to learn Russian in a very short period of time. While learning any language on the fly certainly isn't easy, Russian is especially challenging.
10. Acting Is Like Therapy For Him
There are a lot of things that Adam loves about acting, but one of his favorite things is the ability to explore things in himself while also exploring things about the characters he plays. For Adam, the ability to do this has become therapeutic for him over the years.